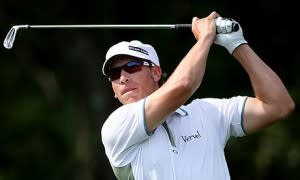 It's always special when you can say you were there at the beginning of a career – a band's, an author's, an artist's, an athlete's. How many of us have heard stories that start with "I remember seeing them play this old dive bar" or "I've been following that kid since high school"? I have a lot of those stories – they make for nice memories (and give me something to lord over my friends and loved ones).
If you're a golf fan in particular – or a sports fan in general – you have an opportunity to make some of your own "I saw them when..." memories as many of the golfing world's rising stars compete for a chance to join the 2013-2014 PGA Tour at the Hotel Fitness Championship, August 26 through September 1, 2013, right here in Fort Wayne, IN.
The Hotel Fitness Championship is the first of four Web.com Tour Finals events that together will  determine which 50 players receive cards to join next year's tour. The Championship will be held at Sycamore Hills Golf Club, one of the Midwest's preeminent golf courses, designed by legendary golfer Jack Nicklaus, and next week it will surely be the site of some world-class golf. Here's s an early look at who will be playing in Fort Wayne this week.
The summer may be coming to an end, but the links are about to heat up. Come on out – one-day Championship Round tickets are only $25, and two juniors (16 and younger) are admitted free with each ticketed adult. For more information, check out Visit Fort Wayne's Hotel Fitness Championship page.