One of the perks of living in northeast Indiana is the ability to experience all four seasons. But this past winter has seemed particularly long, and most of us are ready to enjoy Fort Wayne in all its springtime glory. Make sure to visit these ten must-see attractions in Fort Wayne, Indiana this spring.

9 Reasons to Visit Fort Wayne this Spring
1. Fort Wayne TinCaps Baseball
Skip the pricey parking and traffic congestion of bigger cities -- Fort Wayne has its own minor-league baseball team, the TinCaps, that plays regularly in beautiful Parkview Field. The season starts at home on April 4, and you can already buy tickets.
I've attended several TinCaps games and I can tell you that it's a lot of fun (and I freely admit I'm not even a baseball fan). All seats are great, ticket prices are affordable, parking is nearby & easy to find, and the game itself is enjoyable too. Many evening games feature after-game fireworks set against the gorgeous Fort Wayne skyline.
2. Indiana Native Trees Walk
Spring is a wonderful time to take a walk. This spring, how about a walk featuring trees native to Indiana? You can do that along the Purdue Fort Wayne Native Tree Walk, a 1.25 mile trail located near the intersection of North Anthony and Coliseum Boulevards.
The paved trail is perfect for walking, jogging, or biking past many of our familiar Hoosier trees. You can take your time and add an educational benefit by reading the informational plaques by the trees. Bring a camera to take photos of all the trees that will be flowering with spring blossoms.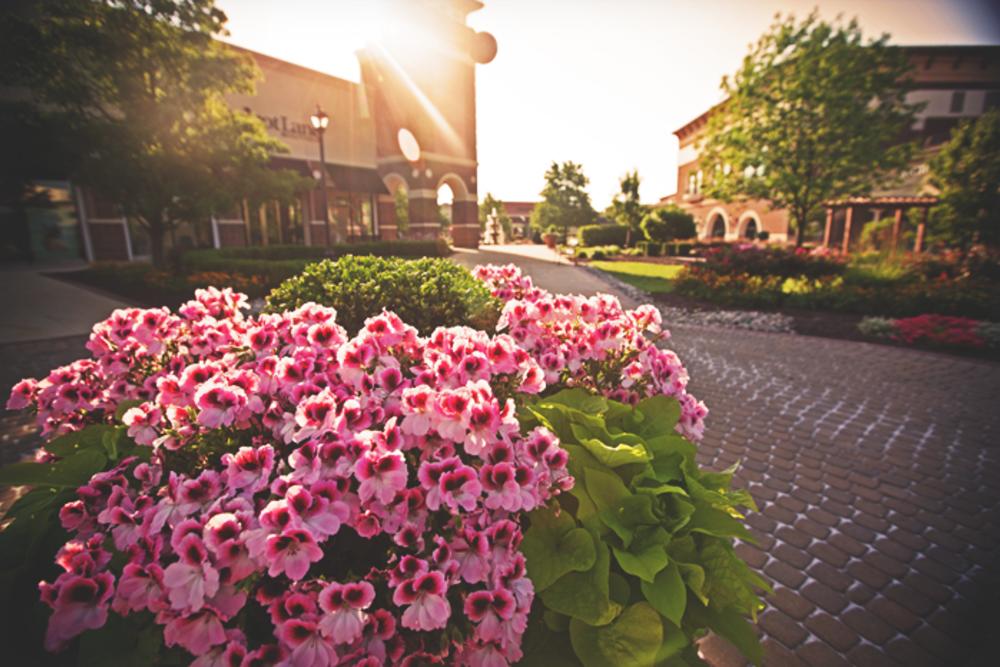 3. Jefferson Pointe Shopping Mall
Jefferson Pointe is one of my favorite Fort Wayne shopping destinations. I even visit regularly in winter, but I'll admit that it's not always pleasant to fend off icy winds with a scarf wrapped around my head.
In springtime, though, the outdoor shopping center comes to life. It's beautifully landscaped, and you could spend a few hours just enjoying the flowers and plants outside the southwest Fort Wayne location. But do stop in the many stores and restaurants and see what is new for spring.
4. Zesto Ice Cream
Zesto Ice Cream is a Fort Wayne tradition. There are many great places to eat ice cream in Fort Wayne, but Zesto is special due to its signature walk-up locations that are just right for an afternoon break.
Treat yourself to an ice cream cone, or get a little exotic with one of the many sundaes, shakes and razzle flavors offered (one of my daughters loves the Zebra sundae). You'll find Zesto at their original location at 2225 Broadway or at one of their other locations on St Joe Center, Falls Drive, or E. Washington Center. Zesto will open for the season sometime in March.

5. Botanical Conservatory
Foellinger-Freimann Botanical Conservatory, located in downtown Fort Wayne next to the Embassy Theatre on West Jefferson, is a restorative spot to visit any time of year, with its perpetually green plants and blooming flowers.
But the conservatory blooms in a special way during spring. It features three large spaces showcasing different environments -- if you don't care for the desert, move on to the rainforest -- and there's also an educational area the kids will love to interact with. 
Before you leave, visit the shop full of wonderful plant-themed gifts. There is always a special exhibit, and through April 21 Pooh-lovers will appreciate the 100 Acre Woods theme.
6. Lakeside and Foster Parks
Fort Wayne has so many wonderful parks that it's hard to choose one to feature. Here are two I particularly love.
Stop by Lakeside Park for its fabulous rose garden -- you'll find thousands of roses, in over 100 different varieties. The kids will have fun playing on the playground equipment. 
Foster Park is another scenic choice for viewing seasonal blooming flowers and trees, and you'll find many trails here to take a walk with the dog or with a good friend. The Fort Wayne Rivergreenway runs through Foster Park as well, so you can continue on with a run or walk throughout the city.

7. Fort Wayne Children's Zoo
If you had to choose one destination as a must-do in Fort Wayne, chances are good that the Fort Wayne Children's Zoo would be that place.
It's a wonderful zoo, consistently ranked in the top 10 in the nation for children's zoos. If for some reason you haven't yet been there, spring is a perfect time to visit because it's the season when the zoo opens each year.
The zoo is divided into several different zones, letting you "visit" Africa, Australia, and other exotic spots. 2019 is a big year for the zoo, with a long-anticipated new Monkey Island and a revamp of the river otter exhibit. You can easily spend either a few hours or an entire day at the zoo.
8. The Landing
Visit a place full of Fort Wayne's history that is getting an updated look at The Landing. Located on Canal Street along Columbia Street, The Landing marks the area where all area canals landed in the 1800s. Today, you'll find new and unique restaurants there, as well as retail shops and an awesome buffalo mural.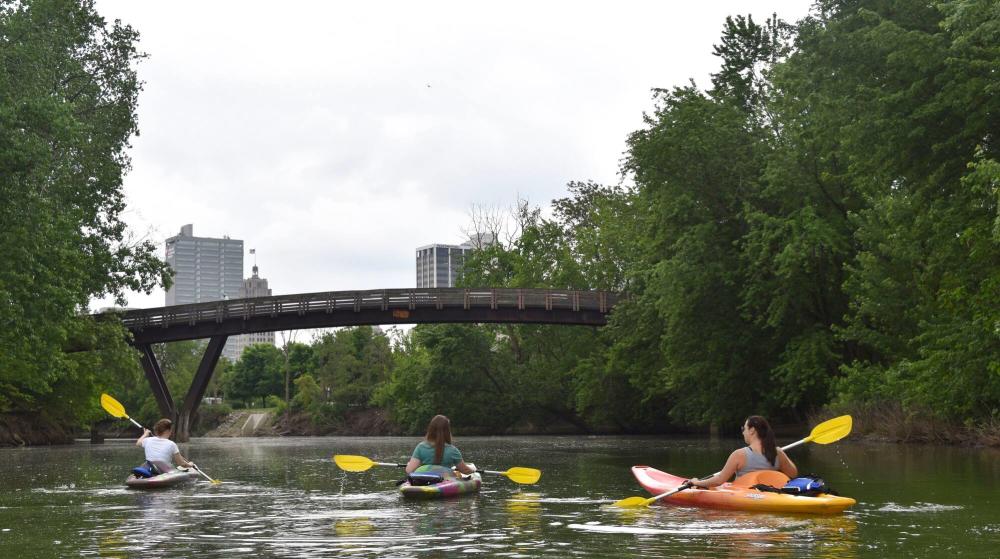 9. Fort Wayne Riverfront
One of the newest projects in Fort Wayne is the latest developments along one of our three rivers. Located at the intersection of Fort Wayne's three rivers, the Riverfront is a large and beautiful area with many options for springtime fun. Take a river cruise in a replica canal boat, stroll the trails to enjoy the scenery, or take advantage of one of the many events planned this spring.