In my humble opinion, the best of Fort Wayne can be summed up in one phrase and event: Taste of the Arts.
This free event happens at the end of the summer in downtown Fort Wayne on the street and garden area of Artlink and the Performing Arts Center and Museum of Art at 300 E. Main Street. Pretty appropriate locale for showing off one's artistic talents, huh?
Taste of the Arts is a city-wide exhibition of Fort Wayne's finest with 70 artists, chefs, musicians and cultural events all in one place.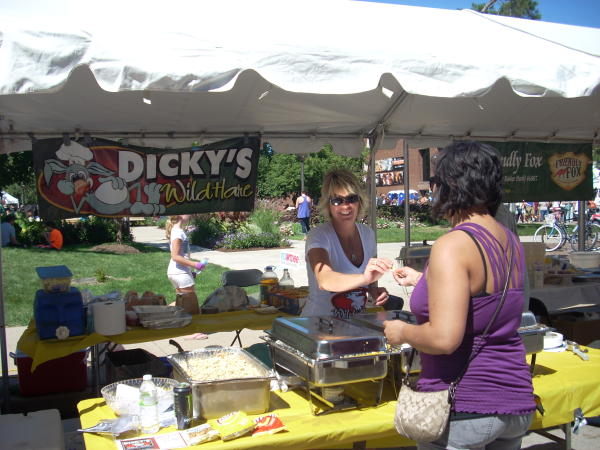 The Taste of the Arts festival staff estimates 30,000 people attended last year's festival. For that reason and the dozens of exhibits vying for space and times to entertain the festival has been expanded to two days – 
Friday, August 26, 6-10 pm
Saturday, August 27, 11 am-7 pm
On Friday, August 26, the festival kicks off with a WBOI Meet the Music concert and the Living Fort Wayne Film Series screening of "It Happened One Night." This is one of my favorite old movies (1934) starring Claudette Colbert and Clark Gable. Really a fine romantic, funny B&W.
I love that the festival staff is constantly striving to improve the event to attract new attendees to classical art of all kinds.
For example, on Saturday, August 27, Taste of the Arts is sponsoring a new event at 8:30 am -- Beat Beethoven 4 mile run/walk. The goal is to run/walk the distance to the music of the famous composer's Fifth Symphony before it ends. I'm sorely tempted to try this!
Experience the Fort Wayne Arts Community
Once the festival begins at 11 AM, attendees are welcome to stroll through a myriad of booths representing dozens of city's organizations, musical and otherwise —Fort Wayne Dance Collective, Youtheatre Storybook Theatre, Old Crown Brass Band to name a few.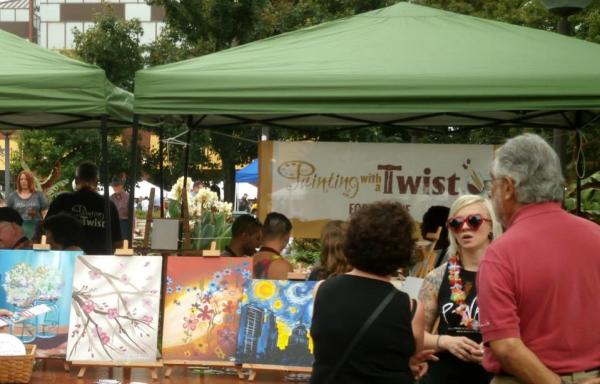 The booths offer opportunities for people of all ages to make crafts, purchase artwork in the Artists Market, talk with reps about the organization and learn more about the groups that enrich our lives locally.
My daughter and I enjoyed strolling through these booths last year and seeing so much creativity. After an hour, we were ready to munch on some of the items being sold as part of the food vendors.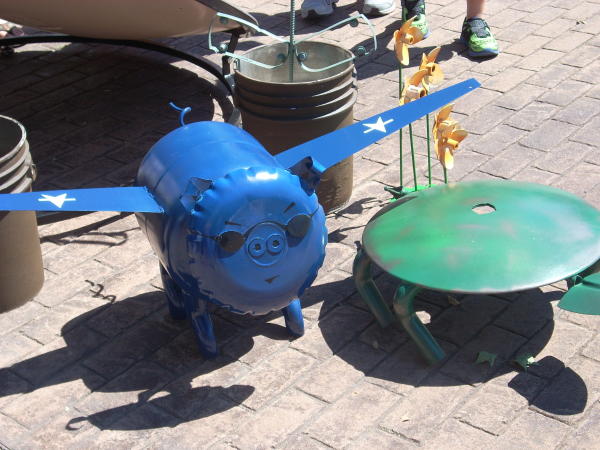 Get a Taste of Fort Wayne
We purchased tickets for $1 each, then commenced to buy food with them. Each item costs a certain number of tickets, typically 3. The vendors are all popular, well-known eateries around Fort Wayne.
Then we sought shade and a place to sit on the steps of Arts United building. We ate while listening to musical groups and dancers perform across the street. They were singers from the Civic Theatre in costume. Sadly, I was not able to get photos, but I plan to do so this year.
During the 2-day festival, approximately 70 live performances of theatre, music, and dance will take place. A full schedule will be available soon here.
In addition, the festival staff has arranged for free admission to the Fort Wayne Museum of Art, Cinema Center and History Center during the event.
This Taste of the Arts event is a true taste of summer- relaxing with a crowd of friendly people on a warm day with delicious food in my hand and exciting live music filling my ears!