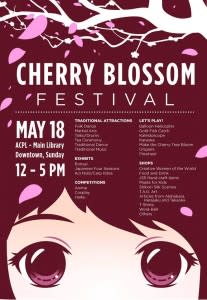 The festival runs from 12 p.m. to 5 p.m. Fort Wayne  Taiko, with the festival since its first year, will kick off the day at 12 noon in the Library Plaza, with opening ceremonies following at 12:15 p.m., during which the Suzuki String Orchestra of Fort Wayne will perform.
Below are more featured artists and events for this year:
"Duo Yumeno" - dynamic duo of Hikaru Tamaki, cello and Yoko Reikano Kimura, koto/shamisen/voice (New York)
Japanese Classical Dance- will perform beautiful dances in classic tradition with elaborate, quick costume changes (Chicago)
Minyo Dancers will perform traditional Japanese folk-style dancing in colorful kimonos (Indianapolis)
Indiana Guitar Trio, led by Dr. Daniel Quinn, will perform Japanese guitar music.
The "Dueling Divas," Janice Furtner and Dorothy Kittaka, sopranos, will sing Japanese vocal music duets with Irene Ator, pianist.
Farrell Vernon, saxophone, will perform music of Japanese composers.
Shie Otani, an expert in Japanese Tea Ceremonies, will again grace the festival with a traditional Japanese Tea Ceremony with participation of audience members.
Takaoka, Japan artwork (65 pieces)  by elementary and middle school students who participated in FAME's Fusion of Concert Colors will be exhibited.
Other highlights of the festival include the Arts and Crafts of Japan Marketplace, martial arts demonstrations, Taste of Japan food court and hands-on demonstrations of Japanese activities like:
Bonsai by the Fort Wayne Bonsai Club
Japanese Goldfish Catch
Japanese-themed "Make and Take"at ACPL Children's Services
Origami demonstration and hands-on sessions, led by Mike Schmid, Art educator/artist and Janice Furtner, artist/musician
Japanese-influenced face painting by Tag Company
 Don't forget the on-site contests!
Anime Art! Draw a famous anime character or your own original character for prizes.
Can You Haiku?  Students will submit work prior to the festival.  Finalists from the schools will have their haiku displayed and will be invited to read their haiku at the festival. The public may also compose haiku at the festival for prizes.
Details
Date:
Sunday, May 18
Time:
12 p.m. - 5 p.m.
Location:
Main Branch ACPL- 900 Library Plaza
Admission: 
Free Donations will be accepted. Refreshments, books, textiles and a variety of hand-made items will be available for purchase in the festival marketplace.
Sponsors: 
Fort Wayne Sister Cities International, Japanese American Association of Indiana, Fort Wayne Dance Collective, Allen County Public Library
Click here
for this year's festival brochure!