In my adult life, I've lived in communities as small as 3700 and as large as Denver. Fort Wayne in my mind is an ideal size city. It's large enough to have a variety of activities, but not so large that you can't get involved and make a difference.

7 Things to Consider when Moving to Fort Wayne, Indiana
First, I'd like to say something about Visit Fort Wayne and their amazing Visitors Center.
These folks are AWESOME! Before I ever came to visit, as my spouse was interviewing, I received a number of publications that the search committee had acquired from the Visitors Center. What a great resource. And when I worked at a local attraction, they were wonderful at helping to promote our work. Even if you've lived here for a number of years, you can learn a lot from their website, blogs and a visit to their office at the corner of Washington Blvd. and Harrison Street. Check it out at VisitFortWayne.com.
1. Check out the Nearby Grocery Stores
On my first trip to this city, a person was assigned to show me around a little. She found out that my husband and I like to cook, so she showed off the variety of places to buy groceries here. Yes, there are the standard supermarkets in Fort Wayne, all cities have them. But, the number of specialty markets and farmers markets all year round make being a foodie pretty easy in Fort Wayne.
2. Visit the Allen County Public Library System
One of the facets of a community I always look at when we move, and we've lived in four states and seven communities in our 35 years together, is the library system. Allen County is truly blessed in that regard.

When the new facility on Washington Boulevard opened downtown-WOW! All the books and movies you could want, a coffee shop, art gallery, computer lab, theater, movie nights and the genealogy department, just to name a few facets of the building, make it a shining star of downtown.

And the branch libraries are pretty great too! We are truly blessed to have those facilities.
3. Shopping
When it comes to shopping, if you can't find it in Fort Wayne you should probably think twice about whether or not you need it. Yes, there are big box stores, but there are also a number of locally owned businesses that sell books (can you tell I like to read?), clothing, furniture, gifts and even Tilly hats for when you travel.
4. Proximity
And speaking of travel…Fort Wayne is a close drive to a number of larger cities such as Chicago, Grand Rapids and Indianapolis for weekend getaways and the airport makes air travel as easy as air travel can be these days. 
We choose to fly directly out of Fort Wayne because when you land at 10 o'clock at night…having left London in the morning…being able to get in your car and drive home to your own bed in a short amount of time is worth every cent of the parking fees.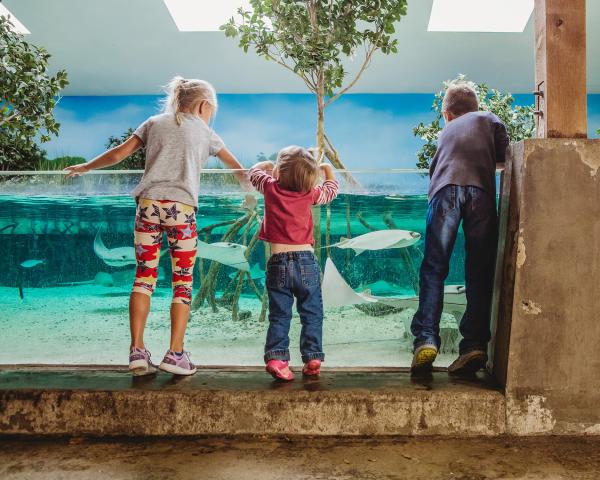 5. Attractions
But you don't have to leave town to find things to do. There are a number of attractions in the city that you can read about in other Visit Fort Wayne blog posts. 
Get out and explore the city! It has a rich history and is a cultural center that can be matched with any other city this size. Since we've moved here, I've been able to indulge my interest in history, learn an appreciation of ballet, feed a giraffe, see artwork from a wide variety of artists in multiple galleries and enjoy the culture of other countries at events like Greek Fest. Summer is festival time here and there's one almost every weekend!
6. Sports and Recreation
Although I'm not really "into" sports, I do enjoy an occasional baseball game downtown at Parkview Field. It's a great place to people watch. We also have semi-pro basketball and hockey and we're not that far from Indianapolis where you can catch a Colts game or the Indianapolis 500.
We also like living close to downtown because we're a hop, skip and a short bike ride from the trail system but you can catch the trails from just about any part of town and the trail system continues to grow.
7. Cost of Living
The cost of living in Indiana is competitive with other states and the location for us is ideal because we are halfway between family in New York and family in Nebraska. Indiana is the crossroads of the nation as a number of Interstate systems all wind their way through the state. There is a lot of variety in housing and location in Fort Wayne - you can live in an historic neighborhood as we do or out in the suburbs.
Now these are just some facets of Fort Wayne that I looked at when we moved here. If you're thinking of a move to Fort Wayne, I'd suggest a visit. That's the best way to know if a city is right for you.
Find out more Fort Wayne relocation information here! 
Ask yourself these questions:
What are the three things our family enjoys the most where we now live?
What are the three things we don't like about where we live?
How does Fort Wayne compare to those lists?
What kind of weather do we like? You'll get a lot of variety in Fort Wayne!
What's the potential for employment for my spouse or partner?
What do I want in schools for my children?
Is there a medical specialty in a community that is necessary for the well-being of a family member? Is it available in Fort Wayne? Quite likely.
Do we have the gusto to acclimate to a new community? We once lived in a suburb of Omaha close to Offutt Air Force base. Military families know how to move and how to get involved in a new city and it was a good experience learning how they did that.
How often do we want to see extended family? Don't discount this one if you've never lived far away from "home".
What is prompting this move?
Fort Wayne is one of the most interesting places we've ever lived. The diversity here is pretty amazing for a city in Indiana. It is seldom boring here and we've learned a lot about the world by living in Fort Wayne.
This post was originally published in February 2016 and has been updated.