Post Updated on January 3, 2019
Fort Wayne has a lot to offer during winter time with a growing downtown scene, kid-friendly attractions, sports events, and other activities. Visitors can participate in some of the local favorites like ice skating at Headwaters Park and attending Komets games or can go to a newer event that highlights downtown Fort Wayne, Indiana. Here are some of the ways to enjoy wintertime in Fort Wayne.

Special Activities in Fort Wayne, Indiana
Celebrate winter at annual festivals including Winterval in January and Weather the Fort in February.
Each festival offers festive fun outdoors. Winterval features great family-friendly activities including ice skating, historic reenactments, and more. Weather the Fort is perfect for a weekend away with friends, featuring performances, drinks, and fun! 
If you can't get away, there are other special events later in February and early March for everyone to enjoy. From Broadway shows to concerts, and other fun activities there are many activities that can help make your winter getaway memorable. In addition, Lindenwood Nature Preserve hosts an annual winter hike and bonfire social.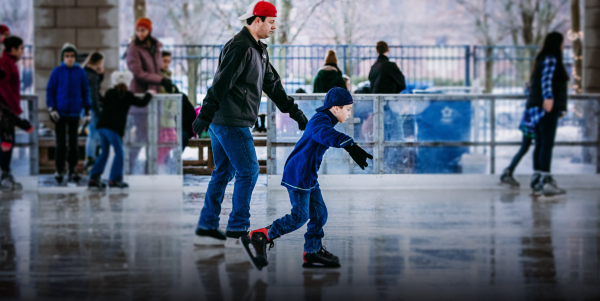 Everyday Winter Activities in Fort Wayne, Indiana
Headwaters Ice Rink
While checking out downtown Fort Wayne, skating at Headwaters Ice Rink is a must. This is the perfect way to enjoy the winter weather on a weekday afternoon or on the weekend. This can be a great activity for friends, families, or couples. Hot chocolate and snacks are available to warm up during any skating breaks.
The Icehouse offers public ice skating as well as opportunities for hockey and other activities. Public ice skating takes place throughout the week. Other activities include Bounce Mania, Combo: Skate and Bounce, and hockey opportunities for kids and adults.
Times may vary depending on other events, so make sure to look at their schedule when planning your trip.
For the sports lover in your group, a Komets hockey game can be a fun evening. Whether you're with friends or family, the Komets offer special promotions and have fun theme nights to get everyone excited about the game. Some of their promotions include Kids Seat Free, Post-Game Skates, Family 4-Pack Nights, Deuces Wild Wednesdays, and Report Card Nights. 

The Mad Ants games are another sports-filled night that will keep everyone entertained. Tickets start at just $10, which can be a great deal for a family or larger group. The Mad Ants offer promotions such as Super Hero Night, Hoops N Hounds, and many more theme nights.​