The month of February promises countless opportunities for you and a loved one to have a romantic getaway to Fort Wayne, Indiana.
There's a diverse lineup this year-from a winter festival to the Sounds of Simon and Garfunkel, Fort Wayne's bound to have something that will suit your fancy.
Plan your weekend getaway in six easy steps!

6 Steps to a Romantic Valentine's Getaway in Fort Wayne, Indiana
Step 1
Check out VisitFortWayne.com to get a full list of attractions and special events!
Step 2 - Events
Choose a special event that your sweetheart will never forget. Here's what's going on in Fort Wayne around Valentine's Day. 
Friday, February 15 & Sunday, February 17
Grab your tickets for one of Fort Wayne's great minor league sports teams, the Fort Wayne Komets.
Tickets start at $13 for adults.
Fort Wayne Boat Show
Thursday, February 14 - Sunday, February 17
Browse more than 56 exhibitors including marine dealers from Indiana and Michigan all in one place.
Admission is $10 for adults, Kids 12 and under are free.
Love Notes
Friday, February 15 & Saturday, February 16
Celebrate with an evening of romance, passion, and mystery for this annual fan-favorite event! Get your tickets now as this event sells out quickly.
Tickets are $20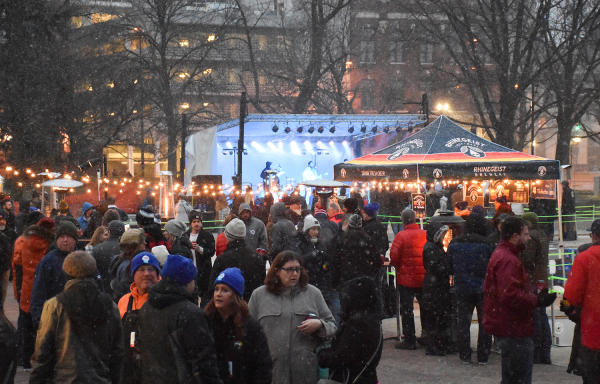 Weather the Fort
Saturday, February 16
Enjoy live music from local bands, ice carving, fire dancing, curling demonstrations, live art, and a beer tent. Plus, a selection of tasty food for purchase. This is a 21+ event.
Admission is FREE.
The Wedding Gift presented by the Civic Theatre
Saturday, February 16 - Saturday, February 24
Kick back and take in this fun performance featuring a family of scam artists and how when their current scam runs amok!
Adults $30, Seniors $25, and Youth (23 & Under) $17
The Sounds of Simon and Garfunkel
Saturday, February 16
The Philharmonic will capture the essence of Simon and Garfunkel's 1960 folk-rock harmonies, in this unforgettable performance.
Tickets start at $21.75
 
Step 3 - Additional Activities
Find some additional activities to fill your time while here! Choose from some great winter activities (like ice skating at the outdoor rink at Headwaters Park or a quick stop at DeBrand Fine Chocolates for a special treat) or consider one of our many great museums and attractions.  
Step 4 - Get a Taste of Fort Wayne
Scope out your favorite Fort Wayne eateries or try something new! Here in the City of Restaurants, you're bound to find some delicious options in whatever niche you like. From fine dining to more affordable options, make sure you book your reservation ahead of time! 
Step 5 - Book a Room
Now that you have your date all planned out, why not book a room online?
Fort Wayne offers countless options to suit every style and budget (including romantic Valentine's Getaway Packages)!
Step 6 - Once You're Here
Get in your car and drive to Fort Wayne.
Once you've made it, stop in at our Visitors Center to say hi and request any additional information you need for your trip! We're located at 927 S. Harrison St. 
See you soon! 
This post was originally published in January 2018 and has been updated.