Locals here in Fort Wayne are likely to know how Deli 620 got its name:  its former address was 620 S. Calhoun St., downtown.  Now, this well-known café has a new address and some new clientele, but it retains the same menu, charisma, and name as it used to. The Deli moved into the PNC Center a few months ago, and it has enjoyed continued success.  Now I know why! Here are my 6 reasons why you should visit Deli 620: 1. First and foremost, the décor is absolutely adorable!  I loved the personality here, which was a homey mixture of retro and classy.  The polka dotted tablecloths, funky tables and embellished chairs made eating here fun!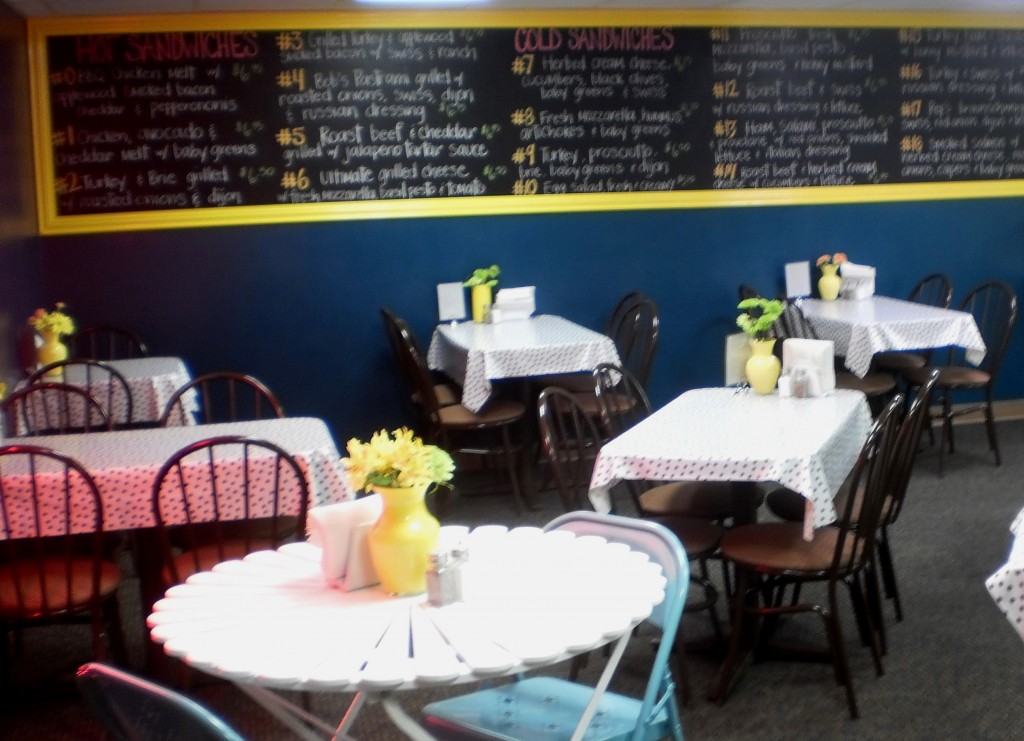 2. Besides the cheerful décor, the other thing I noticed right away was how nice and quiet it was inside.  Several customers ordered food to go and some stayed, but the background music was playing peacefully, and there was a general, tranquil feeling.  I think this would be an ideal place to eat on a rainy or wintery day, as it would relax me and cheer me up!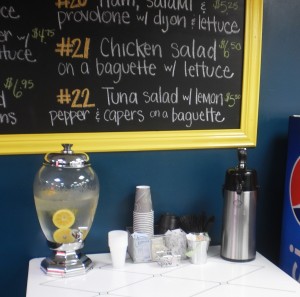 3.  Since Deli 620 is located on the seventh floor of the building, I had to take the elevator up.  This makes it handicapped-accessible, which is wonderful news for customers in wheelchairs.  The dining room is also spacious enough to accommodate them.
4.  Another reason the Deli's location is convenient is because it provides a quick lunch-on-the-go for workers on their lunch breaks.  Obviously, employees in the PNC Center can just walk down the hallway to grab a quick bite, but for others in the city, driving to the building and parking in the parking garage is easier than trying to find street parking spaces.
5.  There is a wide variety of sandwich choices, and they all sound healthy and delicious!  I ordered the Grilled Turkey and Applewood Smoked Bacon Sandwich.  It was pretty filling and didn't taste greasy at all, even with bacon on it.  The salad bar is also a customer favorite.
6.  Last but not least, the staff is very friendly and personable!  The manager came to the dining room several times to make sure it was clean, organized, and to intermingle with the customers.  This is important to me, personally; no matter how affordable or appetizing the food is, I won't return if the staff is unfriendly or the service is poor.  That isn't the case here, though!
My only suggestion would be to provide a sign by the elevator once customers arrive.  There is a sign in the hallway around the corner, but some customers might need directions to find it.
You can dine in, take carry out, or call in an order, so come enjoy Deli 620 and all that it has to offer!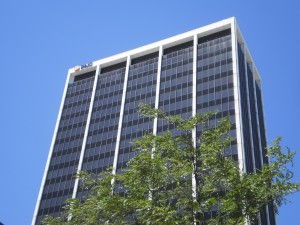 Deli 620 is located on the seventh floor of the PNC Center, at 110 W. Berry St.  You can park in the parking garage or enter the building via the Berry Street entrance.
Open Monday – Friday, 7:30 a.m. – 3:00 p.m.
260-422-4343