'Tis the season for some holiday cheer. Look no further than these magical events in Fort Wayne that can add some sparkle to your holiday getaway. Fort Wayne during the holidays is the perfect place to find a little magic.
Whether you're looking for a group experience or a place for a little personal contemplation, there are plenty of places to explore – and these are spots you can return to, again and again!
6 Magical Experiences in Fort Wayne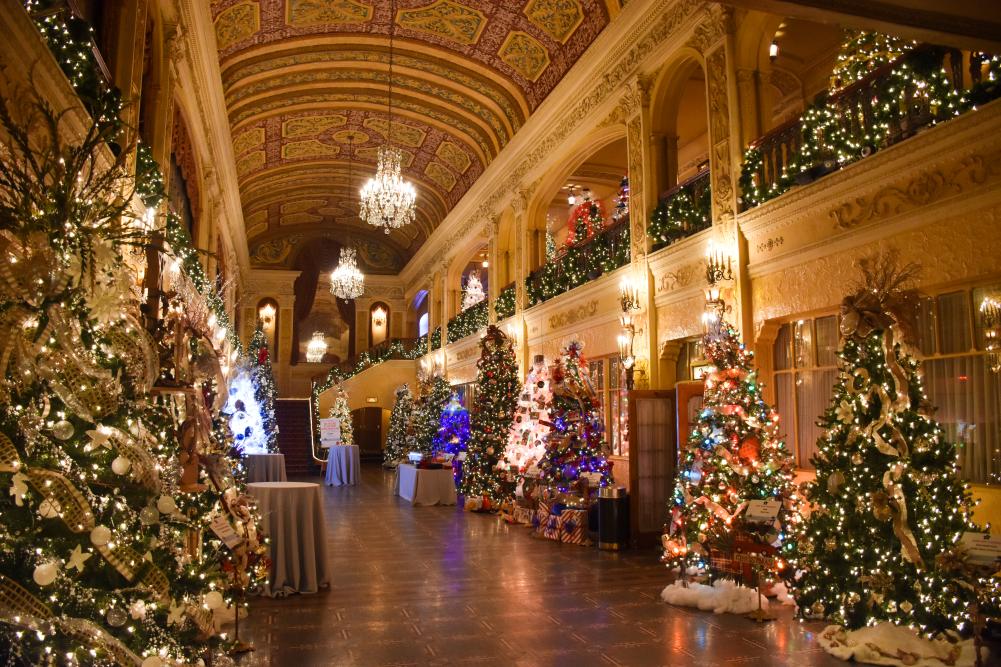 1. Festival of Trees
November 23 - 30
The Festival of Trees is definitely a must-see if beautiful Christmas trees, antique architecture and a touch of 1920s glam is your thing.
Situated in the Embassy Theatre lobby and the neighboring Indiana Hotel Lobby, the Festival of Trees features more than fifty decorated trees in a wonderful blizzard of creativity.
The auditorium of the Embassy is open for visitors who want to watch events on stage; events range from special music on the Grande Page Organ, a regional dance group, or a children's choir sing-along.
When you file through the trees, the lobby is brilliant with light but the auditorium is thoughtfully dim and hushed.
2. Fantasy of Lights
November 20 – December 31
Do you get a thrill when you see multi-colored lights twinkling, sparkling and glowing? Then the Fantasy of Lights is for you.
Tons of lights are set up to depict candy canes, tall tin soldiers, crèches, rocking horses, cowboys and any number of other colorful designs, based on the individual sponsor. This 2-mile driving tour through Franke Park features more than 150 larger-than-life light displays.
It's especially beautiful when there's a fresh blanket of snow that lets you look out your open car window and appreciate the silence of a wintry night. This is a display that looks beautiful in the rain, snow, or in clear weather.
Be sure to get out of the car and walk through Santa's Christmas Village with food and craft vendors, holiday music, and more! Santa's Christmas Village is open weekends in December.
Admission: $10 per car
3. Fort Wayne Ballet: The Nutcracker
December 2 – 4, 8 – 11
Can you mix grace, beauty and a sparkling sensation all in one event? At the Fort Wayne Ballet's presentation of The Nutcracker — you certainly can!
In the hushed theatre of the Arts United Center, the dancers make the story of Clara and the Nutcracker come to life. There's just something about the Dance of the Snowflakes, with its beautiful blue lighting and swirling, costumed dancers that takes you to another world. At the end, when Clara discovers that it has all been a dream, you, too, feel like you're waking up from a beautiful memory.
NOTE: The performances on December 2, 3, and 4 will feature live music from the Fort Wayne Philharmonic!
Returning in 2022: The Fort Wayne Ballet invites you to explore the Kris Kringle Village, just outside the theatre on the Arts Campus. Inspired by traditional German Christmas Markets, the village will feature festive food, entertainment, and gifts! Open November 23 / December 2 – 4, 9 – 11.
Purchase tickets for The Nutcracker

4. The Botanical Conservatory – Happy Small-idays
November 19 – January 8
The Gardens are all indoors, and the poinsettias are always gorgeous. If you think snow and plants don't mix, well, try looking at the Conservatory's indoor displays!
There's something about wandering around the Christmas and winter scenes, listening to the waterfall and breathing in the calming scent of plant life that is just so peaceful. Visitors like to take photos in the special display garden area – this is just the background you need for a Christmas photo.
In the Happy Small-idays Showcase garden, join Little Mouse as you slow down and enjoy the heartfelt moments and find joy in the little things this holiday season. Enjoy this cozy garden exhibit from November 19-January 8.
And don't forget to explore the outdoor gardens with light displays for the holidays!
5. The Festival of Gingerbread
November 25 – December 18
What scent makes you think more about Christmas than gingerbread? Each holiday season, the History Center is filled with gingerbread creations during the Festival of Gingerbread! From candy-filled pre-K creations to works of fantastic art in glazed candy windows and crafted icing, there is something for every age to enjoy.
The old-fashioned Christmas decorations lend an antique charm to the whole experience, taking you back to a time when Christmas was simpler.Admission: $6 for adults, $4 for seniors and youth, free for ages 2 and under.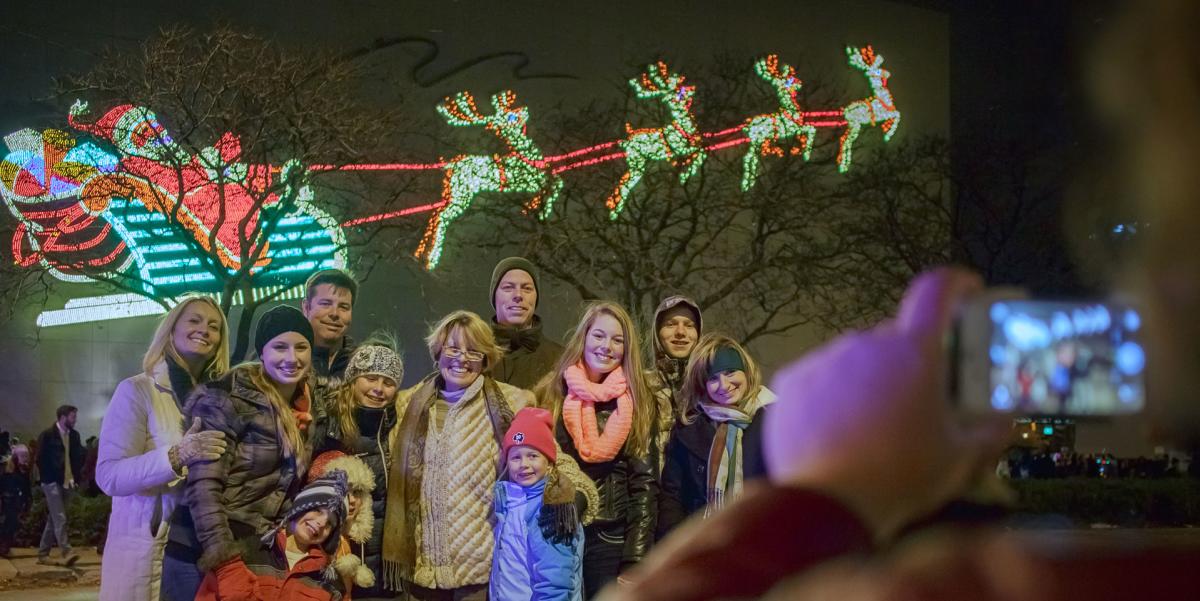 6.Night of Lights
November 23
On the night before Thanksgiving, downtown Fort Wayne comes to life with lights! Join friends and family as you trek from one display to another, kicking off the holiday season with the lighting of Fort Wayne's most iconic displays! 
Learn More
This post was originally published in November 2017. It has been reformatted and updated. Last Updated: November 2022