Warm days are here again and that means it's time to get outside and get some fresh air. Goodbye, cabin fever! Feeling uninspired? No worries! Here are some ways to get active in Fort Wayne this month:
Hit the Road
No, we don't mean in a car - on a bike! The 5th Annual Fort4Fitness Spring Cycle will be held 10 a.m. May 21 in downtown Fort Wayne at the Arts United campus again this year. Choose from four different tour distances, including a new 10-mile course! That means beginners and pros alike can feel at home.
Get up Close and Personal with Nature
Take your outdoor experience to the next level with a bird-watching tour at Eagle Marsh nature preserve May 20 from 6:30-8 pm. Meet at the west entrance to Eagle Marsh. You're in for a real treat. An expert will give basic pointers on how to locate and identify some of the many resident birds or migrants likely to be present, and recognize their songs.
Experience the Rivers in a New and Different Way
Fort Wayne is situated on the confluence of three rivers, which means there's plenty of fun to be had on the water. Fort Wayne Outfitters & Bike Depot offers kayak, canoe rentals, and stand-up paddleboard rentals. They can do 2-hour, 4-hour, and full-day rentals.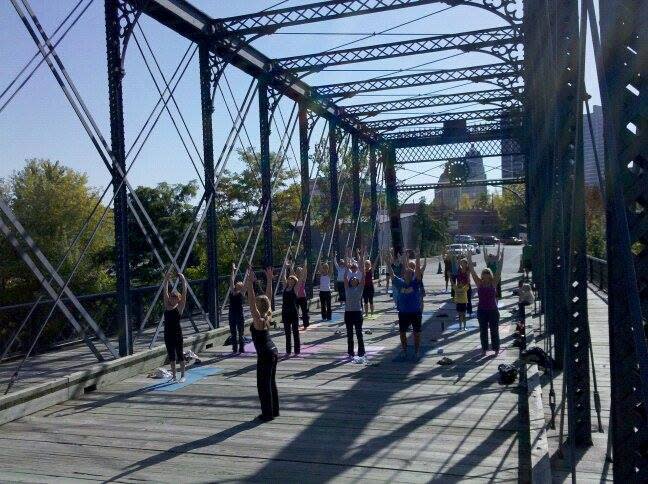 Recenter 
Join fellow yogis on the Well Street Bridge every Wednesday at 6 pm. A $10 drop - is your ticket to an hour of zen. Check the instructor's Facebook page for weather updates. Bring your mat, sunglasses, and water. 
Paint the Town Red
Pedal City combines the fun of bicycling and friendship with a mobile bar. You and 14 of your friends can cruise the town while living it up. For questions and booking info, email info@pedalcityfw.com or call (260) 415-61