Fort Wayne is beautiful in the spring. After lunch or shopping, why not check out some of these places for a stroll?
Enjoy some fresh air and welcome spring by taking a walk at some of Fort Wayne's best outdoor places.
Perfect Spring Walks in Fort Wayne, Indiana
Lakeside Park and Rose Garden is located on the outskirts of downtown Fort Wayne and is a perfect springtime destination. You can enjoy a short leisurely stroll around the pond and take in the sights. Although the roses are not in full bloom yet, you can catch glimpses of early spring flowers. White and pink tree blossoms in the spring give this place a magical quality.
This park has been around since 1908 and is a Fort Wayne landmark. The historic homes that were built next to the park during that same time period add to this park's historic charm. After taking a stroll around the pond, you can extend your walk from the park down towards the historic mansions and imagine life in Fort Wayne in the early 1900's.
Many visitors come to Kreager Park for its youth soccer events. However, there is another gem hidden in plain sight right across the street. The Rivergreenway trail by Kreager Park is another ideal location for a relaxing springtime walk.  
This is a great place to visit if you want some exercise, as well as time to recharge in nature. The paved path takes you along the riverbank of the Maumee River.  Enjoy wooded trails as the path curves alongside the water. Springtime is the perfect time to visit, although you want to make sure you avoid periods of heavy rain so that the pathways are accessible. The fresh springtime air and exercise will have you leaving this trail feeling completely rejuvenated.
If you're visiting family at IPFW and want to enjoy a beautiful spring day, then head on over to nearby Shoaff Park. With the entire trail being 1.80 miles in length, this walk can give you a moderate workout, as well as a chance to enjoy the sights.
Enjoy views of Shoaff Park's golf course as you walk along the wide trails. After your walk, pick from a number of spots to enjoy a picnic lunch and relax as you take in the gorgeous greenery.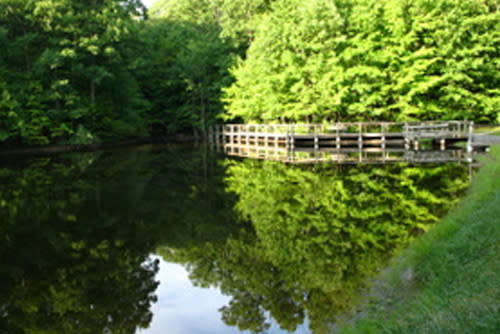 If you're visiting Jefferson Pointe and want to enjoy a nature walk, you don't have to go very far. Only minutes away, this park offers hikers the chance to walk through trails in a wooded nature preserve. Welcome the spring and unwind as you hike along any of the four designated paths.
The great thing about Lindenwood is that the trails can be navigated pretty quickly if you don't want to spend all day at the park. This is the ideal way to spend part of your day if you find yourself near Jefferson Pointe in the springtime.
If you want to spend hours hiking and immersing yourself in nature at the start of spring, then head on over to Fox Island County Park. With seven miles of trails, there is plenty of walking to do. Bring your camera and climb the bird-watching tower to get a great view of the park.
If you go to Fox Island, you should pack water bottles and snacks to better navigate the trails. Luckily, there are places you can sit and rest as you enjoy the sights and sounds of nature. You don't have to rough it completely, however. This park has a clean bathroom located in the nature center, so you really can spend all day here!
Of course, these are not all of the great parks and paths available in Fort Wayne. Discover your next spring adventure here!