No one told us this one. Everybody told us the hard parts of having children. Changing diapers. Random Puking. Endless Laundry. But nobody warned us about how gosh-darned difficult it would be to simply pick a place for dinner.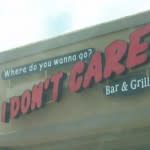 It was hard enough when we were just a couple of crazy kids trying to decide what sounded good. There were plenty of "I don't care"s and "Whatever you want"s and "Just pick something!"s until we would finally make a choice and jump in the car.
With a youngster tagging along, we have an additional factor to think about, and it's a doozy. We've made plenty of bad choices in the last two years, and the restaurants we tend to avoid now are not BAD restaurants. In fact, some of our long-time favorites are still restaurants we love when our son is spending time with the grandparents, but they just don't fit our current everyday dining needs. Namely, keeping our Tiny Tornado sufficiently entertained to sit in one place for a sustained period of time so we can actually eat an entire meal. Also, I think I need to clarify that I'm not talking fast food. Fast food is a given. Fast food is designed to make kids happy, and we'll visit those arches or the red-haired girl once in a while, but sometimes we want to sit down at an actual restaurant and eat dinner as a family. In my opinion, there are three simple keys to a great sit-down restaurant for families with kids:
Entertaining atmosphere
Quick access to food
Wide variety of meal choices
Most parents have learned these tricks and are prepared with toys, books, and easy snacks just in case their little ones get a case of the Squirmies, but any restaurant that can cover the food and entertainment for us saves a lot of packing and unpacking. For that, we thank you. If you're a parent, here are five Fort Wayne choices that might make the "What's for dinner?" conversation a bit easier.
Koto Japanese Steakhouse and Sushi (301 E. Washington Center Road)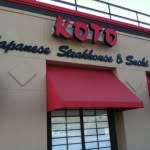 When you first walk in, Koto seems like it's designed primarily for a quiet, intimate meal, and if you just want to sit down for some sushi or a quick meal in the dining room, you'd be right. They welcome children (which pretty much all restaurants do), but really young kids may have a hard time sitting still in such a mellow environment. Your better bet is to call ahead and get the whole family together for a hibachi meal (invite the grandparents too!). They will seat you around a table with a hibachi grill in the center, and one of Koto's fantastic cooks will prepare your meals and give you a fun show that the kids will love. Plus, if your little one is a fan of soup, as ours is, the miso soup that is served before every hibachi meal is very good, and it will tide the youngins over before the main event.
www.kotojapanesesteakhouseandsushi.com
Flanagan's (6525 Covington Road)
Flanagan's knows how to cater to a wide variety of diners. For the adults, they have hearty meals and great drink choices, but they make my list because they also have a bunch of great meal choices for kids, and they've placed a boatload of random stuff on their walls. From the neon signs, to the toy trains, to the authentic carousel horses, my son is consistently entertained just by looking around. Granted, I sometimes wonder if the multitude of stuff blows his mind, but hey, he's having fun.
www.eatatflanagans.com
Window Garden Cafe (1300 One Summit Square - 13th Floor)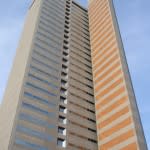 While the actual room may not be that exciting, the real reason to bring your young ones to the Window Garden is for the amazing view of Fort Wayne from the 13th floor of the One Summit Square building. They offer inexpensive cafeteria-style dining, but you should probably nab a spot near the window to make sure your kids will stay at the table long enough to eat. Chances are, they'll want to keep checking out the view. The Window Garden Cafe is only open for breakfast and lunch, so plan accordingly, but it's a fun way to start your day!
Quaker Steak and Lube (407 W. Coliseum Blvd.)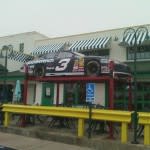 I really tried to stick with locally owned restaurants on this list, but after taking my son to Quaker Steak and Lube, I can't in good conscience leave this one out. Our kid is a car freak, and any restaurant that has a real NASCAR Sprint Cup car right outside its doors is an obvious favorite. But it doesn't stop outside. The interior of Quaker Steak is covered in pictures of cars and car parts, and if the #3 parked outside wasn't enough, there are more vehicles hanging from the ceiling. Just to send the excitement meter directly into the red, the kids meals are served in a snazzy cardboard car that they can take home (be sure to remove the mac and cheese cup to ensure minimal cheddar smearage, trust me). Be prepared, however. If your son or daughter is a fan of cars, your first Quaker Steak visit may be a little overwhelming...for everyone. Don't worry. It gets easier, and more fun, each time you go back.
www.quakersteakandlube.com
Friends (1824 Dupont Road; Friends Too - 3720 W. Jefferson Blvd.)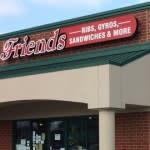 The last entry on my list is a little more mellow. Friends is a cozy little place at the end of a small strip at the northwest corner of Lima Road and Dupont Road, tucked behind the Marathon Station. They are locally owned and they serve some of the best Greek food in town, which is something the wife and I really like, but they also have a wide variety of food, so we're always able to find something our son likes as well. Breakfast? Check. Burgers? Yep. French fries? Uh-huh, and good ones at that! Heck, our picky eater has even enjoyed some gyro meat from time to time (well played, Friends!). The service is great and quick so he never has to wait too long for something to munch on. Plus, the name is accurate because there's such a friendly atmosphere that he has a great time just watching the other diners and greeting people as they come in.
www.friendsrestaurants.com
There are certainly more fantastic places out there that are great for a kid-friendly dinner, and all children have different interests, so your list may vary. However, this should give you some hope that just because you've decided to enter the land of Kids Meals and Sippy Cups, you aren't doomed to paper bags and drive-thru speakers. Go explore the restaurants in Fort Wayne and find your family-favorites too!