A summer day under a tent in the park. You're browsing the latest creations of talented artisans and meeting new people along the way. You might be shopping for gifts or maybe it's a day out with your girlfriends. Either way, you're at an Art Fair.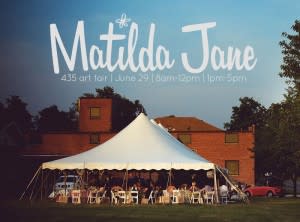 That's where it all started for local girls clothing company, Matilda Jane. However, it's grown from its art fair roots into a privately-held, successful company that releases several clothing collections each year in addition to its "Platinum" brand that are limited release, locally sewn dresses, pants, tops and accessories. Despite the large scale of its operation now, Matilda Jane is still at its heart, creating clothes that make girls of every age feel fun and beautiful. Once a year, MJC (as it's known to its throngs of followers around the country) goes back to its roots and hosts Art Fair. On the last Saturday in June, you have eight hours to shop in the 435 Building that until recently housed MJC operations. When and Where is Art Fair? Art Fair is June 29, 2013 at 435 E Brackenridge Street, Fort Wayne, IN. Shopping will be open from 8am-12pm and again from 1-5pm. What to expect? Oodles and oodles of beautiful clothes for your darling daughter. You won't necessarily find them at a discount, but it's not about the price with these pieces. It's about the access to unique items designed in very limited quantities that are sold through the year on the Platinum website. These items usually disappear before you can click "buy!" Prices at Art Fair range from $38-64.
TIP FROM THE INSIDER: Look for a tag inside the garment that shows a number. This indicates how many of that design were produced and which limited addition piece you have. You might even find something that's one-of-a-kind!
What time do I need to get in line? That is up to you. First, be aware the MJC Team will be restocking Art Fair throughout the day and specifically during the break at Noon. You shouldn't feel like you need to sleep through the night outside in order to get your darling daughter something she'll love. Remember, this building is located on a fairly vacant downtown street so you're waiting at your own risk.
TIP FROM THE INSIDER: You can get updates on where the line will start or where the entrance is by following the Matilda Jane blog.
If I get to the Art Fair at 10 or 11am will I have time to shop before 12pm? As long as you are in line to check out by 11:00am you will be good for the first session. In previous years, the line outside is gone by 8:45 or 9am. However, each year has surpassed previous expectations. But, not to worry, if you miss the first session, you'll be right there to start the second session at 1pm! Also, four Fort Wayne food trucks will be out front from 11am - 1pm and the Coffee Beanery will be onsite from 6:30am - 5pm to keep you fueled. Do I need a ticket to get in? No. For the shopping portion of Art Fair on Saturday, there is no ticket required and the event is open to all. Is there a limit to how much I can purchase? You can only check out with 20 items or 4 bags at one time. However, you can check out as many times as you want. Do they offer a babysitter service? No, but I'm sure this is a great opportunity for a budding entrepreneur!
TIP FROM THE INSIDER: If you have the option, leave your little ones at home. We ladies are passionate about our Platinum and it can get crowded with Moms and armfuls of garments.
What should I do in Fort Wayne after I've shopped the Art Fair? If you didn't purchase tickets through Matilda Jane for any of their other weekend events, don't feel like you're missing out! There are still plenty of things to do whether you're visiting on a girl's weekend or a mother-daughter-trip. You might consider a walking tour of downtown, a visit to the Botanical Gardens, taking in a TinCaps game at Parkview Field or simply dining al fresco at any number of our local restaurants. See you there!