There are two kinds of brides, one that knows EXACTLY what they are looking for and one that is totally CLUELESS. Me? I was that clueless bride two years ago; the 
Bridal Extravaganza
 is a bridal blessing. This show has vendors galore from photographers, venues, food tasting, invitations, trust me they have EVERYTHING you will need for your big day. The anxiety of planning a wedding is enough stress, walking into the bridal extravaganza released all of that. Once you meet people you feel comfortable to work with and share the same vision for your wedding, it is a sigh of relief. Even if you do not have a vision yet, you will get so many ideas, and most importantly, you'll know what you are
not
looking for.
I wish I would've taken this opportunity a little more seriously. Everything you need is in one room, and I had no idea what I was getting myself into. Take advantage of this opportunity! My 3 tips for making the best out of your 2015 Bridal Extravaganza are:
1. Take lots of notes, pictures and get the business cards of the vendors of your interest.
2. Take the time to talk to these vendors and get to know more about their business and what their main focus is for your big day.
3. Most importantly, take your fiancé, no matter how much he moans and groans this is YOUR wedding and a bonding moment for the two of you.
Did I mention Randy Fenoli from TLC's "Say Yes to the Dress," "Randy to the Rescue" and author of "It's All about the Dress" will be there! Talk about a double bonus, I could never watch enough "Say Yes to the Dress" before my big day.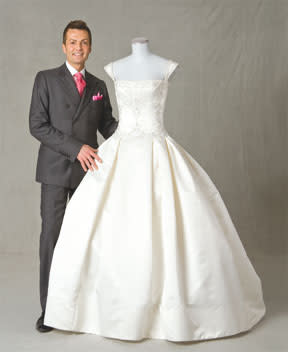 Each of us has our own taste and there is something for everyone here! Get to know your vendors, and check them all out before picking the one for you special day. I wish you brides luck and happy planning!
The first 300 brides to register are guaranteed to receive a free gift tote bag containing the spectacular bridal planner. Brides can also enter to win the fabulous Dream day Giveaways and door prizes.
The Bridal Extravaganza is Sunday, February 22, 2015 from noon - 4 pm at the Grand Wayne Convention Center located ta 120 W. Jefferson Blvd. 
General admission tickets ($12 in advance, $15 at the door) guarantees admission to the show from noon - 4pm and the enjoyment of a fashion show, music, stage presentation by Randy Fenoli and a preshow dance demo by Dance Tonight at 11:30 am.
The premium VIP ticket (limited to 75) ($75 each) will give you all of the above plus admission into an exclusive VIP reception presented by Peter Franklin Jewelers, from 10:30 - 11:30, here you will meet Randy Fenoli and get an autograph and photo opportunity. Plus receive a special gift from Peter Franklin Jewelers, enjoy light hors d' oeuvres and premium VIP stage seating!
Purchase your tickets online or in-person at Fort Wayne Newspapers, 600 West Main Street in downtown Fort Wayne, Mon-Friday 8am-5pm. For more information please call (260) 615-0873.