If you've been to a Komets game, you've more than likely seen the large machine cleaning the ice between periods. Many people don't know that machine is called a Zamboni. Most are fascinated by it and the man behind the machine, myself included. I sat down with Paul the Zamboni driver to learn about his role with the Komets.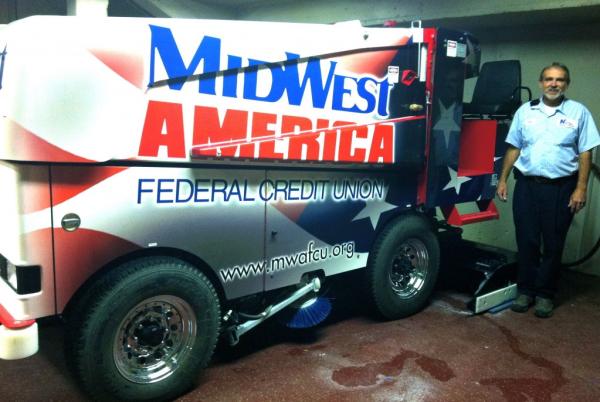 The Fort Wayne Komets' Zamboni Driver
What does a typical game day look like for you?
"I arrive the same time as the second shift guys and start by preparing the ice. I'm often here before the players which allows me to drag the nets off, run over the ice, drill the holes for pins for the nets and get everything ready for game time. You see what I do during the game. And then after the game, we pull the nets off and resurface the ice."
Zambonis are complex machines. Can you describe the mechanics?
"Basically, there's a big razor blade about six feet long by five inches wide at the back of the machine. The height of the blade can be adjusted depending on how deep you need to cut. Besides cutting, I'm also collecting the snow you see out on the ice using an auger that pulls the snow into the hopper on the Zamboni. Also, as I pass over the ice, I'm dumping warm water behind, which fills in any cracks and then freezes smooth. The biggest thing to watch for as a driver is to not lay down too much water. If you do, it doesn't freeze quick enough, which causes a delay in the game and people get upset." Have you ever caused a delay in game? "Oh yeah. I've done that and the referee's will come down and say 'Give us a squeegee!'"
How many years have you been driving the Zamboni?
I've been working at the Coliseum for 30 years, driving for 29 years."
How does it feel to have thousands of eyes on you and have them think you have one of the coolest jobs in the world?
"The first time I drove, I was called in to drive mid-game because they weren't happy about the performance of the driver. Until that point, the only time I'd driven the Zamboni was practicing in the empty arena. That first time out there in front of the crowd was pretty scary. Now, everything is second nature so I can take a minute to look up into the crowd and catch a friendly wave from a Komets fan. That's pretty special but I always remember it's not about me; it's about the team."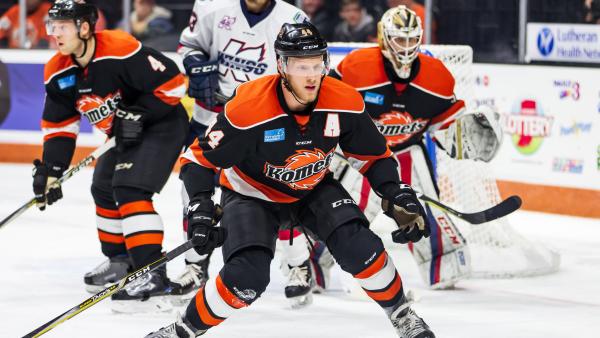 Many arenas use two Zambonis at a time to speed up the process. How would you feel about having a co-Zamboni? Would you race?
"No, we wouldn't race. Actually, we've done that for the Frozen Four Regionals because it was an NCAA requirement to have two Zambonis. We had just received our new machine, so we used both the old and new Zambonis for the tournament. We did practice quite a bit to make sure we had our timing down to run both on the ice at one time. If we decided to do that again, we've still got two Zambonis and I think it would go just as well."
You mention practicing quite a bit. How do you train to drive the Zamboni? Do you have a Zamboni drivers license?
"There isn't a special license, just on-the-job training. It's about getting your speed set. Getting your spacing when you are on the ice with another machine. That way the other driver has space to get out the door safely without the other Zamboni coming up too quick behind you." It seems like you would need to use brakes in that case. Are there brakes on the Zamboni? "Oh yes. But we never use them." (sarcastically)
Speaking of brakes, what's the top speed of a Zamboni?
"There's no speedometer so my best guess is 20 mph. The only time I've opened it up is driving it around the building to move it for various events that may require it to be moved."
Do you double back when you miss a tiny spot?
"I do occasionally if I have time. I admit to having missed a spot here and there over the years. Not only is it a matter of time, but there's also a lot of games and entertainment going on between periods so I might not be able to go back. But, if I've missed a big spot, I always double back to cover it."
Do you use the same pattern when you vacuum?
"No, but I think I may have done it a time or two on the lawn mower."
Do you ever let someone else drive?
"Sure. There are other people that drive it."
Have you ever had a co-pilot?
"No. Other arenas have Zambonis with an extra seat and they allow people to ride with the driver. Our Zamboni only has one seat and there are always safety concerns with a machine as large as this. I don't think there's a seat big enough to hold all the kids who've dreamed about driving it. There are a few kids who over the years have paid us special attention. It's pretty neat. So many kids like the Zamboni."
Do more people know you as Paul or Zamboni Paul?
"It's probably a toss up. I get a lot of "Zamboni guy" or "Zamboni driver" but a lot of people know me by my first name."
What is on your Zamboni playlist?
"Actually, I don't wear headphones. I don't even get to hear the arena music because the machine is so loud." So for Christmas, do you want an iPod? (laughing) "I don't know. I might get too distracted from what I'm supposed to be doing."
When you have to clarify a spelling over the phone, do you use "Z" as in "Zamboni"? (
laughing) "No, I don't." Will you now? "I might!"
Have you ever driven over anything but the ice?
"There have been several instances where Icy has had things on the ice that I've driven over. A cardboard cut out of a person. Several chickens they used to throw on the ice. A football or two that Icy threw into the crowd and they threw back. Thankfully, nothing major that affected the machine."
Other than Komets ice, what ice would you want to drive the Zamboni on?
"I would like to do an NHL game once. Probably for any team that is playing against the Red Wings (my wife's favorite team)."
What are some of the great Komets moments you have witnessed from the Zamboni tunnel?
"The best memories are that of a few of the guys I've gotten to know. The one before I even worked here was Merv Dubchak. When Merv lined up with a slap shot from the blue line, you didn't know where it was going and sometimes it would even go through the old wire mesh. Also watching a good friend Steve Salvucci who played several years ago. And Steve Fletcher. By watching his game play, you would never think that guy could be as nice as he was off the ice. It's been great to get to know the guys on a different level than just what you see when they're in uniform."
Have you collected any favorite memorabilia over the 29 years?
"There is one picture that I cherish. There was a couple years where fans were throwing octopus on the ice. When they do that in Detroit, the Zamboni driver goes out on the ice and picks them all up by hand. That always makes the fans cringe. I have a picture that one of the newspaperman took when I picked one up in the face-off circle. Everyone was cheering and it was just a reaction I had in the moment to start swinging it around above my head. The photographer captured that very moment and I cherish it."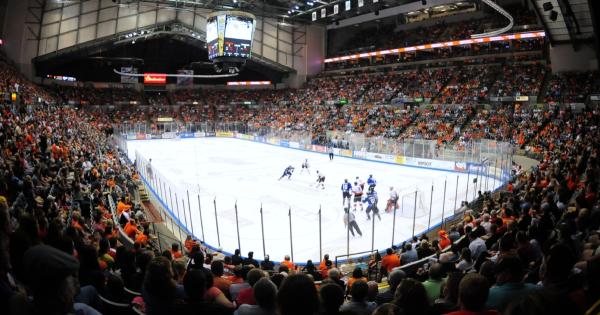 How does it feel to be a part of the Komets 60th season?
"It's really neat that a sports team – not just in Fort Wayne – can survive for that amount of time. It's quite a legacy. Personally, to think about driving for 29 of the 60 years, it makes me wonder 'where did the time go?'"
You are employed by Allen County but do you feel a part of the Komets family?
"Absolutely! The Franke's make you feel that way. They talk to you just like your part of the organization – the family."
What do you do when you're not driving the Zamboni?
"I have a full time job replacing automotive glass at Magic Auto Glass. I've been there for 38 years. I'm an Indiana native, born and raised in Spencerville. In the summer, my big hobby is bass fishing. I belong to the Summit City Bass Club and am president of the Indiana state organization." You're busy! "I'm a lot busier now that I'm a grandpa to my 8-month-old grandson." Has he been to a Komets game yet? "Well, my daughter went into labor on a Friday – a game day. She had the baby around six and I came to work that night. She was sent home from the hospital around Noon on Sunday and she and the baby were at the game that evening. Icy even held him! He and the rest of my family don't miss a game." It sounds like your entire family feels a part of the Komets family. I think to the crowd, you're definitely considered part of the game experience. "That feels weird because it's about the hockey."
Want more hockey? Be sure to catch the Komets at home!
This post was originally published in November 2011. The post's formatting has been updated.