The holidays are a time of spending more time with your family, and celebrating the season with some new sights and sounds. There is no better year than this to celebrate with a drive around Fort Wayne to discover dazzling holiday houses!
From blow-up displays to houses with more than 15,000 lights that give Clark Griswold a run for his money, discover some of the Best Fort Wayne Dazzling Holiday Houses.
2021 Best Christmas Light Displays in Fort Wayne, Indiana
*PICTURES CORRESPOND TO THE HOUSE ADDRESS JUST BELOW THE IMAGE.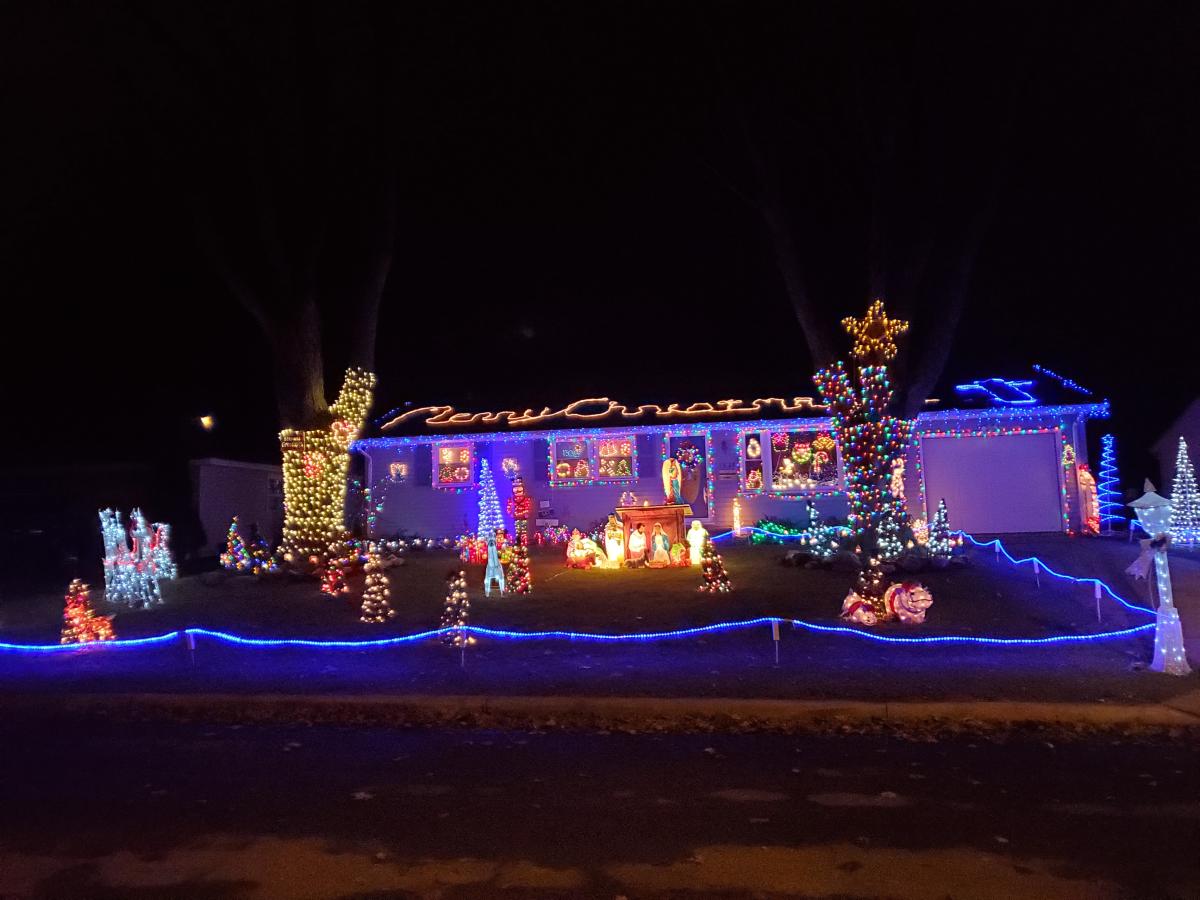 EAST 
1828 S TYLAND BLVD. (HOUSE NUMBER = 1)
This beautiful 360-degree LED display surrounds the entire house. The home has over 30,000 lights, a manger scene, Santa and reindeer display, and it will feature some new inflatables. Catch this show from 5:30 pm–12 am and 5–8 am November 26 daily until January 1st. Special thanks to the Fortman family.

5501 CHISWELL RUN (HOUSE NUMBER = 2)
Featuring nearly 20,000 colorful LED lights all around the house, this display will not disappoint. The front tree alone has close to 5,000 lights. Also the display features blow molds, rope light, projectors and hidden Mickey's!  Come see how many you can spot from Thanksgiving night until the new year!
Special thanks to Bridget Chambers for submitting.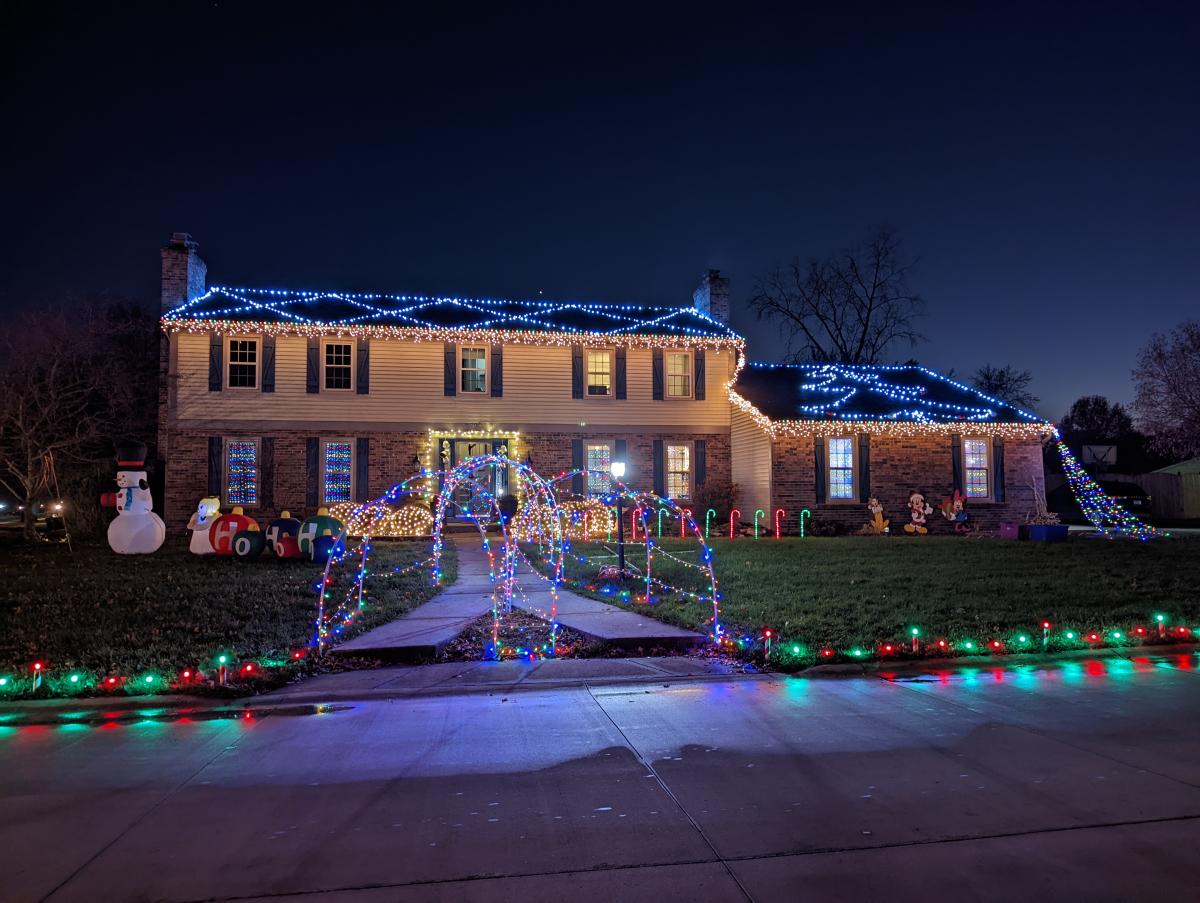 7920 FRONTIER AVE. (HOUSE NUMBER = 3)
Enjoy this display that features more than 20,000 lights, a movie projector with Christmas movies on the garage on Fridays and Saturdays, as well as a 16 ft. inflatable tree, a lighted archway, and light designs on the roof! This display can be enjoyed from sundown to 10:00 pm every evening until January 7th. Special thanks to Alex Richardson for submitting.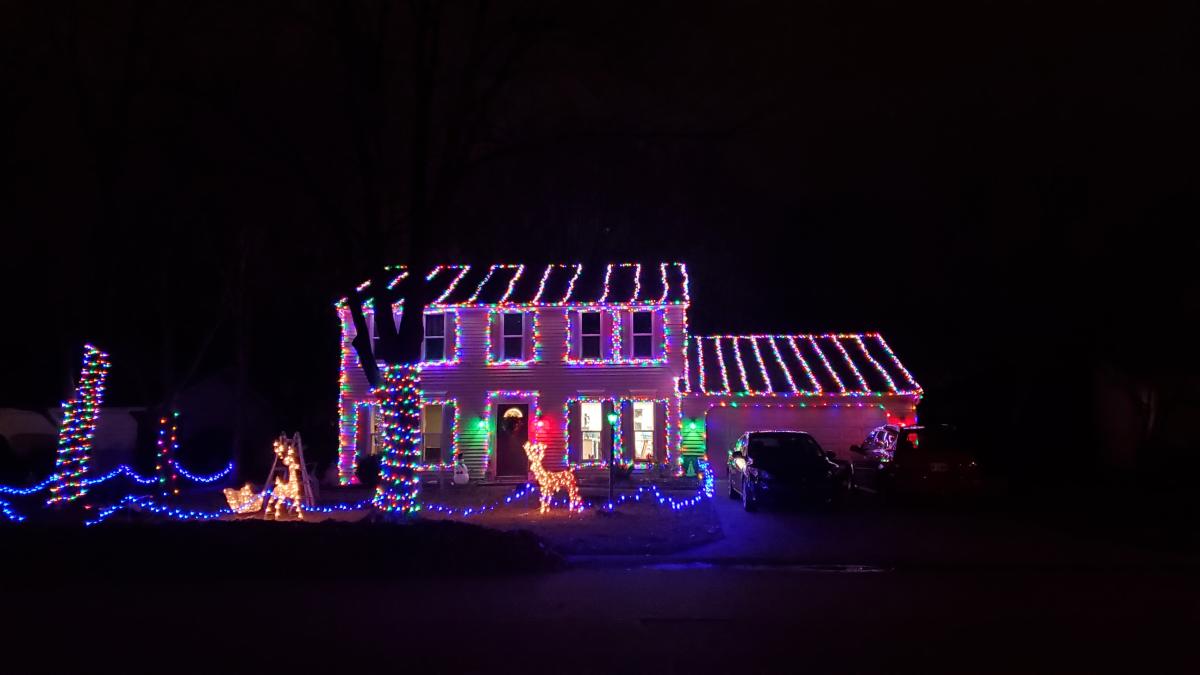 8129 REDSTONE DR. (HOUSE NUMBER = 4)
Discover this house's holiday display featuring trees wrapped in lights, reindeer, and a line fence. Special thanks to Matt Schroeder for submitting.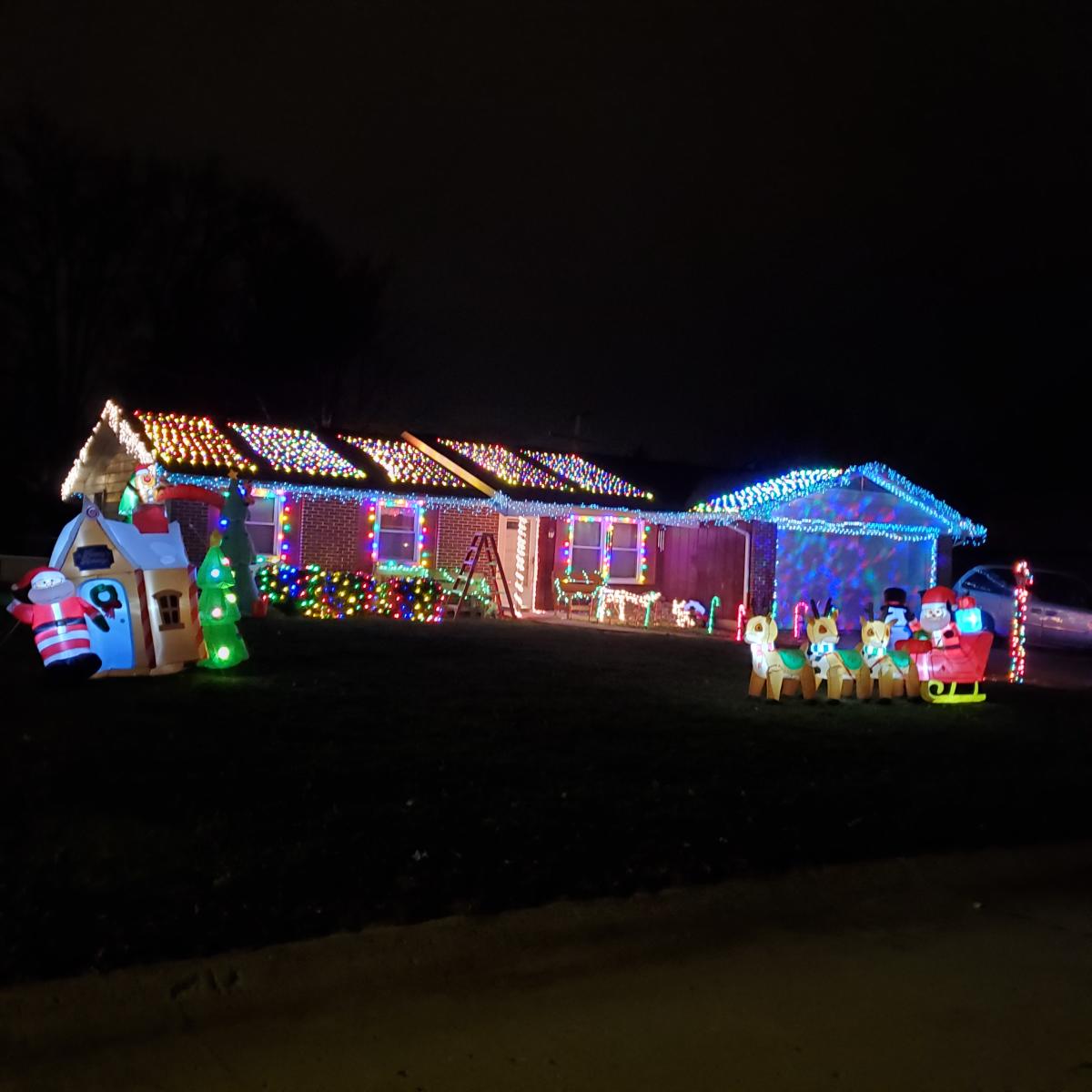 7023 ELMBROOK DR. (HOUSE NUMBER = 5)
This display almost has something new every weekend! Special thanks to Charity Dragoo for submitting.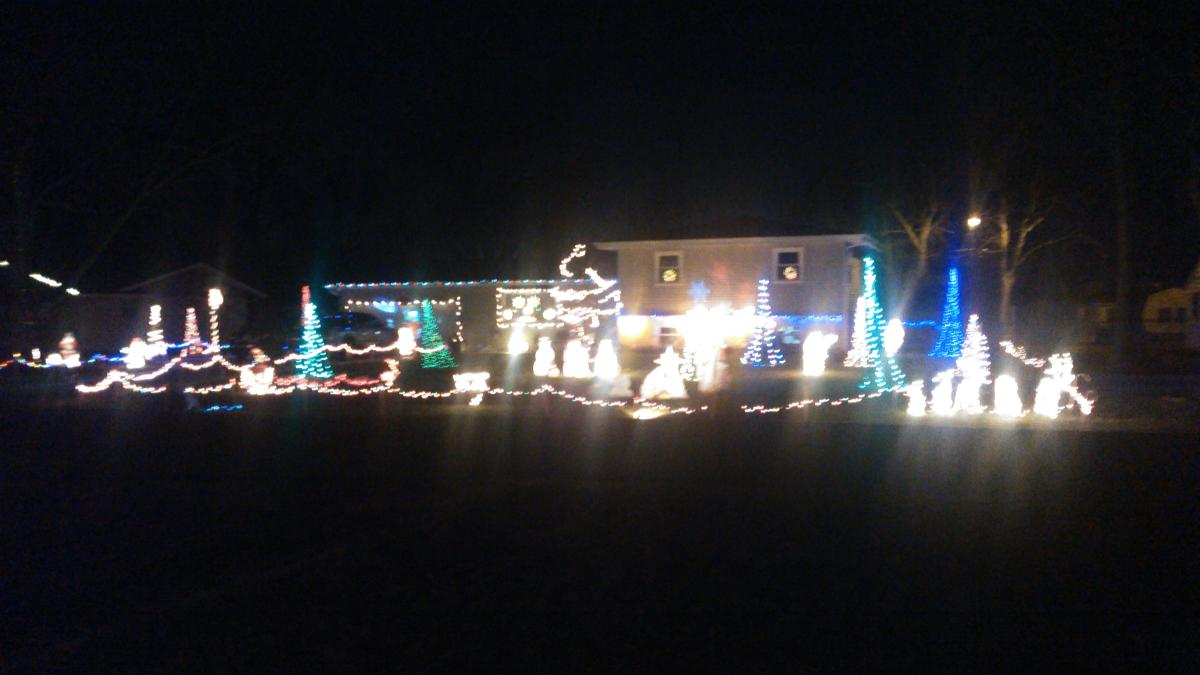 5233 WOODWAY DR. (HOUSE NUMBER = 6)
Besides displaying thousands of lights, this house has over a dozen trees that are synched to music, candy canes surrounding the yard, 4 projection lights, a family of deer, and 2 nativity scenes. Look for some fun displays such as a dog sled being pulled by flamingos, or Santa dunking a basketball. Enjoy this display from Thanksgiving until January 7 from dusk to 10p. Special thanks to Jeff Kumfer for submitting.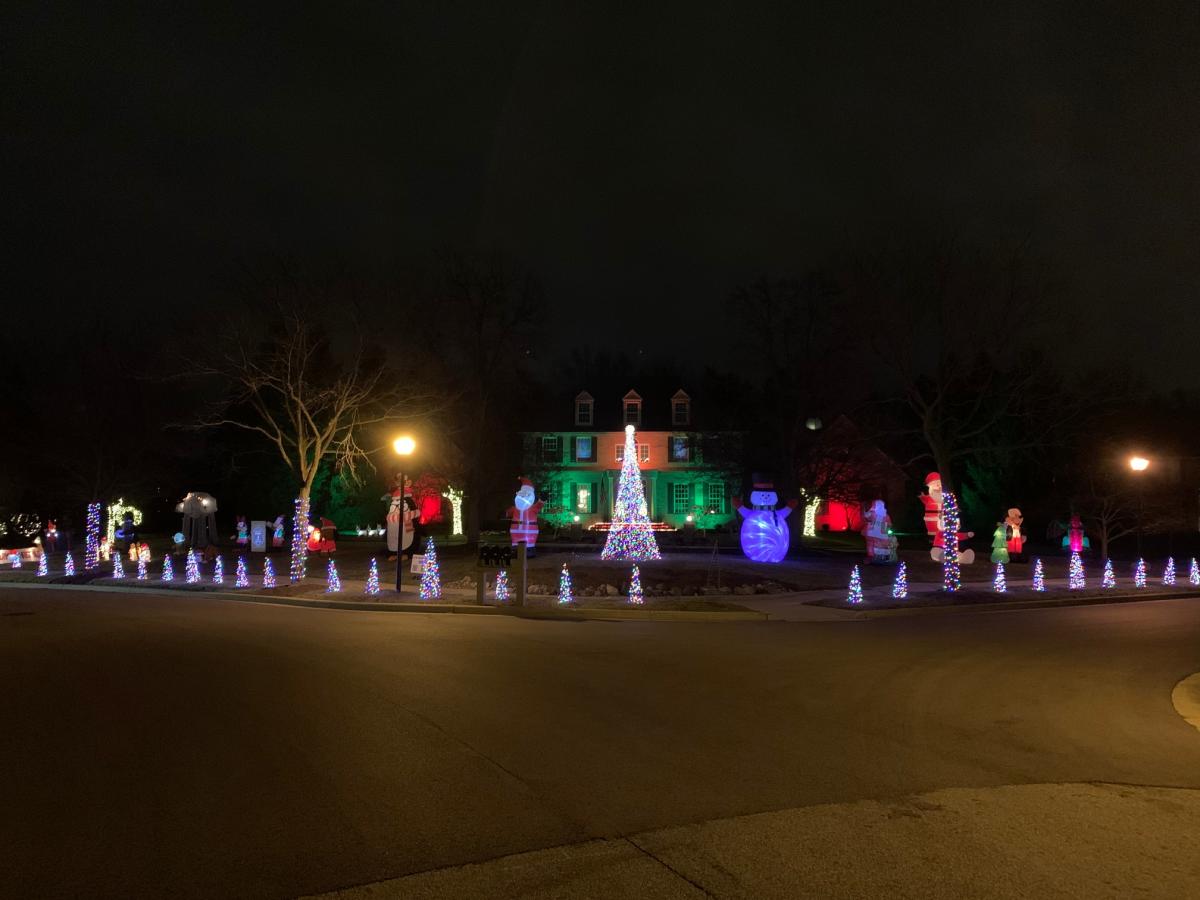 4616 SPRING BURN DR. (HOUSE NUMBER = 7)
Nothing says Christmas like a 15 ft. mega tree with more than 5,000 lights, more than 20 giant inflatables, holiday music, and holiday videos playing on a 20 ft. drive-in screen. Plus, some weekend nights, there will be treats for passers-by. Enjoy this house's display from December 4 to January 3 every evening, dusk to 10 pm. Special thanks to James Andis.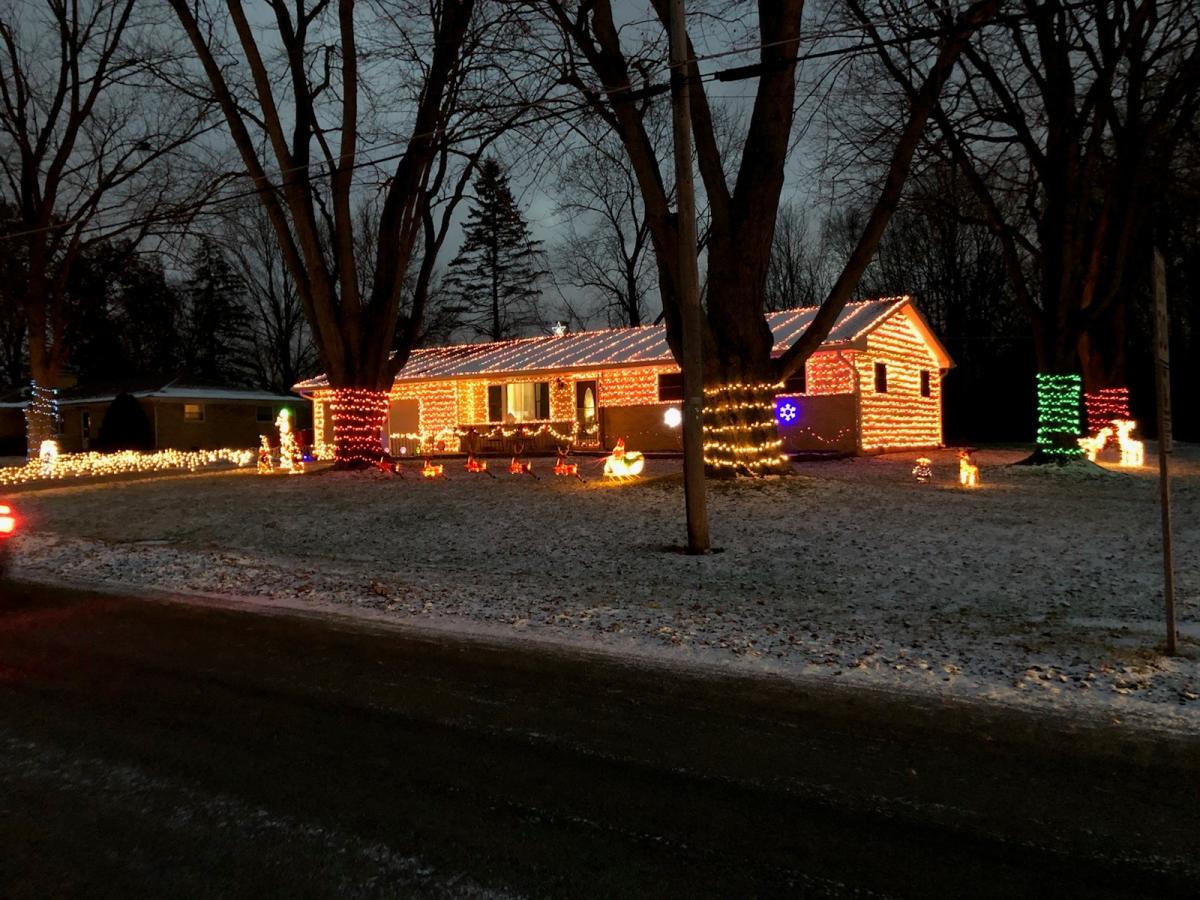 4728 WILLOW BROOK DR. (HOUSE NUMBER = 8)
Enjoy this display from 5:30 PM to 10:30 PM. Special thanks to Holly Glentzer.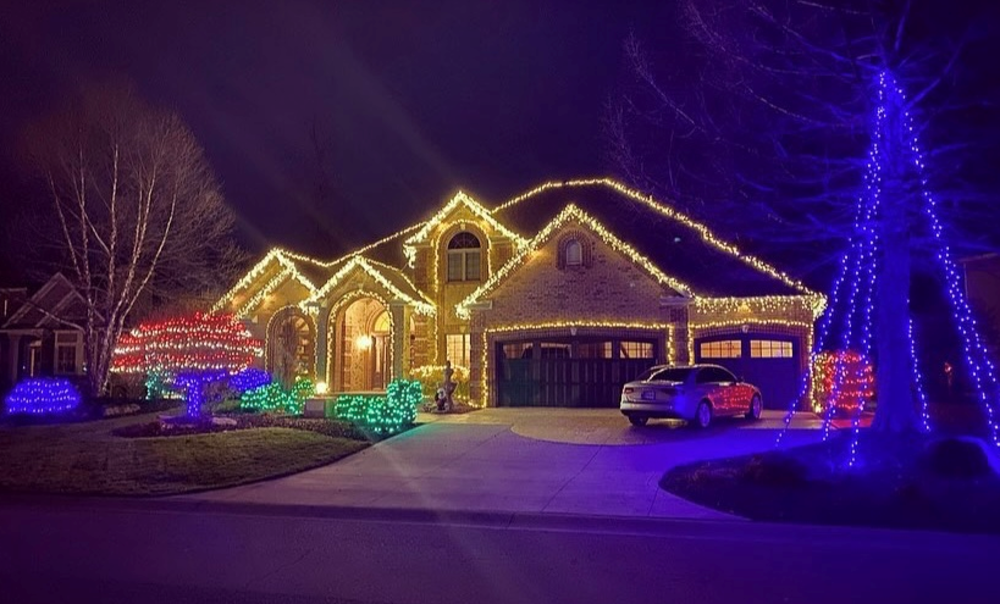 10227 Chambord Knoll (HOUSE NUMBER = 9)
For a house that looks like a giant gingerbread house, this is the display for you! This display features more than 15,000 lights with lights covering the front, sides, and back of the house. Even the pine trees lining the backyard are lit! Be sure to enjoy this display between November 30 until February. Special thanks to Michelle Nicther for submitting.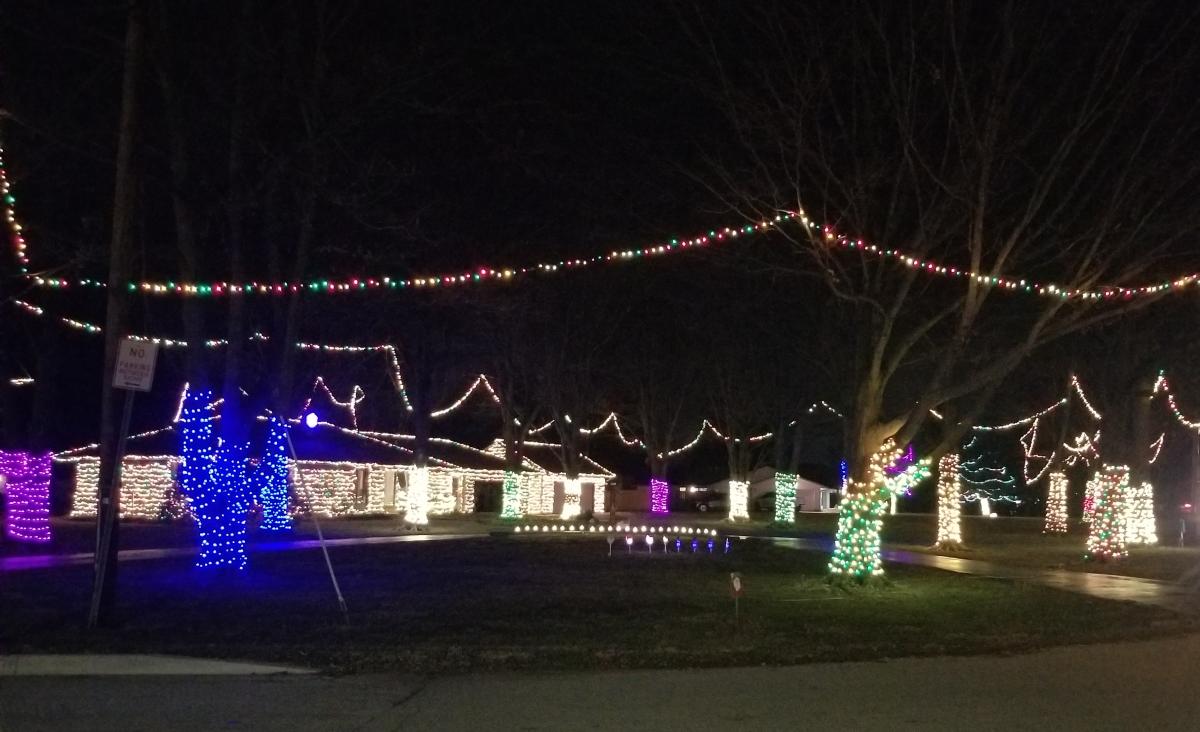 13009 LEO RD. (HOUSE NUMBER = 10)
Just three blocks north of the sharp curve on State Road 1 in Leo you will find this display with more than 30,000 LED lights and some 30-35 feet high! Lights will be on from the Friday night after Thanksgiving, from dusk till midnight, through New Year's Eve, dusk through dawn. Special thanks to the Ryan, Becca, and Phillip.

12215 BUFFLEHEAD RUN - LIGHTING UP LEO (HOUSE NUMBER = 11)
Expect to see more than 30,000 LED lights, displays synchronized to 6 songs, and a 24-foot RGB tree. Plus, this house is raising money for Riley Children's Hospital on their website. Find more information and hours at LightingUpLeo.com. Special thanks to Joshua Robison.

11610 WOODSTONE PL. (HOUSE NUMBER = 12)
Come check out more than 100 blow molds from December 5 to December 26! Special thanks to the Miller Family.

7506 CONIFER PL. (HOUSE NUMBER = 13)
This display features more than 10,000 lights with music animation to Mannheim Steamroller, Trans-Siberian Orchestra, and other classics. Starting in mid-November through January , you can enjoy these lights every night from 5:30 - 12:00 PM. Special thanks to Zachary Jones for submitting.

NORTH
8620 SHEARWATER PASS (HOUSE NUMBER = 14)
Starting November 27th, enjoy this house's display from 6:00 p.m. to 3:00 a.m. Featuring 20 lighted trees, 2 wreaths, and more than 12,000 lights this display truly covers the yard and has a great overall balance. Special thanks to Jamie and Alan Beasley for submitting.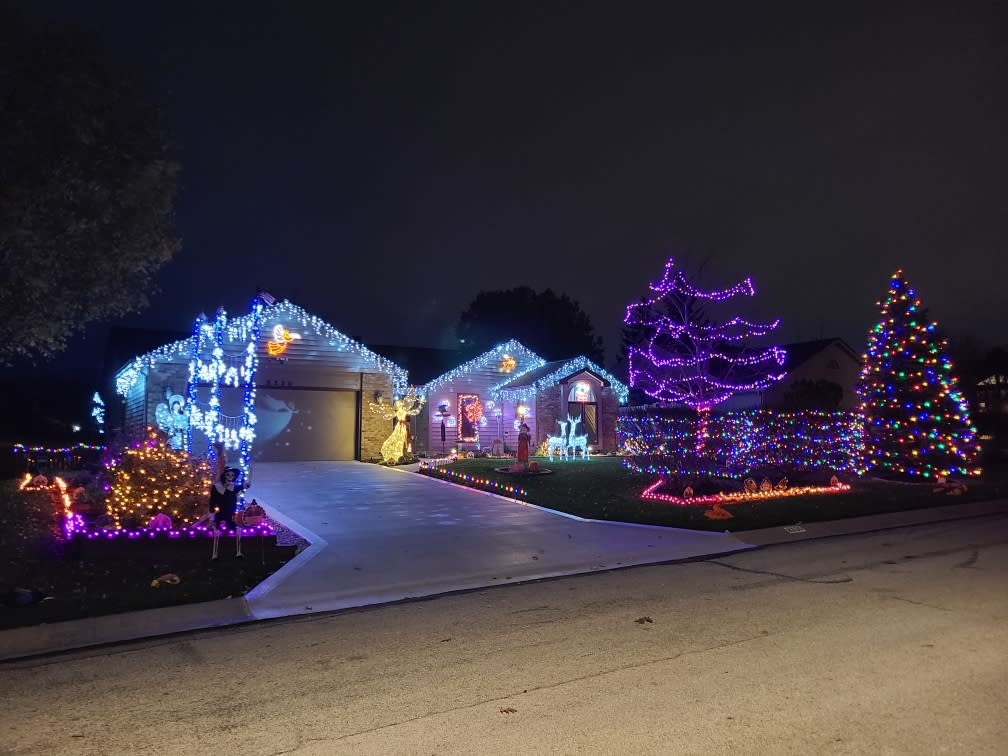 8330 HAWK SPRING HILL (HOUSE NUMBER = 15)
This is the second year for this Christmas display, and it continues to grow each year. Thousands of varieties of lights illuminate the house and yard, cute and fun inflatables are on display, along with deer, an angel, Christmas trees, and more decor to see! New this year is a 14x14 foot cascading snowfall with shooting star icicle lights and snowflake projectors! Check it out, say "hello" to their Christmas elf skeleton, and get in the Christmas spirit!! This display will be up from mid-November through the beginning of January from dusk until 11 pm. Special thanks to Abby & Wesley Wright for submitting.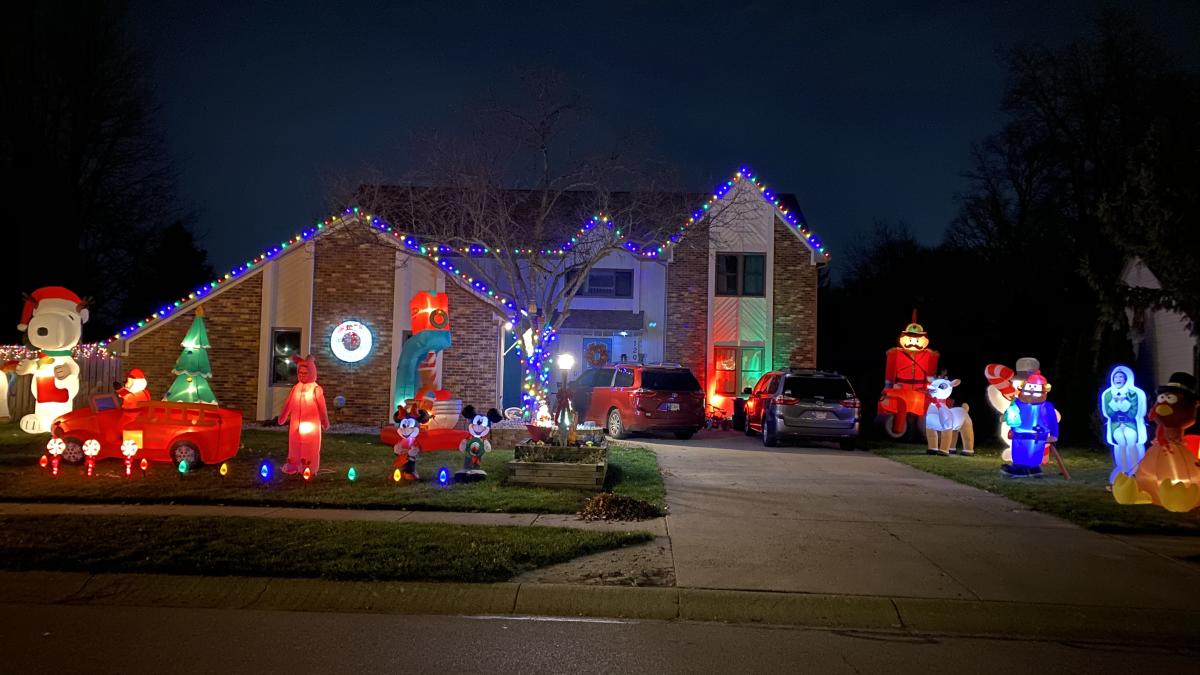 1209 VALDOSTA DR. (HOUSE NUMBER = 16)
This house goes big every year. Be sure to add it to your list to check out starting the Saturday before Thanksgiving! Special thanks to Robert Cochran for submitting.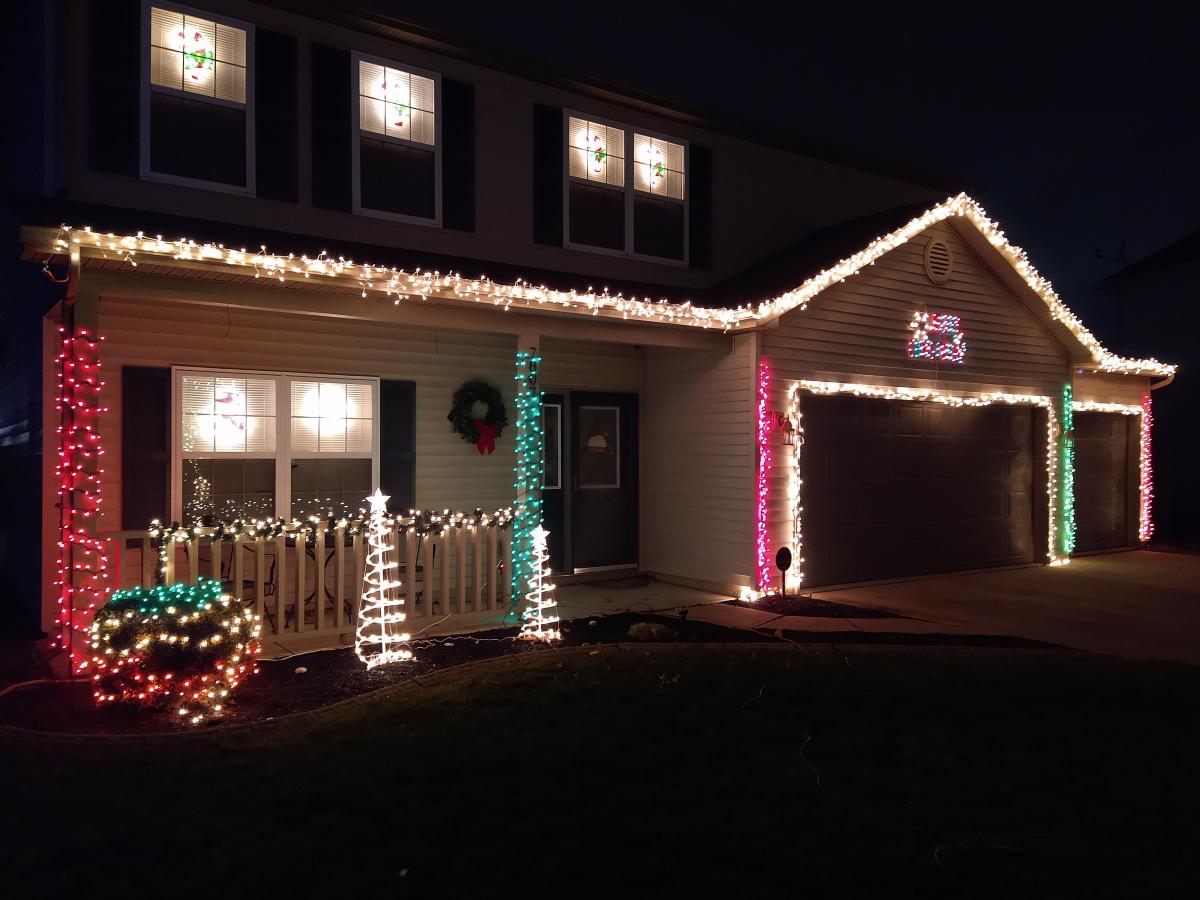 7807 LONGMONT PL. (HOUSE NUMBER = 31)
Enjoy this display nightly from dusk to dawn and celebrate the decorations strung by an 11-year-old! Special thanks to Lee Ann Granzow for submitting.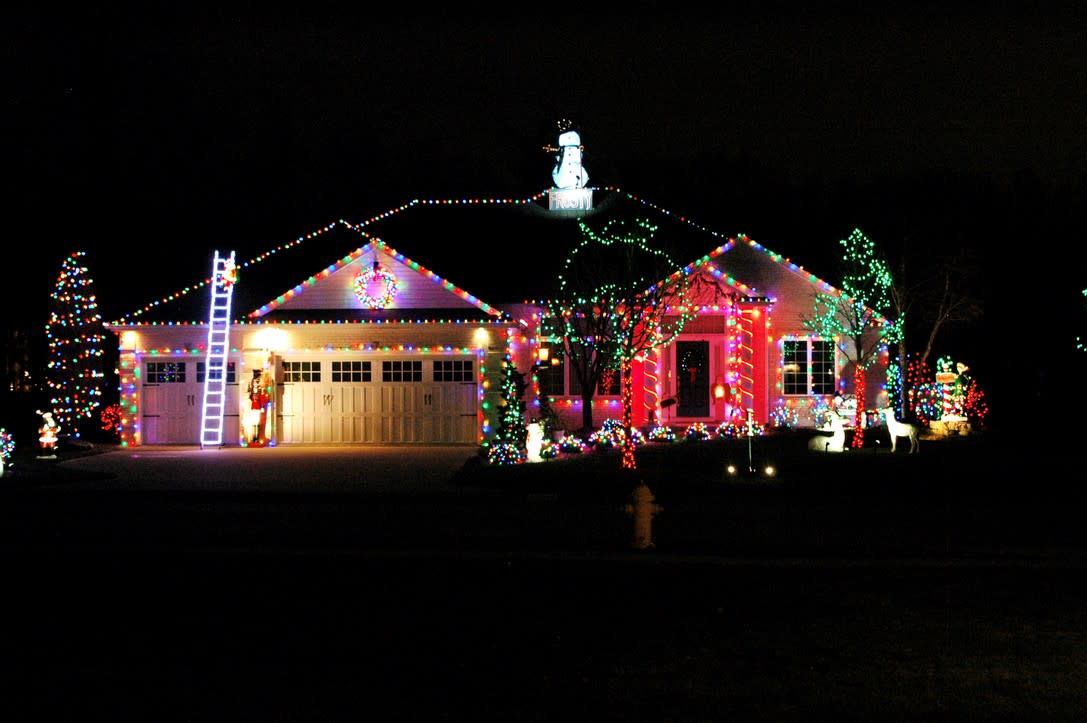 11614 PAINTED PEAK WAY (HOUSE NUMBER = 17)
You can't miss this fun display that features many lights that light up the house, yard, and sky! (Plus, some are only visible on a clear night.) From November 24 through January 2nd keep a look out for a 7 ft. Frosty the Snowman standing proudly on the roof. Special thanks to Jon and Debbie Gordy.

11314 KINGS CROSSING (HOUSE NUMBER = 18)
Enjoy this wonderland featuring life-sized animated silhouettes. Plus weather permitting, enjoy candle-lit luminary bags lining the street on Christmas Eve. This house's display will be lit from November 25 to December 26or so. Enjoy from 5:30 to 11:00 pm. Special thanks to David Brown for submitting.  
Special note: On Christmas Eve, weather permitting, be sure to enjoy around 50 homes in the Pine Valley subdivision, which will be displaying approximately 900 candle-lit luminaries along their sidewalks. Many will be along King's Crossing, Ransom Drive, Old Lantern, and Trails North.


11402 WAYFAIR PL. (HOUSE NUMBER = 19)
This house's light display just keeps getting better and better every year! This year, there will be more lights and some special surprises. Thanks to Matthew Booher for submitting!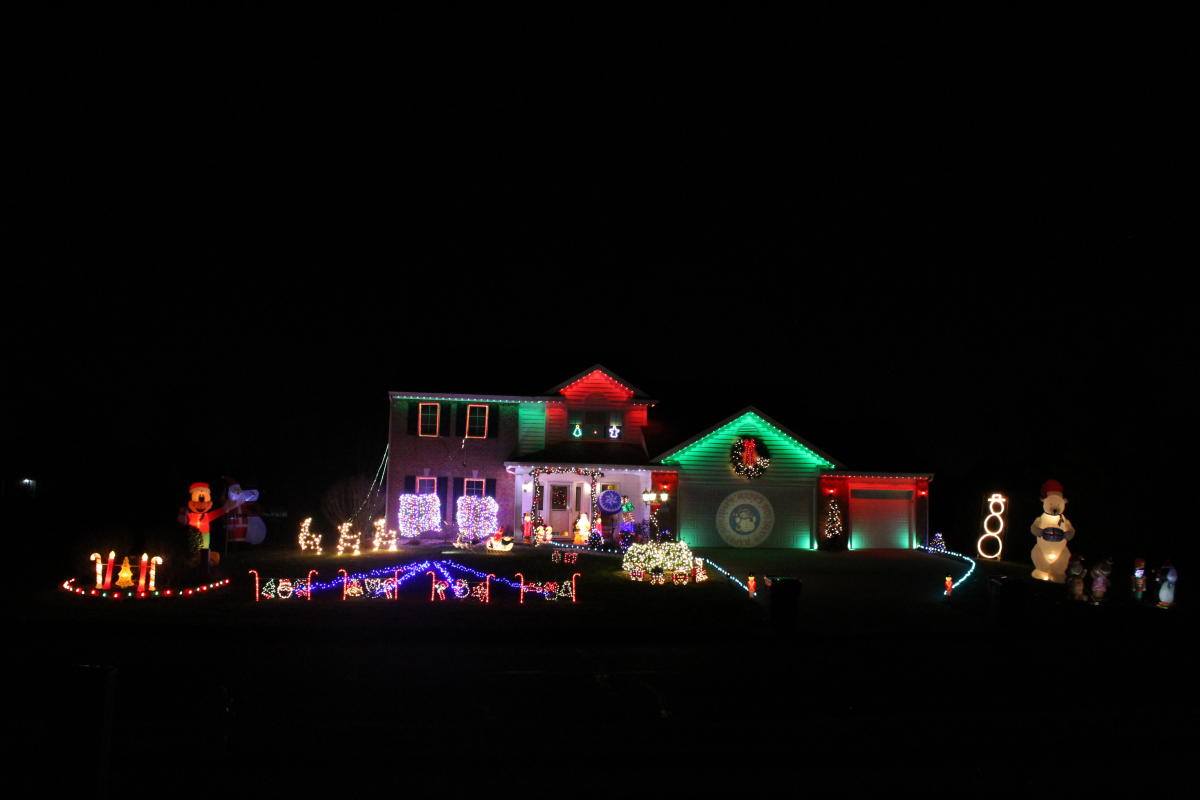 1934 W AUTUMN LN (HOUSE NUMBER = 20)
Discover this house's display that features 40-year-old lights and brand new lights. Enjoy a mix of new and old featuring LED lights, incandescent lights, a dozen inflatables, 200 blow molds, different animation and laser show projections, and an 18-foot tall rope light tree. This house has a little bit for everyone to enjoy from December 1 - 31 every evening from 5:00 - 11:00 pm. Special thanks to Tommy Montanaro for submitting.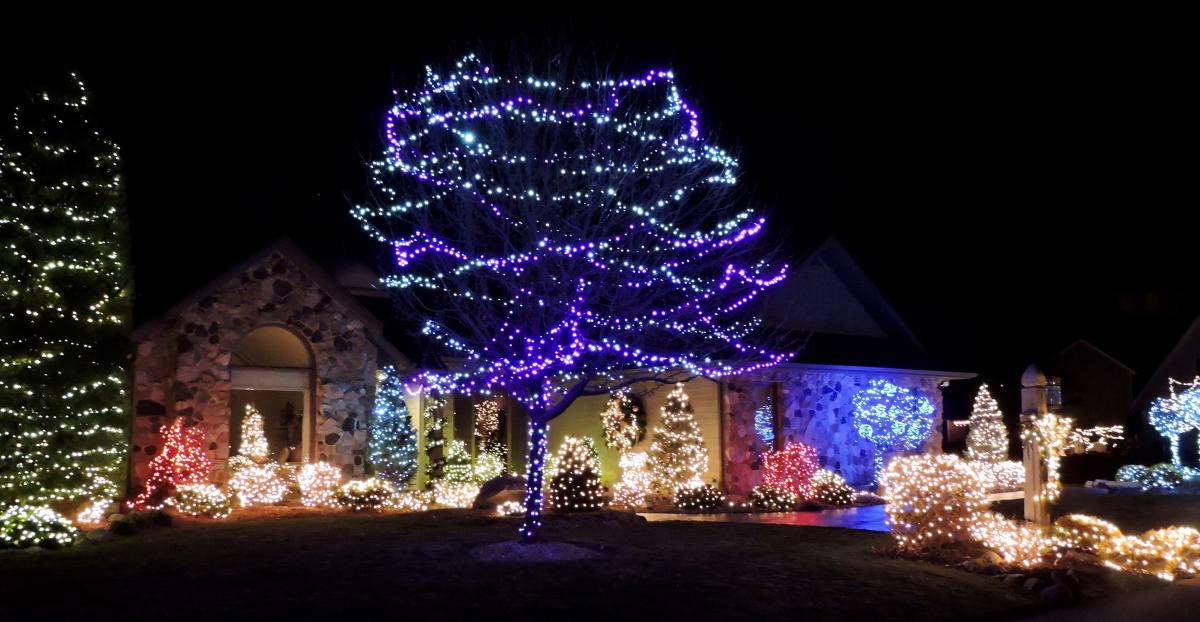 1211 WILLOWIND TRAIL (HOUSE NUMBER = 21)
Enjoy this classic display where everything above the grass will have lights on it! This display will be up from Thanksgiving until the first week of January. Special thanks to Carrol and Lowell Lepper for submitting.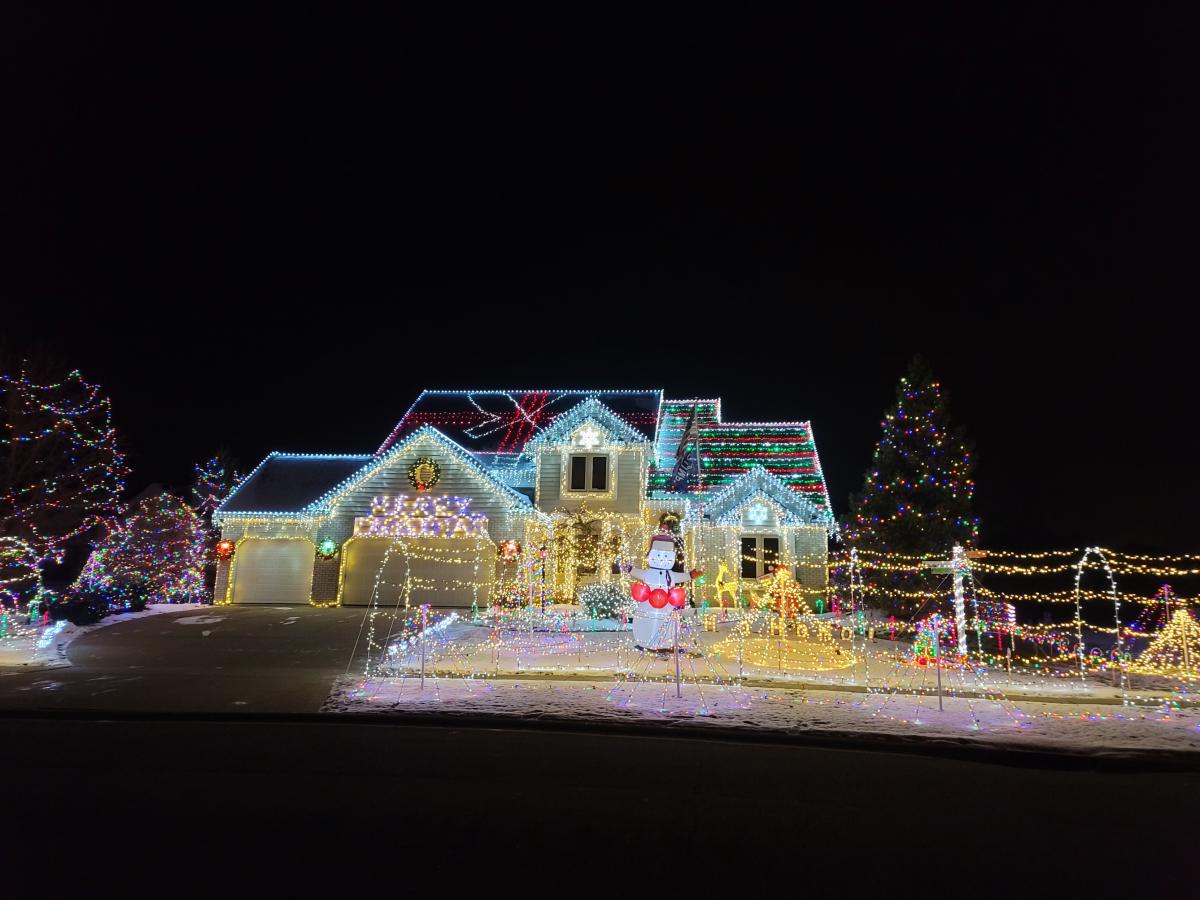 1618 CROOKED CREEK PARKWAY (HOUSE NUMBER = 22)
Expect to see more than 75,000 lights, archways and tunnels that span almost the entire block. Plus, this display is viewable from Union Chapel. Enjoy this display starting December 1 through January 8. Special thanks to Jason Grossnickle.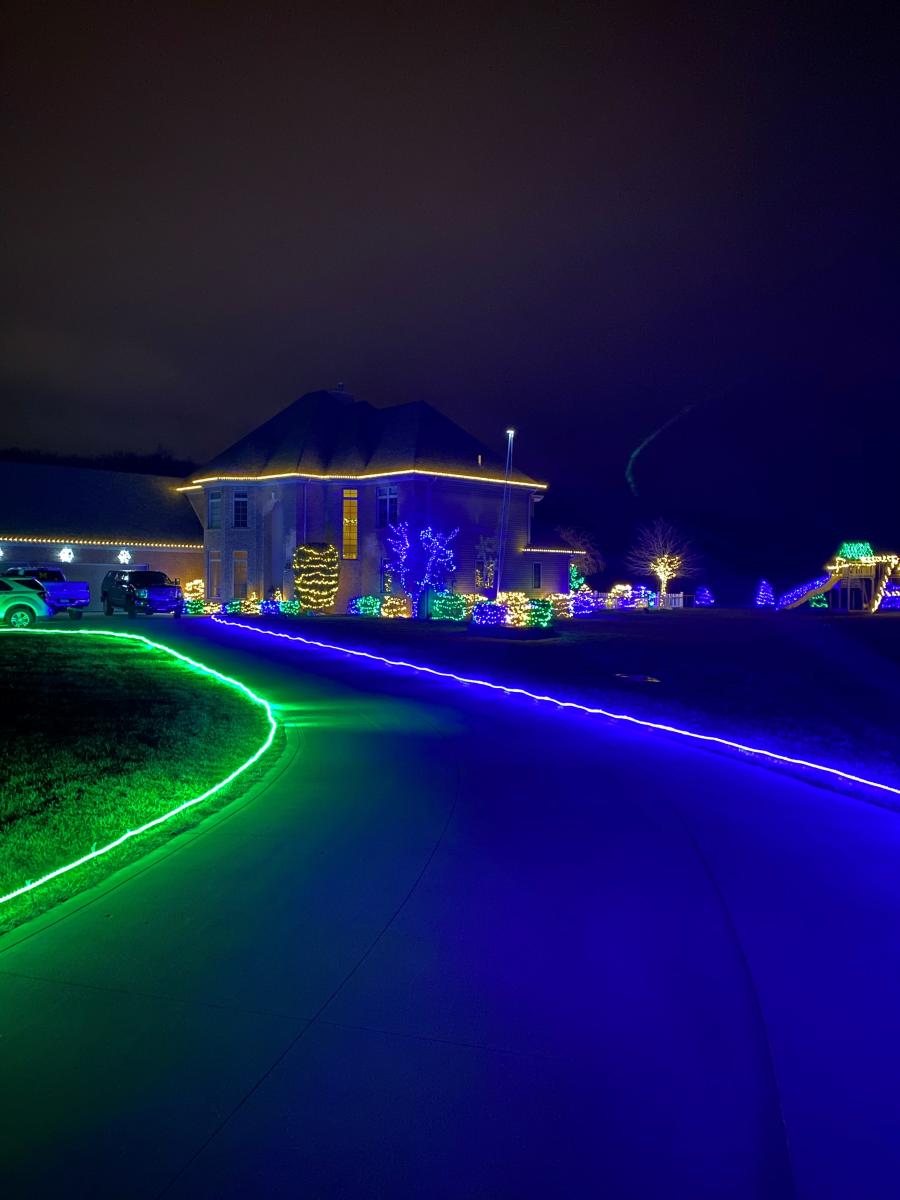 14235 PULVER RD. (HOUSE NUMBER = 23)
Drive by this house and you'll be treated to more than 20,000 lights, a 22 ft. mega-tree, and 3 NEW 10 ft. mega trees! This display will be available through January 10. Be sure to enter off of Pulver Road. Special thanks to Cory Federspiel for submitting.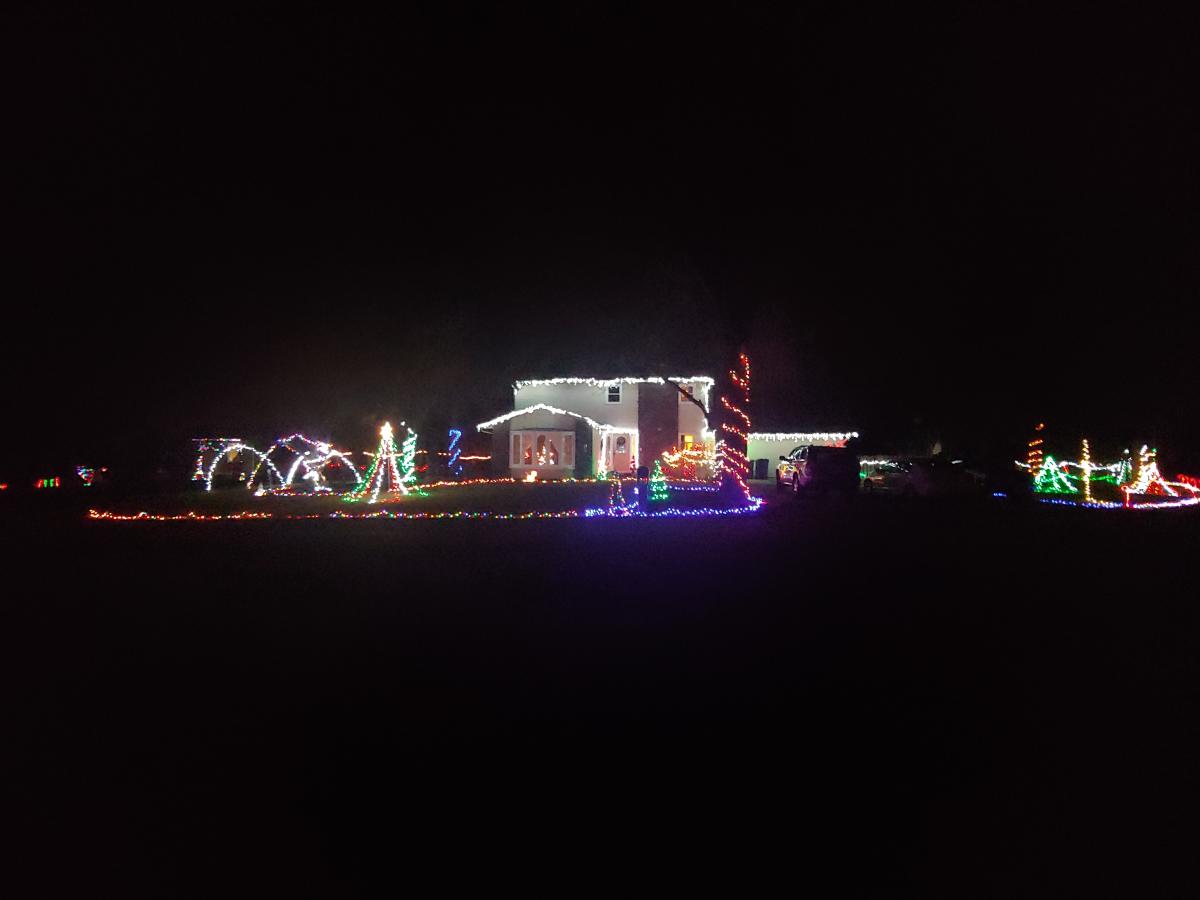 605 HALLDALE DR. (HOUSE NUMBER = 24)
This house's holiday display is synchronized to Christmas music and will be up through New Years Day! Special thanks to TJ Harkness for submitting.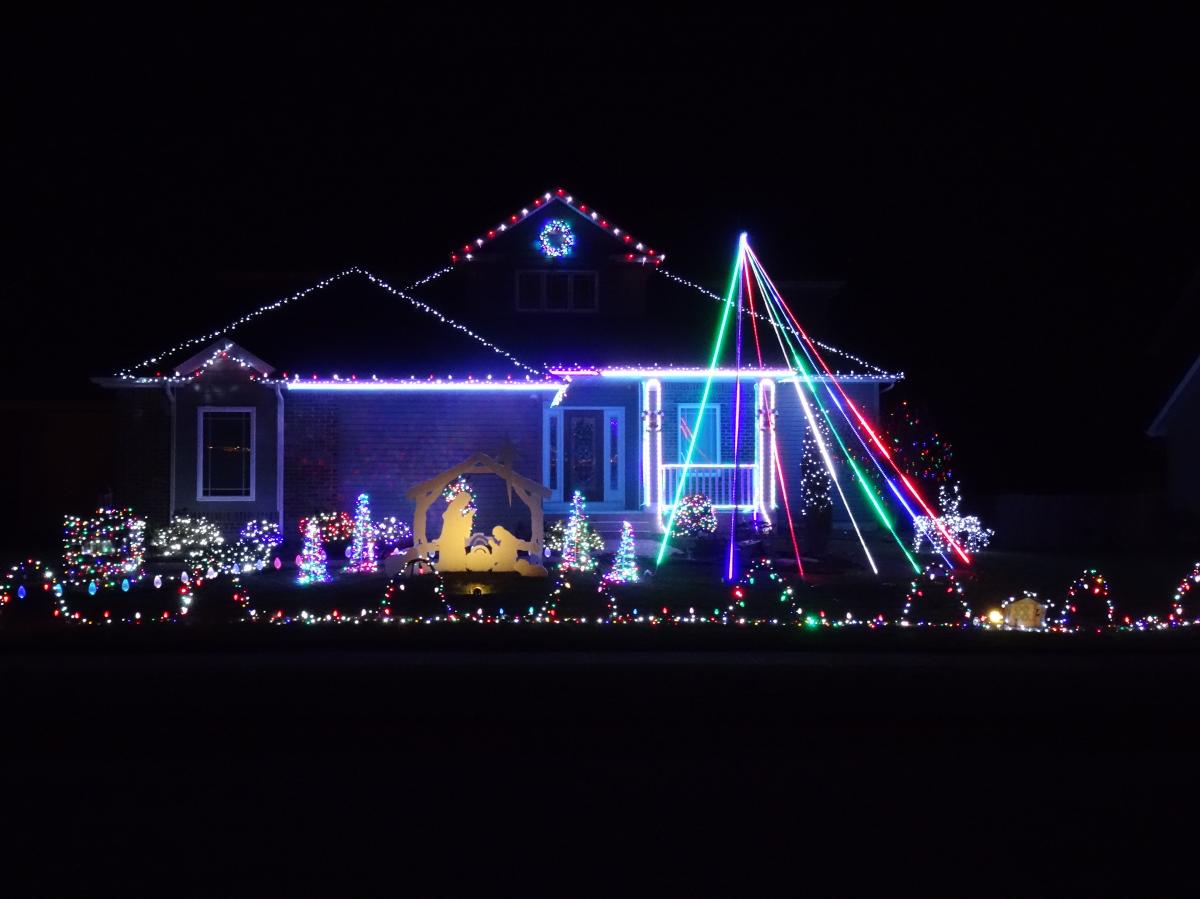 1312 MONTE CARLO DR. (HOUSE NUMBER = 25)
Expect to see a sizable wooden nativity, lights synchronized to music set to 88.1 FM. This display is located in the back of the Classic Heights sub-division. The HOA usually does a decorating contest, so many houses in the addition are decorated, making for a nice drive as you wind your way back to the display house. This display will be up by December 1, and will run 5:00 p.m. to 10:00 p.m. until January 8th. Special thanks to Ron and Beth Clemens.

9432 HEFFELFINGER RD. (HOUSE NUMBER = 26)
For the mega-watt show, be sure to check out this house which features a synchronized light show to music with and 10,000-pixel channels. The show will also include a 22 ft. mega tree, 17 ft. pixel image tree, new songs and programming, and much more. TUNE in your radio station to 88.5fm to listen and watch the lights.
We will be taking donations for Lennoxs Legacy Animal Rescue (@lennoxslegacyrescue) again this year. Feel free to bring any animal donation and put in the bin out front. We will empty every night.
Check out this house from November 28 to January 2 from 6:00-11:00 pm every evening, and find them on Instagram @Busco_Lights. Special thanks to Jason and Jodie Pearson. And, special thanks to David McKnight, Hank Redders, and Matt Pierr for their help!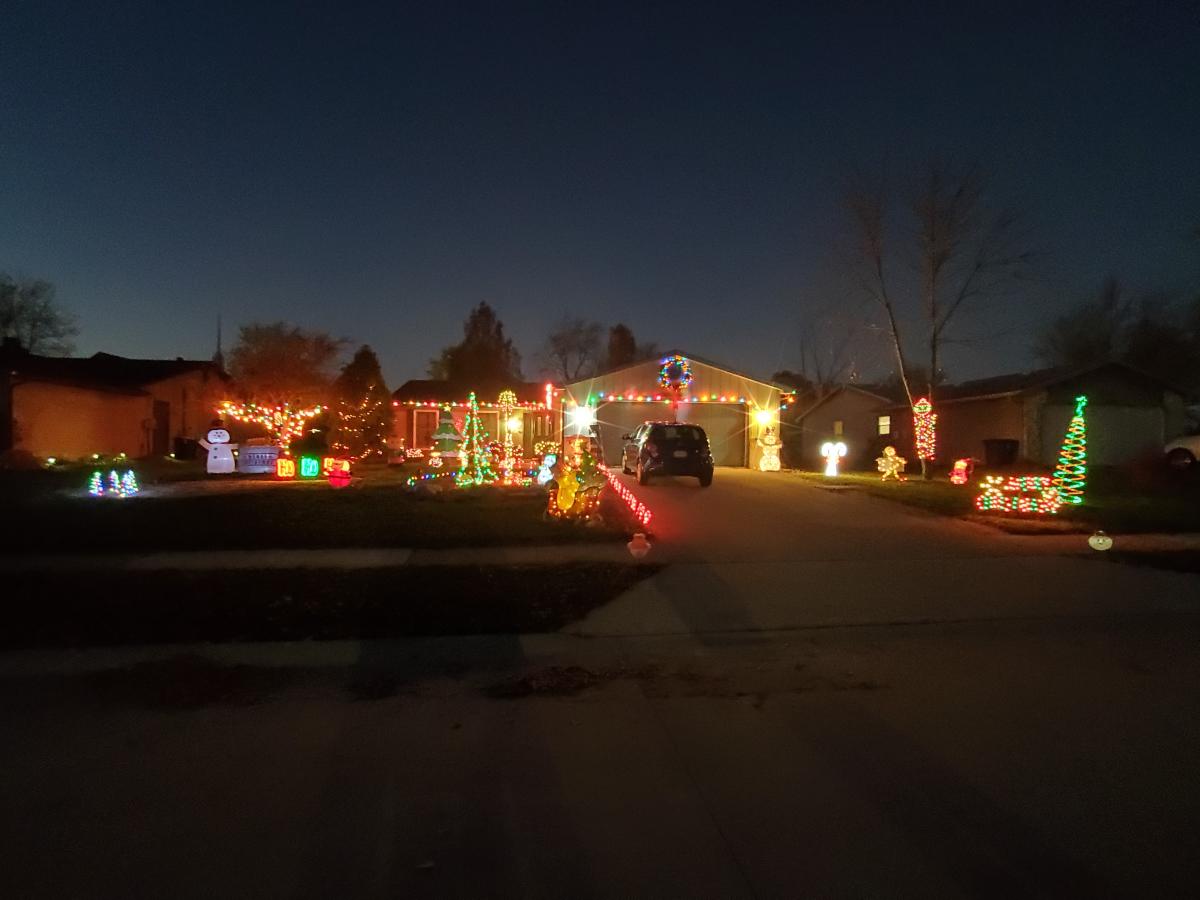 1912 NORTHBURY CT. (HOUSE NUMBER = 27)
Enjoy a classic display featuring elves and Santa, and of course, classic Christmas lights. Thanks to Mandy LoCastro.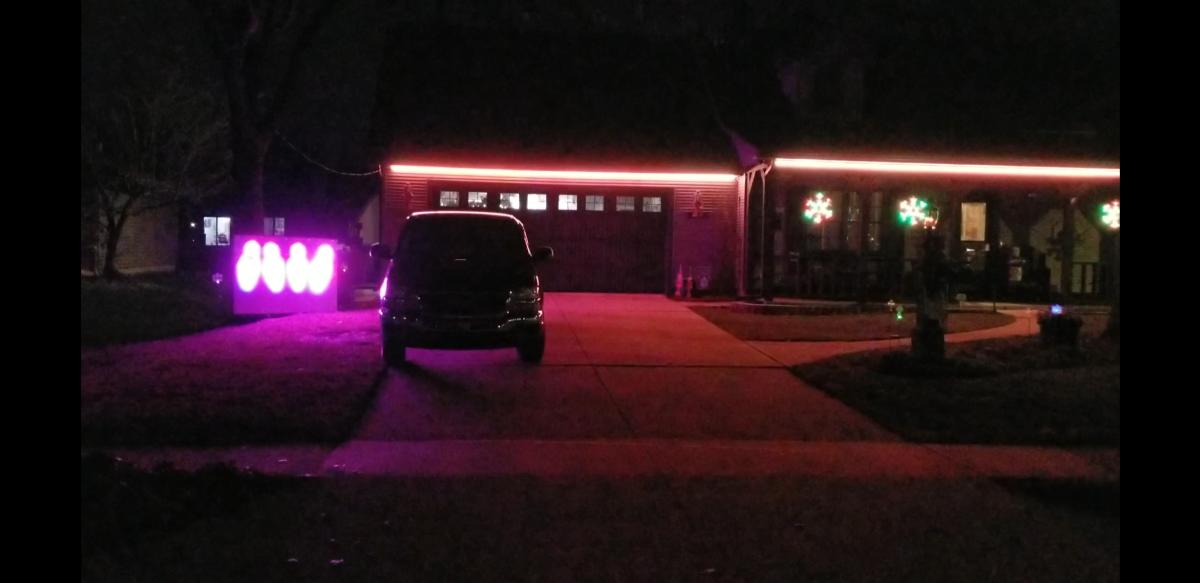 8025 CHARNELL CT. (HOUSE NUMBER = 28)
This display touts a really awesome LED pixel show. These lights are all synced to music that you're able to hear in your car or even on the sidewalk if you choose to walk. The show also showcases 4 singing light bulbs that sing to the music. Thank you to Brett Barnett for submitting.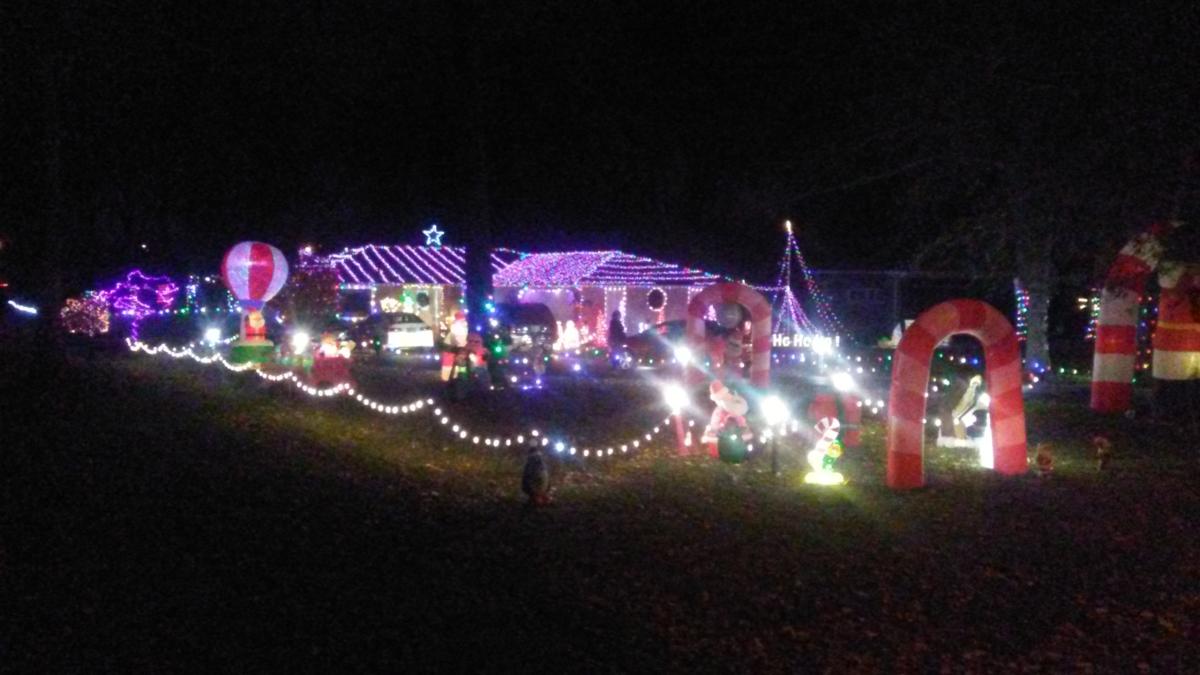 1127 W. LUDWIG RD. (HOUSE NUMBER = 29)
Enjoy seeing more than 30,000 lights, inflatables, and more at this house. Plus, tune your radio to 97.7 to enjoy the light dance set to music. If you have little ones, make sure to bring a letter to Santa with your return address. Enjoy this display starting November 25th. Special thanks to TJ and Joan Smith.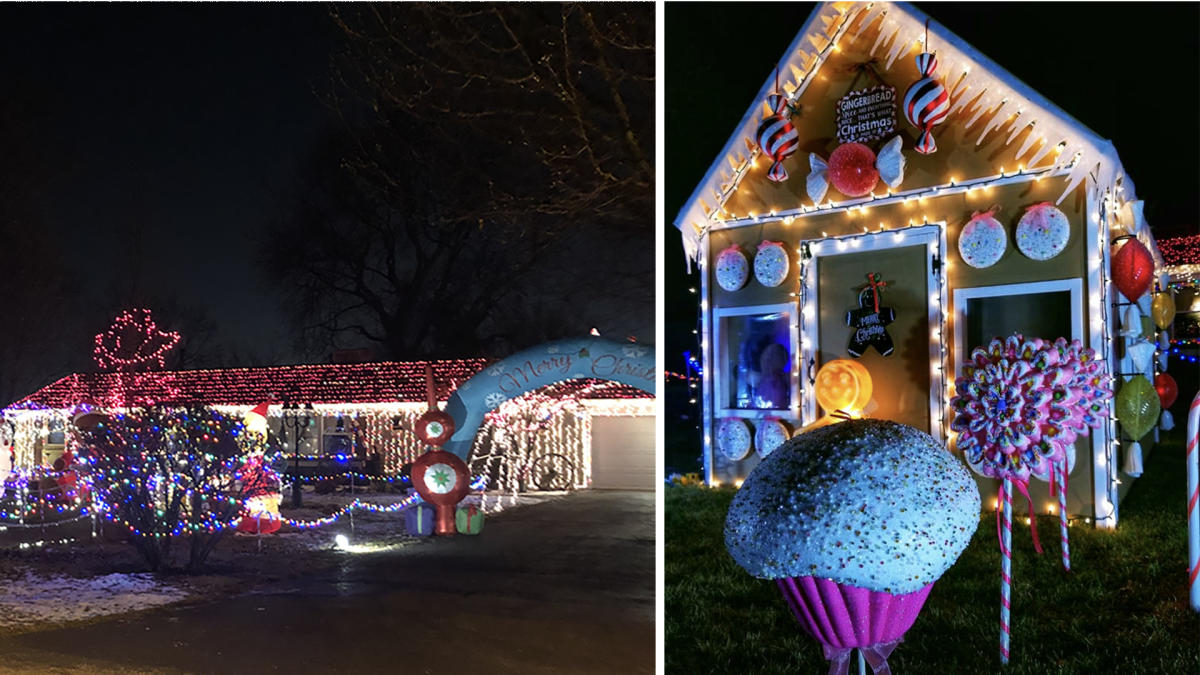 721 PELHAM DR. (HOUSE NUMBER = 30)
The Ellenwood Christmas home will be viewable from November 25-December 31st Sunday-Thursday 5-10 pm and Friday and Saturday 5-11 pm. Expect to see more than 35,000 lights, multiple inflatables, a music light display, and a walk-through arch of lights where you can take pictures in front of the NEW Santa's workshop and the gingerbread house. 
Don't forget to drop off your letter to Santa with a self-addressed stamped envelope. Santa will send a letter back. Also, Friday and Saturdays Santa (and sometimes Mrs. Clause) will be here for pictures, weather permitting. We hope all of you have a Merry Christmas Matt & Jody Ellenwood.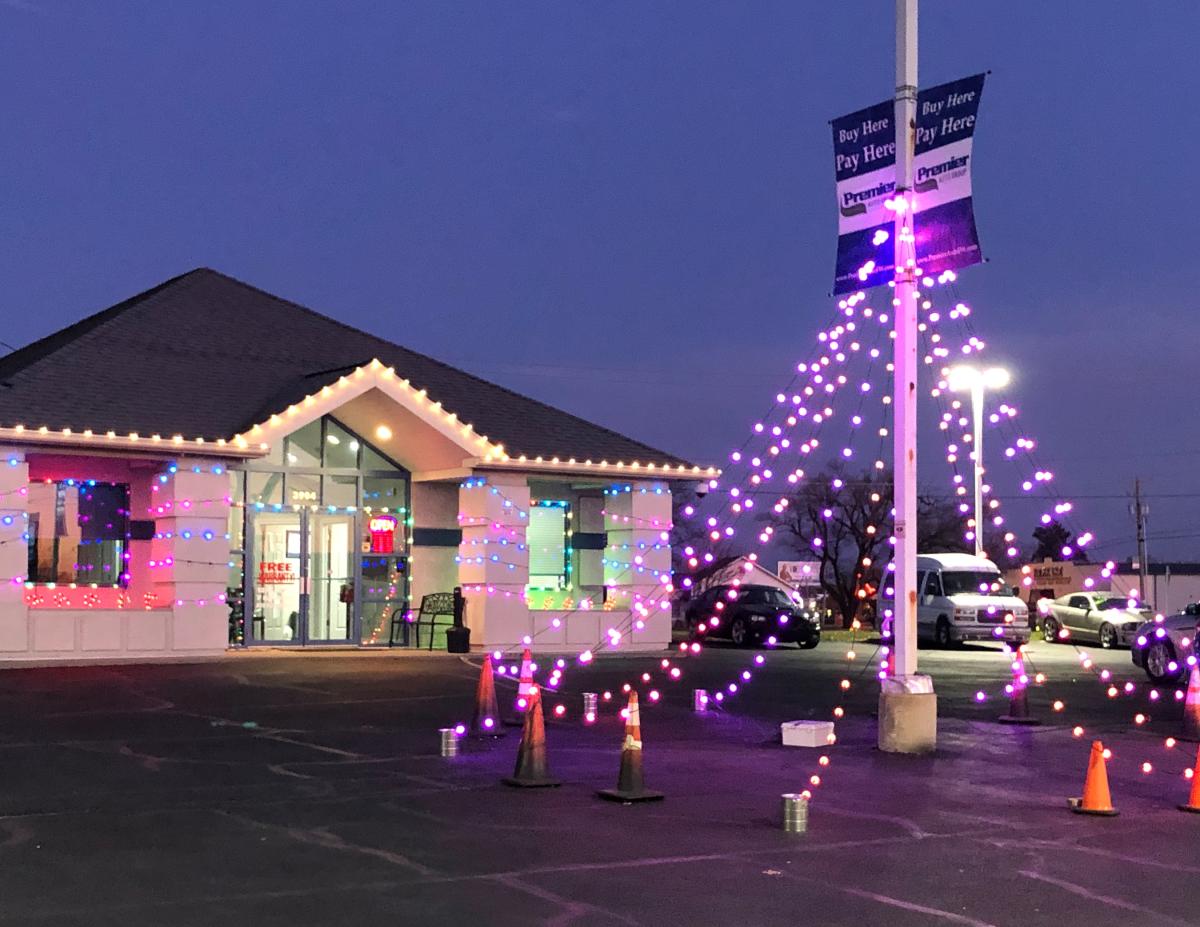 Displays of Note:

10707 COLDWATER RD.
Enjoy 30,000 lights and be sure to tune your radio to 107.7 for a special show. The show runs until New Year's Eve from dusk to Midnight. Special thanks to Jacob's Well Church and Adam Gaines.
3904 LIMA RD.
Come see our annual Christmas Light Spectacular! We have more than 15,000 LED lights that change color and dance to over a dozen Christmas songs. Come park in our lot, tune in to enjoy 25 classic Christmas songs, and enjoy! Thanks to Premier Auto Fort Wayne.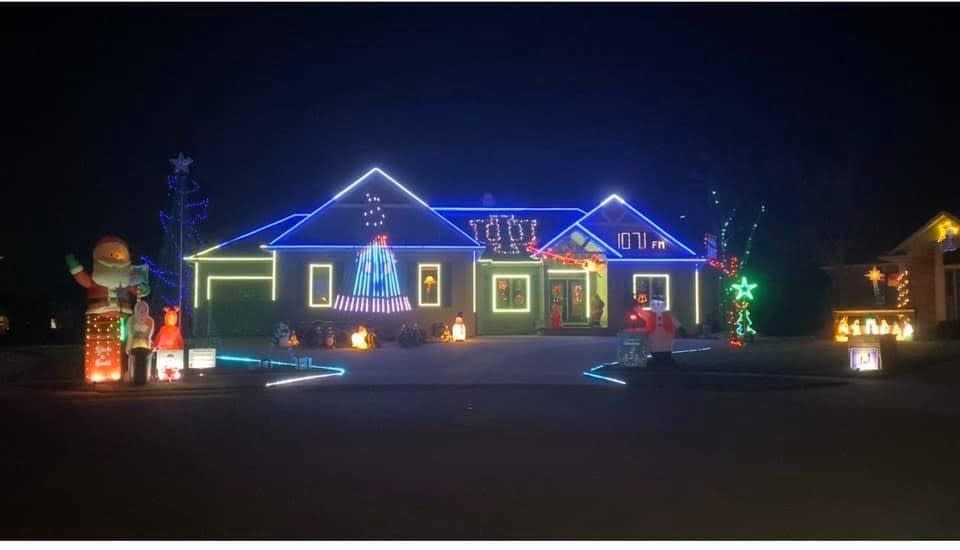 SOUTH
13525 PLUMBAGO CT. (HOUSE NUMBER = 32)
This house is full of KrisMiss Spirit and much more than a show. Tune into 107.1, sit back and relax, and be sure to bring a donation for Community Harvest Food Bank. This house features inflatables, blow molds, RGB pixel lighting over the entire house, 2 Large Matrix screens and you can drop off letters to Santa. Santa does return letters to the children if an address is provided.  Enjoy the display nightly 6:00 pm - 12:00 am, starting on Thanksgiving night through January 7th. This year, they will be bringing back the famous Wat-Shot that put this home on the map.  
Learn more about this display on its very own social profiles! Special thanks to Kris and Missy Girardot.
Instagram: KrisMissKreations
Twitter: KrisMissLights
Facebook: KrisMiss Kreations

2227 CERREIA WAY (HOUSE NUMBER = 33)
Discover this display featuring more than 15,000 lights and a music show set to 20 songs. New this year there will be even more trees included and more than 20 lighted reindeer. This display will run from November 22 to January 2 nightly from 5 pm - Midnight. Special thanks to Jared Balf for submitting.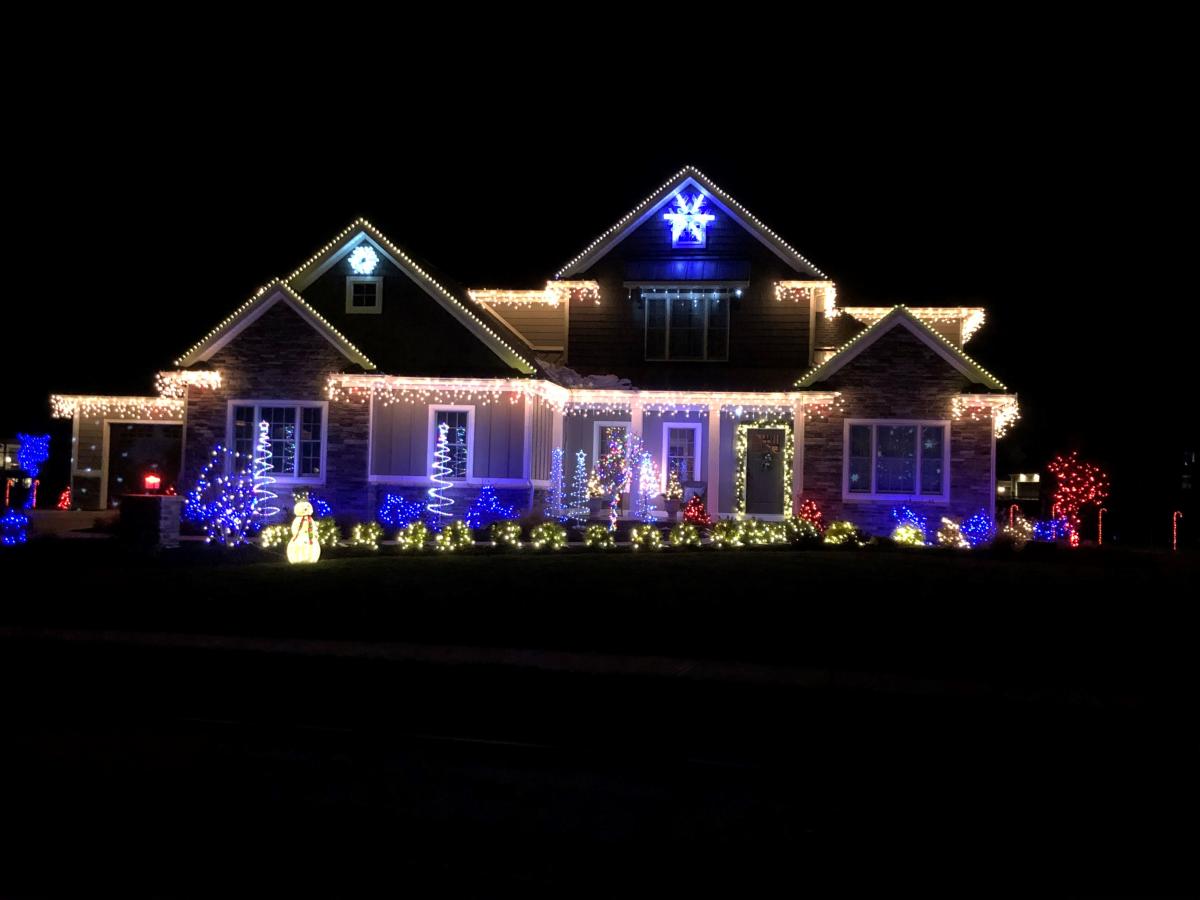 2996 BLACK GOOSE BLVD. (HOUSE NUMBER = 34)
Featuring a classic yet modern display, this house's display is available from dusk until Midnight until January 2nd. Thanks to Zack Cronkhite for submitting.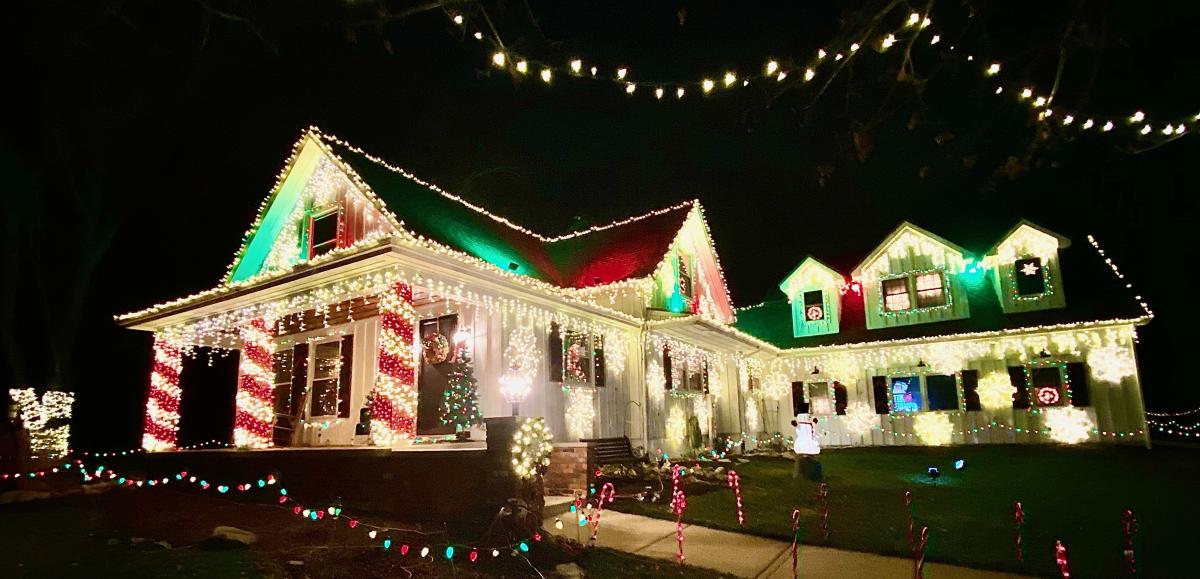 3115 W. COUNTY LINE RD. S (HOUSE NUMBER = 35) *2020 Best Display *
With 35,000-40,000 lights all running to music, this house is a can't-miss display and the winner of our 2020 Best Christmas Light Display! Tune your radio to 87.9 to enjoy the show and drop off your mail for Santa (all letters with a self-addressed and stamped envelope will get a response!) Santa checks the mailbox from Friday. 
Give back while you celebrate! New this year, this display will be collecting monetary donations for SCAN, and new/gently used children's coats and toddler appropriate toys. 
Please note, cars will need to turn around at the barn. 
Special thanks to Mike and Leia Bedwell. 

3902 CHANCERY PL. (HOUSE NUMBER = 36)
Enjoy this house's more than 16,000 lights and 8 inflatables from November 26 to January 10. Special thanks to Brian Potts.
10032 HOUNDSHILL PL. (HOUSE NUMBER = 37)
All four sides of this house have been decorated for Christmas! There are lots of reindeer, polar bears, snoopy on a mailbox, angels, candy canes, Santa, and many other animals all over the lawn! Plus, there is a beautiful white Christmas tree in the backyard along with Santa's sleigh flying off into the sky. The house sits at the intersection of Weatherside Run and Houndshill Place, so you get a great view of this wonderful display from all four sides! Be sure to stop by between 5:30 - 10:00 PM. Special thanks to Jim Heymann for submitting.
5617 SHERINGTON RD. (HOUSE NUMBER = 38)
Celebrate the holidays with more than 20,000 lights spanning 3 separate displays. This display is set to music (tune your radio to 87.9 fm to listen) and the house is covered with more than 4,000 pixels that can individually change colors, featuring a 16-foot mega tree with dancing elves and lots of other characters guaranteed to make you smile. The north and south end of the property offers a more traditional display with tons of lights, The Grinch and his dog Max, Snoopy, Buddy the Elf, and of course Santa and his reindeer (be sure to look in the trees to spot them flying too!). The show starts at 7:00 pm on Black Friday (Nov 26) complete with fireworks. They are also continuing the tradition of collecting donations to help the community. Canned goods and blankets are always welcome and can be placed in the donation box located on the street. The show will run until the first nice day after Christmas, hours are dusk to 10:00 Sunday-Thursday and 11:00 on Fridays/Saturdays. 
Special thanks to Michael Hunsche for submitting.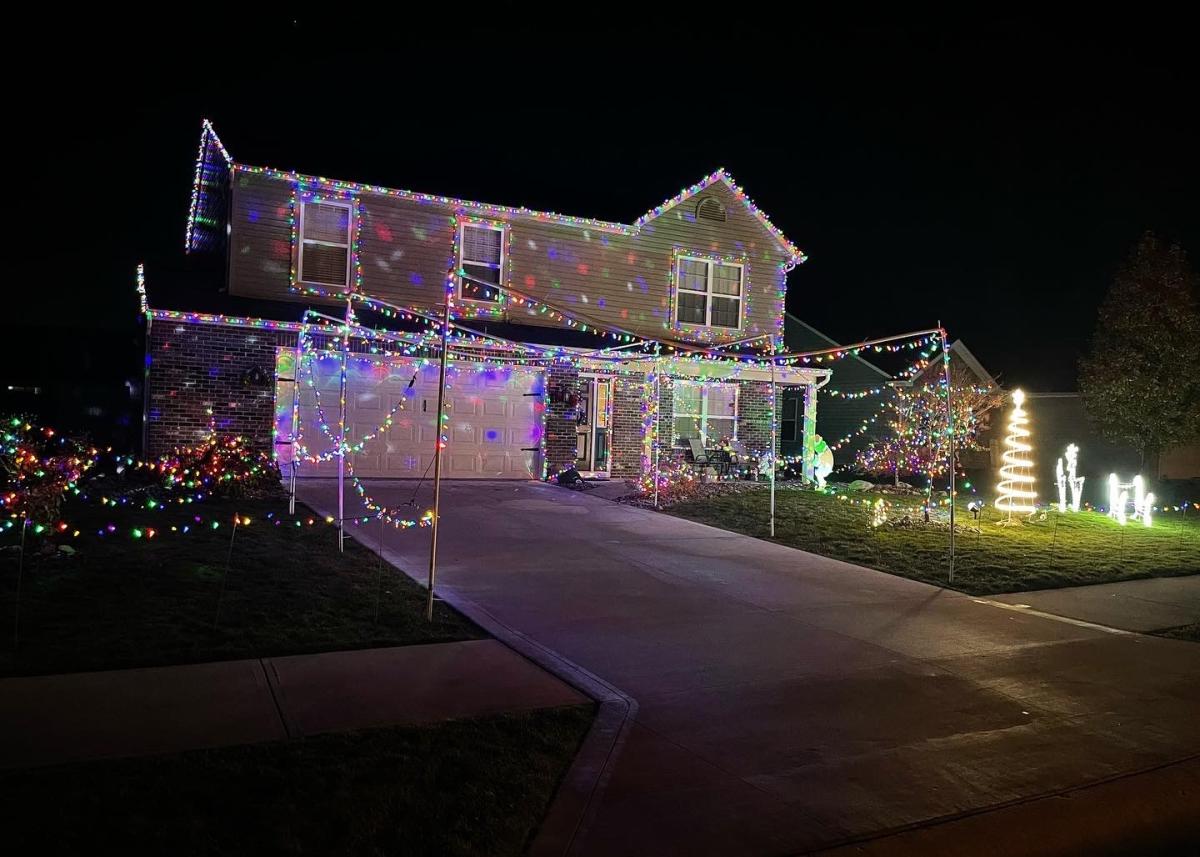 11004 CALERA PASSAGE (HOUSE NUMBER = 44)
Now until New Year's Day, enjoy this house every night from dusk to dawn. This house will feature wonderful traditional colored lights that outline the roof and windows and bring you back to when Christmas lights were nostalgic. Plus, there will be yard decorations. Special thanks to James Taylor.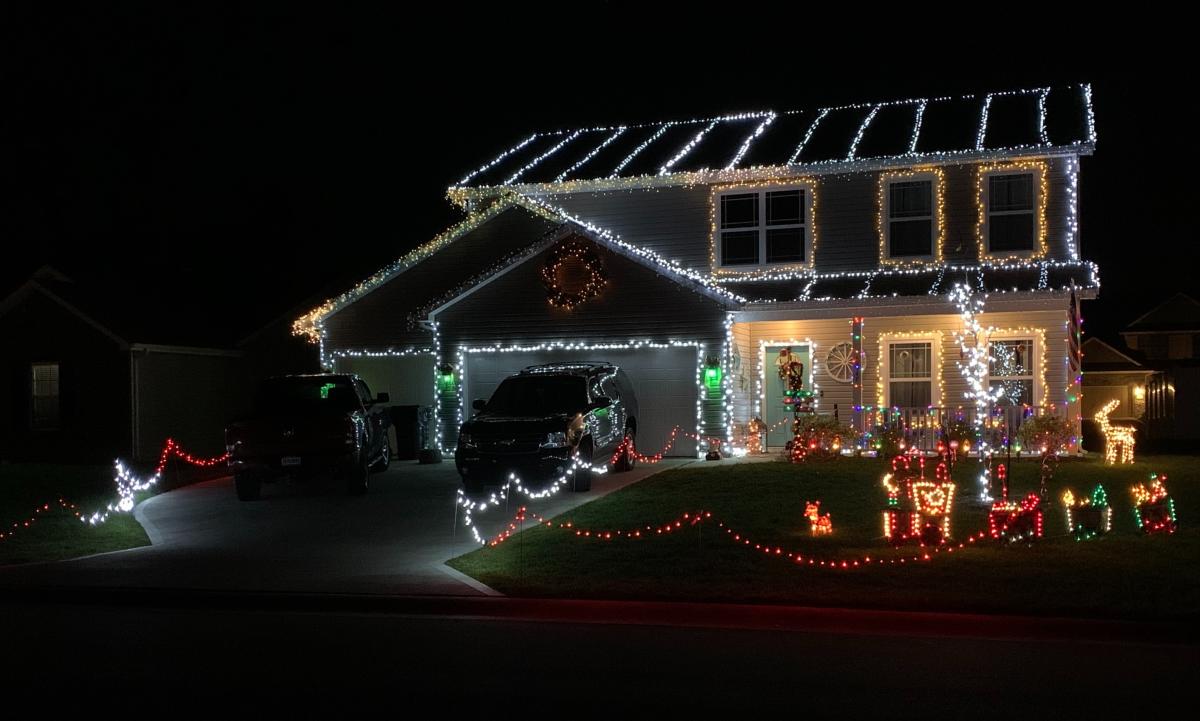 10947 LA FORTUNA WAY (HOUSE NUMBER = 39)
Stop by this house for a lighted display set to music featuring more than 20,000 lights! This display will be available nightly from 7-10 pm starting November 26th. New this year, they'll also have a 6 ft. x 4 ft. Santa sleigh! Special thanks to Kristina and Joshua Gordish for submitting.
9219 Old Lower Huntington (HOUSE NUMBER = 40)
Expect to see a new light and program at this house featuring more than 15,000-pixel lights set to music. In addition, to the beautiful display, this house will be accepting donations of men's socks for a local charity. Plus, weather pending, there might be some hot chocolate nights. This display will run Sunday to Thursday from 5:30 - 10:30 pm and Friday & Saturday from 5:30-11:30 pm starting on November 26. Special thanks to Kurt and Sherry Girardot.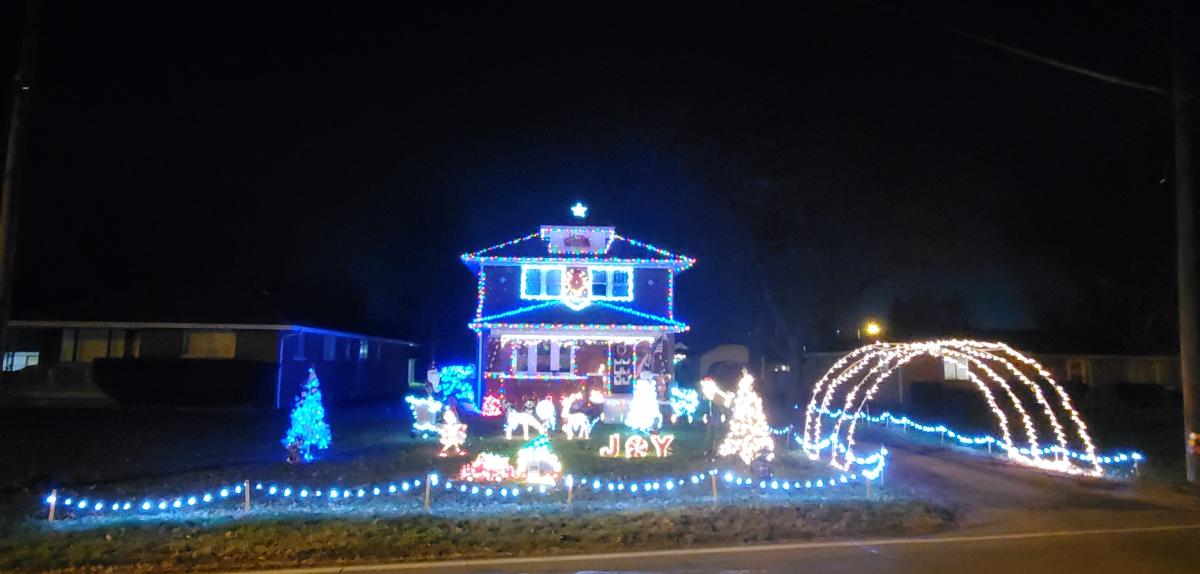 3361 SAND POINT RD. (HOUSE NUMBER = 41)
Featuring more yard decorations and 25,000 lights, enjoy this display from November 26 until December 21! They will also have a dropbox for the North Pole if you would like to bring your letters to Santa. Special thanks to Amanda and Drew Landers for submitting.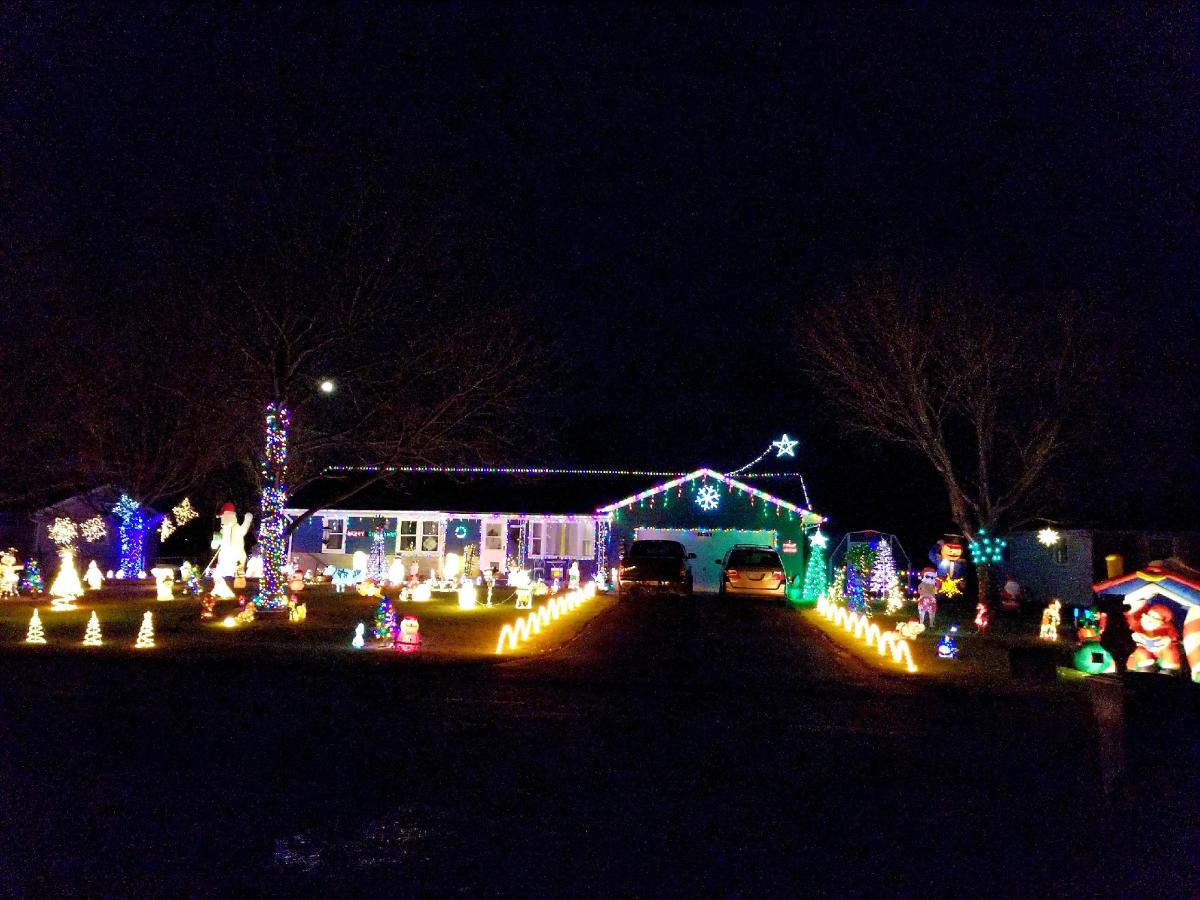 7619 KILBOURN (HOUSE NUMBER = 42)
For a classic holiday display, this house is for you! In its 6th year of setting up a holiday display, this house features more than 12,000 lights, inflatables, blow molds, and many different animals. Don't forget to look for the Grinch with the change of heart, giving out candy canes. Enjoy this display from Thanksgiving until the new Year from 6:00 - 10:00 pm every night. Special thanks to Clayton Bishop for submitting.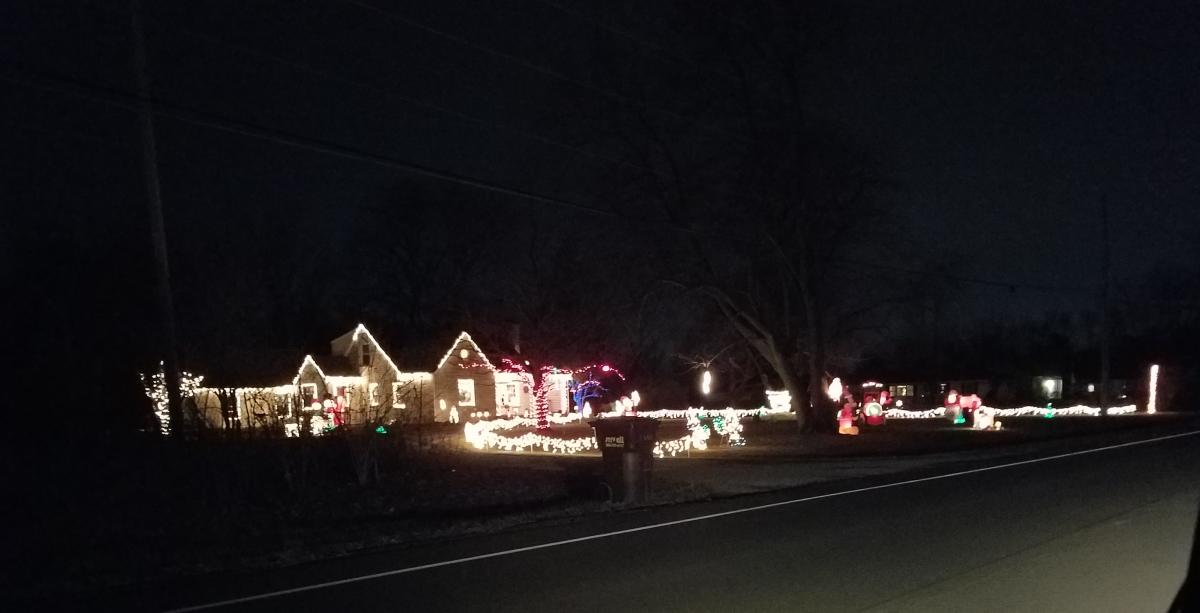 1823 DUNKELBERG RD. (HOUSE NUMBER = 43)
Featuring 20,000 lights and more than 10 blow-ups, this display will be up from Thanksgiving to New Year's Day. Special thanks to David Carden for submitting.
Insider Tip: Visitors are welcome to use the circle drive away to avoid any traffic accidents on Dunkleburg road!
1020 ARDIS DR. (HOUSE NUMBER = 45)
Set to synchronized music, this display features roughly 5,000 pixels and a 12 ft pixel tree with a star! Be sure to tune into 88.1 FM to enjoy the music. The lights will be displayed from 5-9 pm Sunday-Thursday and 5-10 pm Friday-Saturday starting Thanksgiving night through New Years Day. Special thanks to Aaron Heidinger for submitting.
*Content produced by Visit Fort Wayne - Copyright 2021*
Fort Wayne Classics
Discover other holiday light displays around Fort Wayne including the Fantasy of Lights at Franke Park, the displays at Jefferson Point and in Downtown Fort Wayne, or the beautiful Alpine Holiday exhibit at the Botanical Conservatory.
Learn more at VisitFortWayne.com/Bright
---
We realize this still isn't all of the beautiful Christmas Light Displays, so if your house or you know of a house that should be added to our list, please fill out this form and we will add them to the list!
*Special thanks to Heather S. who has helped us start this great tradition!
*Post will be updated with submitted displays on Thursdays.
*Content produced by Visit Fort Wayne - Copyright 2021*