Love pickles? I sure do! I cultivated an appreciation for pickles at a young age. My grandparents always served a variety with our Sunday meal. Inevitably, I'd fill up on them, spoiling my dinner much to my grandmother's chagrin. My appreciation for pickles has grown as I've gotten older; just ask my husband. The past few years, for my birthday, he's presented me with a jumbo jar of crunchy dills, which I devour within days of receiving them.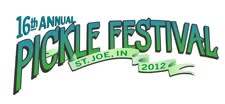 If you love pickles as much as I do, and even if you don't, mark your calendar for St. Joe's Pickle Festival, which takes place August 9 through August 11 in St. Joe, Indiana. This year marks the 16
th
Annual 3-day event and festival goers can look forward to parades, live music, fireworks, kids' activities, pickle factory tours and more! Rumor has it you can even try pickle ice cream. Other activities on the schedule include an art and photo show, Firemen's hog roast, a cruise-in, horseshoe pitching contest, and a tractor pull. For a full list of events, visit
The St. Joe Pickle Festival Website
. Never been to St. Joe? It's just a short 35-minute drive from Fort Wayne. You can view a
map online
.