If you're visiting Fort Wayne and you appreciate music, you should know about Heartland Sings, Fort Wayne's professional vocal group. I may be biased (I'm the group's full-time soprano), but Heartland Sings truly has a lot to offer and will likely be performing during your visit. Here are 12 things you should know about this very special organization.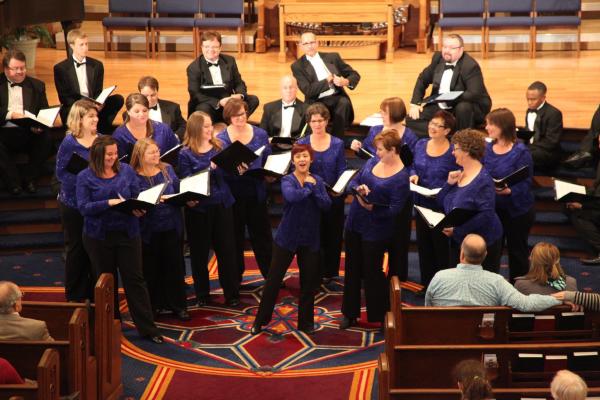 Heartland Sings vocal artists perform everything from opera to pop. Art song, jazz, musical theater, a cappella, choral works...we do basically everything (except yodeling and heavy metal).
 
Heartland Sings used to be called Opus 18. When it was formed in 1997, Heartland Sings was named for the 18 members who were then in the group. It used several other names before landing on Heartland Sings several years ago.
 
Heartland Sings vocal artists perform at the famous Boar's Head and Yule Log Festival in December. The festival, held at Plymouth Congregational Church, boasts nearly 300 actors and musicians and attracts 3,000 attendees annually. 
 
Heartland Sings is the only company in existence to offer singers a salary and benefits to perform, teach, and engage a community full-time. I'm very grateful to be the beneficiary of such a unique business!
 
We perform constantly! See our Facebook page for the most current information.
 
Heartland Sings collaborates with lots of Fort Wayne arts institutions, including the Fort Wayne Children's Choir, the Fort Wayne Ballet, and the Alicia Pyle Quartet. We also perform with non-local artists, including Barry Manilow earlier this year!
 
Heartland Sings full-time vocal artists all have degrees in music, ranging from bachelor's degrees to doctoral degrees. This allows us to teach voice lessons in addition to performing.
 
Heartland Sings throws the best New Year's Eve party in Fort Wayne! Here's a peek at the Swingin' Singin' New Year's Eve.  
Heartland Sings hopes its business plan, which provides high-quality professional singers with employment, will be adopted by other groups in the future. Many singers move to large metropolitan areas like New York City to find jobs. Heartland Sings' business plan offers singers an alternative while providing communities with access to excellent musical resources. 
 
Heartland Sings is collaborating with the award-winning celtic group Switchback on a choral version of its Hibernian Mass.
 
Our side-by-side performances give K-12 students the opportunity to perform alongside professional singers. Our next two side-by-side events will take place on July 13 and 14 as part of the Heartland Sings Vocal Arts Institute, a free two-week intensive for gifted high-school singers.
 
For its 20th anniversary next year, Heartland Sings is bringing The Real Group to Fort Wayne! The Real Group is an internationally-acclaimed vocal group from Sweden.