School starts soon, but there's still time to squeeze in great events offered by the Summit City. Most are low cost, too! My top ten suggestions would include:
1. Painting Fun Spot -- Paint & Take Art Studio
Indulge your creative side at this studio with more than 1,000 items to paint.! Could be a great family event or place for a birthday party. 10353 Illinois Road 260.616.0350 www.paintingfunspot.com Note: Coupons are available in the Visit Fort Wayne office for 25% off item first time and out of town guests only. Expires 12/31/12
2. Tekventure Maker Station @ the Allen County Public Library
This is one of the most innovative things I've seen the library offer. Several sessions are available through the end of August. Many are free; others charge a fees of $25-$35 for materials. These free sessions are schedules for August. Look up individual classes for locations: Building an airplane in my garage Mini-machining – threading Eggbot: spherical digital graphics Digital artist Build Pneumatic rockets For more information go to www.tekventure.org or call 260.421.1374. Advance registration required for all workshops due to limited space. Ages 12 to adult.
3. Salomon Farm Park Farmer's Market
(through September 26). Yummy fresh produce right off the vine! This is a fun place to go to relax and get back to nature. Special note -- on August 8 Alan Clayton will provide a demonstration and instruction in Tai Chi.
4. Visit to the Old Fort. Fort Miamis: 1754-1763
Saturday-Sunday, August 25-26. Beginning at 10 a.m. each day the French Marines and British Rangers will show visitors of the 21st century what life is like in the Fort during the 1700s. Talk to French fur traders, Native Americans, civilians, and soldiers. Free. Donations accepted.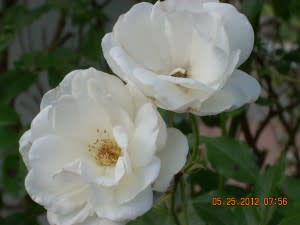 5. Early morning walk around Lakeside Park.
This is my favorite park. It's quiet, peaceful and has plenty of space for walkers, bikers, or benches for book readers.
6. Historic walking tour of West Central Neighborhood
. August 16 at 10-11:30. Cost: $2.00 This section of Fort Wayne intrigues me each time I drive past. Now there's an opportunity to see some of Allen County's oldest homes, the city's smallest park, and the home where Hollywood actress Carol Lombard once lived. Reservations required by August 14. call 427.6460.
7. Cheese-making workshop.
Location Botanical Conservatory, 1100 S. Calhoun Street. You read that right. Learn how to turn milk into creamy cheeses like ricotta and chevre. Age 10-adult. Thursday, August 9 6:30-7:30. Register by August 2. Cost: $7.00.
8. Eat under the awning at Cindy's Diner.
You may have to watch the weather stations for the right temps, but it will be worth it to observe Fort Wayne from one of its most popular corners.
9. Spike and the Bulldogs concert at Foellinger Theatre.
Saturday, August 11 at 8:00 p.m. $5.00 per ticket. A terrific band playing hits from 1955-1965. Do yourself a favor and go to see them. You'll have loads of fun!
10. Last but not least – Memories of the King.
Saturday, August 25, 8:00 p.m. $5.00 Brent Cooper is the top of Elvis look-alikes and singers. Be sure to see him. You'll think Elvis is in the house!