I have been to the Botanical Conservatory a couple times after moving to Fort Wayne and have always enjoyed it. So, when I found out it was just a dollar on the first Thursday of every month, I thought, "What an inexpensive way to enjoy the evening!" What I had forgotten after not visiting for quite awhile is how amazing the vibrant colors stand out in each of the three gardens. The Showcase Garden had some of my favorites in bloom, the Weeping Bottle Bush and the Southern Magnolia. The colors were not the only things that made my walk through the garden fascinating. The fragrances that drifted through the air made me stay awhile, breathing it all in. It reminded me of so many spring days jogging through the trails of Fort Wayne when everything is in bloom and you would catch a whiff of something wonderful while passing by. I can't find the words to describe the aura, but it's something everyone should enjoy.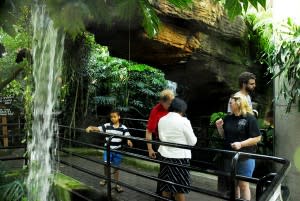 The Tropical Garden is almost like I'm on vacation in some remote rain forest.  It not only consists of beautiful cascading waterfalls but for the chocoholic in me, the Chocolate Bush. It is a great place to take family or individual pictures with amazing green backgrounds and real fruit growing all around.  You could even mislead your friends into thinking you went on some exotic vacation.  Once again the wonderful scents made me stop and stay awhile. The Desert Garden does cause me to perspire a little, but it is true to its origins.  You really feel like you're in the Mojave Desert among the Saguaro Cactus (the largest in the U.S) and the Jojoba which produces edible nuts and also makes a coffee-like drink. I really don't think there is a better way to spend a dollar, so well worth it.  Not only did I take in beautiful gardens I had the opportunity to see colorful array of butterflies from Malaysia who will be flying around until July 8
th
.  I also enjoyed the Outdoor Gardens that consisted of Fort Wayne vegetation.  They inspired me to go home and start landscaping. I honestly couldn't think of a more affordable evening for the whole family to enjoy or even a great date night. $1 night at the Botanical Conservatory is the first Thursday of every month from 5 p.m. to 8 p.m.  Children under 2 are free.