The Fort Wayne Visitors Center greets thousands of guests over the year, and some have amazing stories to share with us! Take James Loker-Steele, a British visitor who returns to Fort Wayne each year for his vacation. His love for Fort Wayne inspired us, and we wanted to share it with you:
James Loker-Steele has been coming to Fort Wayne for vacation for years. Hailing from Bury St. Edmunds, England, near Cambridge, Loker-Steele discovered Fort Wayne by a random coincidence of fate.  In 1998, he was chatting with a woman on AOL instant messaging and decided to come visit her. He thought, "Why not? I love America, and I've been loads of places but never heard of Fort Wayne." While things did not work out as he planned with the woman, his heart was touched, and it was the city of Fort Wayne that he fell in love with that first trip. Since then, Loker-Steele comes back to Fort Wayne every year he can. "When I came the first time, it was such a good time, I got to know all her family and friends and was treated like part of the family, and I really liked that," he explains. Loker-Steele was pulled in by our Midwestern hospitality, but stayed for the attractions and opportunities to relax.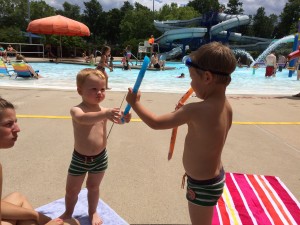 One of the reasons he keeps coming back is the laid back attitude here. "It's really quite relaxing and there's no pressure to do anything," he laughs. This kind of freedom is really what Loker-Steele is looking for in a vacation. Still, he admits, there is a lot to do if you want to be busy. Every time he comes, he tries to make it to a TinCaps game. "That's a big must-see!" he says. Beyond the great time and classically American experience, Fort Wayne baseball is special to Loker-Steele. Back when the TinCaps were still playing out at the Coliseum as the Fort Wayne Wizards, Loker-Steele attended one of their games; it was the first baseball game he'd ever been to. Loker-Steele is a fan of all Fort Wayne sports. If you end up making it to Fort Wayne in the winter and can't visit Parkview Field, no worries. Loker-Steele recommends a Komets game instead. He found  the game has a great atmosphere and enjoyed the excitement of ice hockey.
Still, summer is his favorite time to be in the city. Since having two boys of his own, who are now two and four, Loker-Steele is discovering more and more to do in the city.  The family enjoys going to Putt-Putt Fun Center for the mini-golf and speedway race track. Loker-Steele only had time to snap a few pictures he admitted as he spent most of his time trying to teach his boys how to golf.
The family also took full advantage of the splashpads and pools in the city. Northside pool and the splashpads proved to be a great place for the family to relax and beat the heat. If you are here during the summer months, Loker-Steele recommends coming for the Three Rivers Festival or the Fourth of July. "Those are great times to be in America, and specifically in Fort Wayne," he offers. Another one of his must-sees was the Courthouse. Not only is it part of Fort Wayne's history, but it also a beautiful buildings and a feat of architecture and design. If you want to do something a bit more active and something that may please the kiddies more, then Loker-Steele would say check out Science Central. This hands-on science learning center also made his short list of must-sees.
From the first time Loker-Steele visited Fort Wayne, he knew it was something special. "As soon as I got back after that first time going, I told my boss, 'I'm going to go back in a couple of months'." Loker-Steele enjoys Fort Wayne because he feels it is true America. "It's not a touristy or plastic part of America, it's real," he reveals. While raising his family and dealing with the other hurdles life throws, he hasn't been able to come as often as he'd like to recently, but attests he'd move here in a heartbeat if he could swing it! "You know how they say home is where the heart is, well I live in England, but my heart is in America. Fort Wayne, more specifically. Fort Wayne is my spiritual home."
Originally posted August 17, 2014 
Author: Holley T.
Holley is a student at Albion College in Michigan studying English with a Creative Writing Emphasis and History. The Fort Wayne native is looking forward to her graduation in the spring. Holley enjoys reading, writing, dancing, and spending time with family and friends.