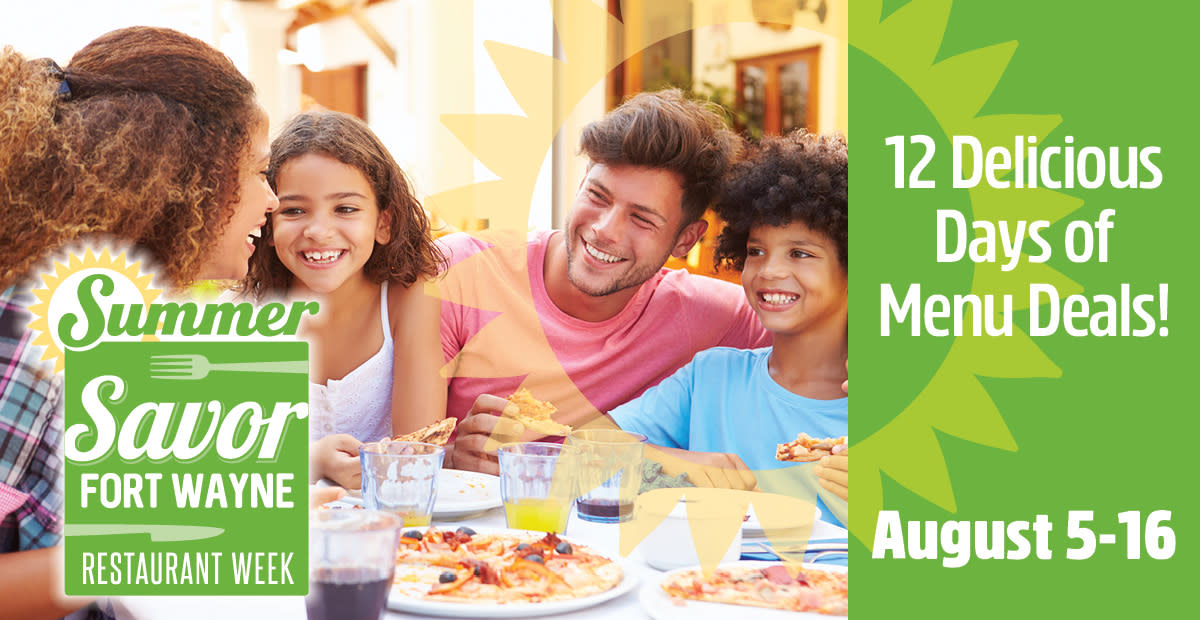 SAVOR FORT WAYNE RESTAURANTS OFFER THREE-COURSE, VALUE-PRICED MENUS
Many will feature a "carry out" option too!
FORT WAYNE, IN (August 4, 2020)
This August 5-16, dozens of Fort Wayne restaurants will be participating in a special Summer edition of Savor Fort Wayne. During Savor Fort Wayne, participating restaurants offer three-course, value-priced menus - and for this special summer edition, many will offer their Savor dishes to go as well.
"Although Savor Fort Wayne is traditionally held in January, we wanted encourage residents to support local restaurants during this challenging time," explains Dan O'Connell, President and CEO of Visit Fort Wayne. "What better way to celebrate and support Fort Wayne's outstanding restaurants than with a restaurant week!"
During these 12 delicious days, participating Fort Wayne area restaurants will feature specially crafted menus including appetizers, salads, steaks, sandwiches, seafood, pasta, ethnic delights, dessert and more - in addition to vegan, vegetarian and gluten free options.
With safety as a priority, SavorFortWayne.com features each restaurant's special Savor menu, in addition to their outdoor dining and carry out options.
Savor Fort Wayne restaurants include:
Arcos Restaurante Mexicano 
Banh Mi Barista 
Black Canyon
Burger Bar
Catablu
Chop's Wine Bar 
Club Soda
Club Room at the Clyde
Copper Spoon
Duesy's Sports Bar and Grille 
Eddie Merlot's
Mastadon Grill
Mi Pueblo
Nikita 
Nori Asian Fusion Cuisine
The Oyster Bar 
Pub @ 1802
Red Mango 
RoKo's Kitchen @HT2
Ruth's Chris Steakhouse
Three Fires Pizza
Three Rivers Distilling Co.
Three Rivers Co-Op and Deli
Trolley Steak and Seafood 
Trubble Brewing
2Toms Brewing Co.
Umi
Ziffles Rib Bar
For a list of participating restaurants, menus and special offers, visit SavorFortWayne.com.
To schedule an interview, contact Kristen Guthrie at (260) 424-3700 or kristen@visitfortwayne.com 
 ###
Visit Fort Wayne, the Fort Wayne/Allen County Convention and Visitors Bureau, is the not-for-profit organization whose purpose is to promote the community as an exceptional destination, and advocates for the growth and development of its visitor industry.
Media Contact:
Emily Stuck
Director of Visitor and Partner Services
Visit Fort Wayne
(260) 424-3700
emily@visitfortwayne.com