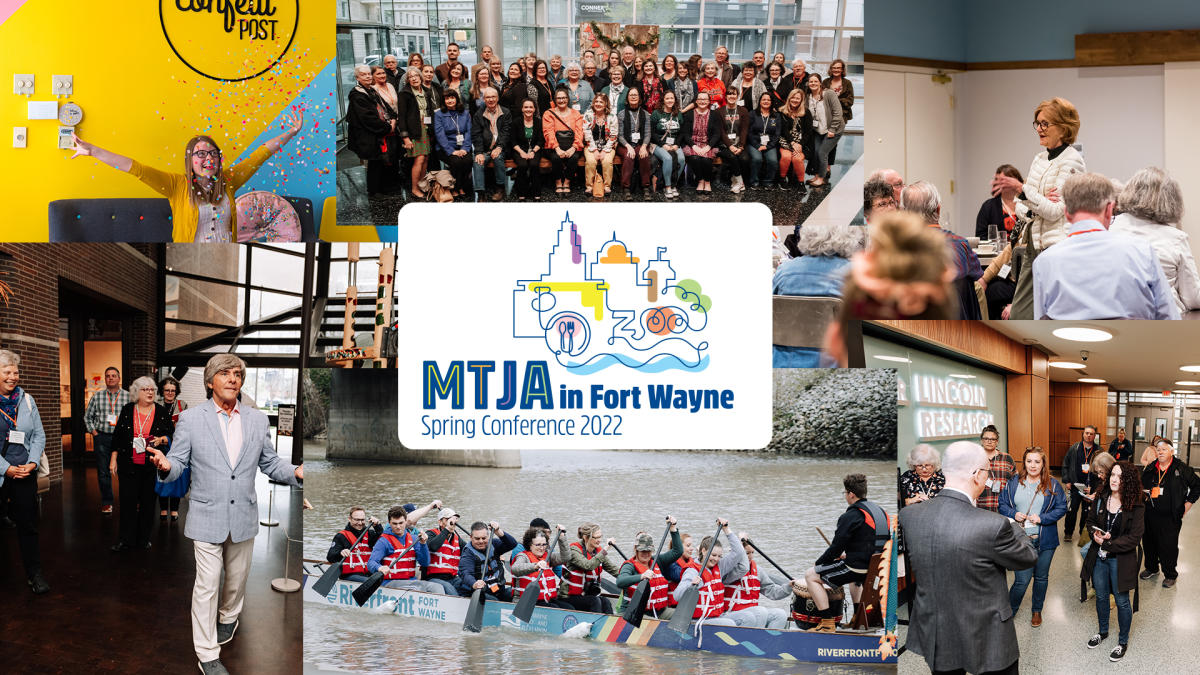 Travel Journalists Experience Fort Wayne
Earlier this month, Visit Fort Wayne hosted the Midwest Travel Journalists Association's Spring Conference. Over fifty journalists, CVB representatives, and guests were in attendance. The five-day conference offered a whirlwind tour of Fort Wayne, including walking tours, hands-on activities, and dining experiences all with the goal of showcasing Fort Wayne as a visitor destination and highlighting our unique stories.
In the days after the conference, many attendees shared their appreciation for our community's effort to host them – "I can't thank you enough for all you and your team did to make MTJA's conference such a success. I am poring over notes, handouts, photos and am blown away by all I was able to experience in Fort Wayne."
A BIG thank you to all our wonderful community partners who helped make such an event so successful. Many attendees commented on how wonderful everyone was – "You did an incredible job coordinating everything and involving so many in a meaningful way."
Now the work continues! In the coming weeks, months, and years we will remain in touch with the attendees to provide assistance with story research, following up on interests, and providing updates on new stories in Fort Wayne.
---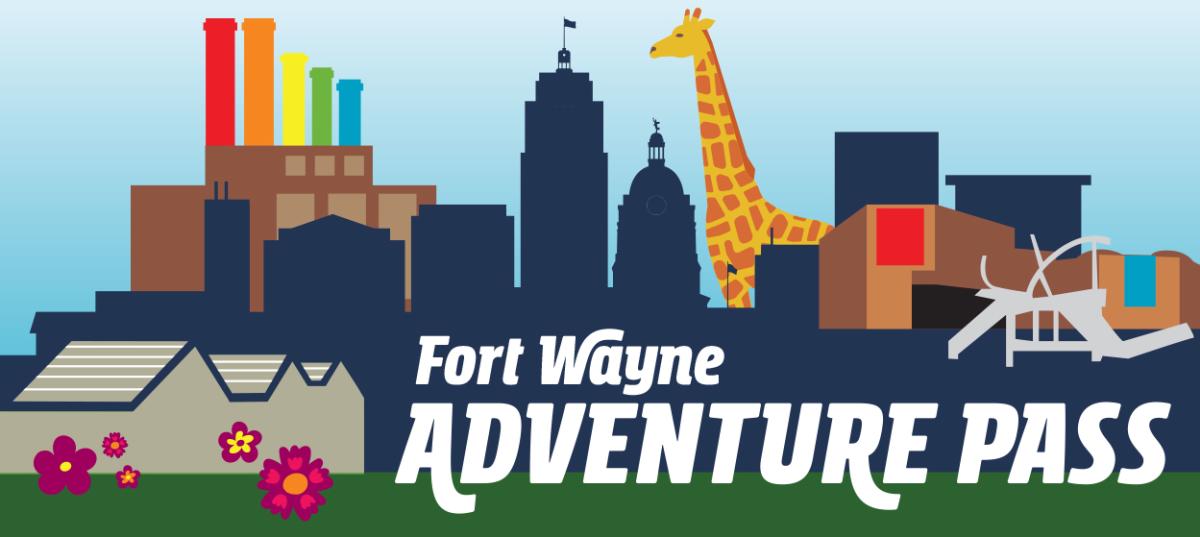 Visit Fort Wayne Launches New Fort Wayne Adventure Pass
Visit Fort Wayne has launched a new attractions pass! The Fort Wayne Adventure Pass gives visitors access to four Fort Wayne attractions for one discounted price. The Adventure Pass includes access to the Fort Wayne Children's Zoo, Science Central, the Foellinger-Friemann Botanical Conservatory, and the Fort Wayne Museum of Art.
This pass is one of four digital passes that Visit Fort Wayne has created through our Bandwango software to simplify and enhance the visitor experience in Fort Wayne.
Find more information about all of the Fort Wayne passes at VisitFortWaye.com/Explore
---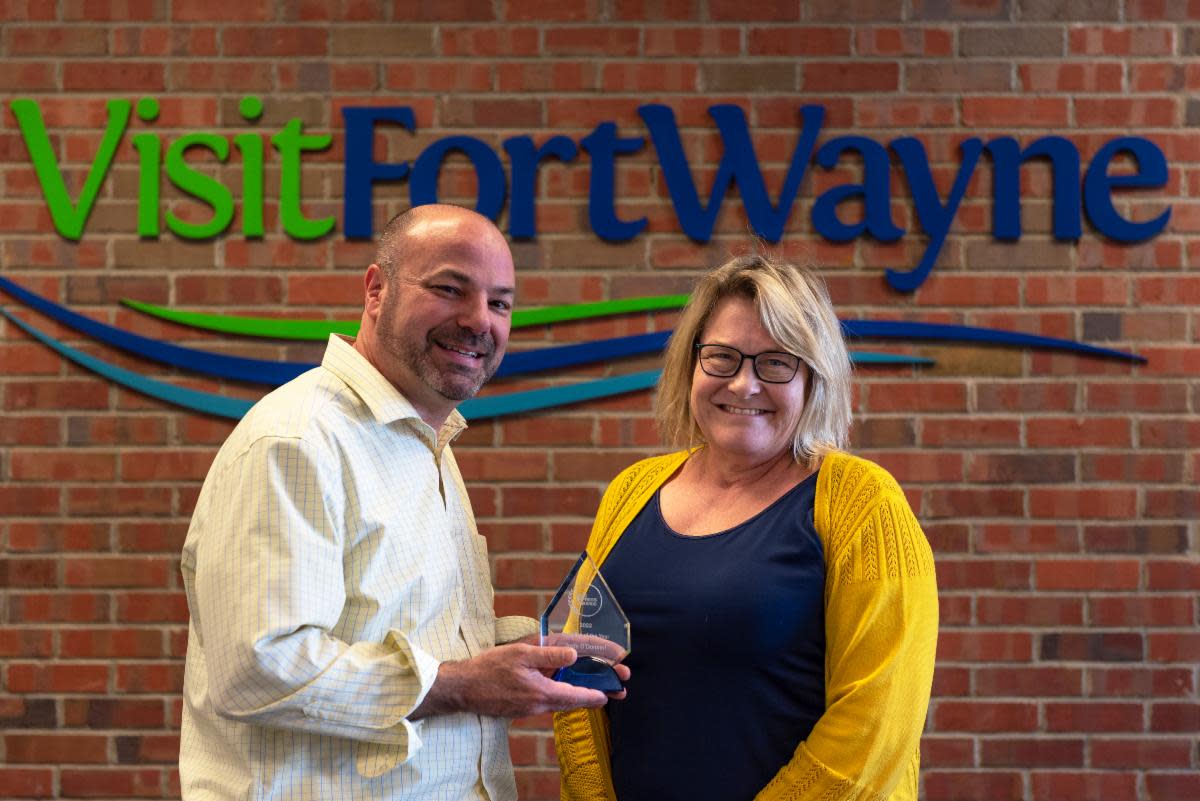 Josie O'Donnell Wins Prestigious Award
Visit Fort Wayne is delighted to announce that Josie O'Donnell, Visit Fort Wayne Senior Sales Manager, has been awarded "Supplier of the Year" at the Meeting Professionals International 2022 IMPRESS Awards.
The MPI Indiana Chapter announced the recipients of the 2022 IMPRESS Awards on April 28 in Indianapolis, and then on May 9, the award was presented in person at the Visit Fort Wayne offices by Vince Slack, Do it Best, who is the President Elect for the MPI Indiana Chapter (Vince Slack pictured above, presenting the award to Josie O'Donnell).
The annual IMPRESS, or Indiana Meeting Professionals Recognizing Excellence and Statewide Success, awards are the MPI Indiana Chapter's opportunity to recognize the great achievement of their members. The awards were judged by a panel of past MPI Indiana Chapter Presidents.
"We would like to thank Josie for her contribution and engagement on behalf of Visit Fort Wayne within the MPI Indiana Chapter," adds Nicolle Campbell, Visit Fort Wayne Director of Sales. "She is deeply passionate and committed to her role as Senior Sales Manager for our city and it is wonderful to see that recognized by peers within our state."
---

Visit Fort Wayne Summer Ad Campaign
Families are looking for summer travel options and Visit Fort Wayne has been busy promoting family getaways to Fort Wayne.
Our marketing department advertises Fort Wayne as a "Summer Getaway Destination" to families within 50-200 miles of Fort Wayne in more than 30 cities, including Indianapolis, Detroit, South Bend, Toledo, and all points in between.
We advertise Fort Wayne via TV ads, print ads and inserts, weekly radio call-ins, and extensive online and social media promotions. Throughout the summer, we will garner more than 30 million impressions for Fort Wayne!
Check out our new TV ad, and our Summer Fun in Fort Wayne webpage to see how we're promoting summer attractions, museums, and things to do.
---

Add Your Events to the Current Fort Wayne Calendar
Share your upcoming events with the community on the Current Fort Wayne calendar of events—just in time for summer!
Current Fort Wayne provides information on sports, arts, entertainment, and education events to our residents.
The calendar at CurrentFortWayne.com provides a single portal where you can enter your event once, and it becomes eligible to be included on our partner calendars, including Visit Fort Wayne, Arts United, Downtown Improvement District, YLNI Living Fort Wayne, Riverfront Fort Wayne, and others.
---