Savor Fort Wayne 2020 Going On Now
January 15-26, 2020, Savor Fort Wayne brings us 12 delicious days of menu deals!
Discover a restaurant you haven't yet visited or enjoy a long time favorite among the 50 Fort Wayne restaurants offering special 3-course menu deals for residents to enjoy.
Diners can use the STAR Rewards Card to enter for a chance to win $500 in restaurant gift cards—just for eating at participating Savor Fort Wayne restaurants. You can pick up a STAR Rewards Card now at any local STAR Bank location, participating restaurants, or the Visitors Center, or download and print one.
See participating restaurants and start browsing the menus at SavorFortWayne.com.
---
Visit Fort Wayne Honored for Impact on Sports Tourism
2019 Champions of Economic Impact Award
Visit Fort Wayne, in conjunction with our partners at Turnstone, is honored to be named a 2019 Champion of Economic Impact in Sports Tourism for hosting the International Blind Sports Federation (IBSA) Goalball and Judo International Qualifier in July 2019!
Each year, Sports Destination Management names Champion Hosts of Sports Tourism across the country who have "meshed their talents and their resources with those of others to realize excellence." Fort Wayne earned a spot in the "Innovations in Sports Tourism" category for this successful international event for athletes with disabilities.
The IBSA Goalball and Judo Qualifier drew athletes, coaches, and spectators from more than 40 countries, marking the largest international event held in Fort Wayne. Our local community also came together to support this event. In addition to the 700+ community volunteers needed for the event, many Fort Wayne residents packed the venues to cheer on the athletes—including the USA Goalball teams, which are based at Turnstone in Fort Wayne—competing for a spot in the 2020 Tokyo Paralympics. See the full list of 2019 Champions of Economic Impact Award winners.
SportsEvents Magazine Feature
We are also thrilled to be featured in SportsEvents Magazine's 2020 Planners' Guide to CVBs, Sports Commissions, and Venues publication! The two-page article highlights Fort Wayne's amazing places to eat, stay, and play. We had the opportunity to host writer Sherri Middleton this summer during the IBSA Goalball and Judo International Qualifier, resulting in this coverage of Fort Wayne and our outstanding partners.
---
2020 Visit Fort Wayne Board of Directors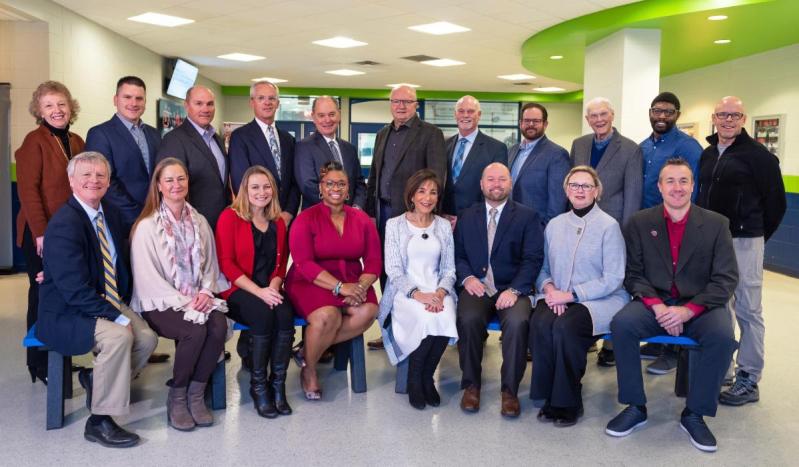 Visit Fort Wayne is governed by a 23-member board of civic leaders.
As we begin the 2020 fiscal year, get to know the Visit Fort Wayne Board of Directors. Continuing to serve as Board Officers are:
Danette Fitzgerald - Board Chairperson
Kelly Updike - Vice Chairperson
Dawn Rosemond - Secretary
Mike Mushett - Treasurer
The Board is thrilled to announce the addition of Russ Jehl, Fort Wayne City Council, as well as Joel Benz, Allen County Council, as new members this year.
2020 Board of Directors:
FRONT ROW (Left to Right): Rob Evans, Holiday Inn at Purdue Fort Wayne; Noelle Robinson, Club Soda; Melissa Schenkel, STAR Financial; Dawn Rosemond, Barnes and Thornburg; Irene Walters, Civic Leader; Russ Jehl, Fort Wayne City Council; Greta Southard, Allen County Public Library; Mike Nutter, TinCaps
BACK ROW (Left to Right): Kelly Updike, Embassy Theatre; John Perlich, City of Fort Wayne; Gary Shearer, Physicians Health Plan; Jim Anderson, Fort Wayne Children's Zoo; Randy Brown, Allen County War Memorial Coliseum; Mike Mushett, Turnstone; Nelson Peters, Allen County Commissioner; Bart Shaw, Grand Wayne Convention Center; Mac Parker, Olive B. Cole Foundation; Paris McFarthing, Hop River Brewing Company; Tim Hall, Don Hall's Guesthouse
NOT PICTURED: Tim Beere, DeBrand Fine Chocolates; Joel Benz, Allen County Council; Danette Fitzgerald, Parkview Health; Lisa Starks, Barnes and Thornburg
---
Fort Wayne 2019: Year In Pictures
For the second year, Visit Fort Wayne has partnered with local media to compile this collection of moments that defined 2019. As we head into a new year, we enjoy reflecting on the milestones and memories made in the year past.
From the polar vortex to the opening of the brand new Promenade Park, 2019 was an adventure. Relive the moments, stories, and images that made history in Fort Wayne last year with our 2019 Year in Pictures collection.
---
2020 Preview: Major Conventions, Tradeshows, and Tournaments in Fort Wayne
In 2020, Fort Wayne/Allen County will host more than 150 visitor events including conventions, conferences, large corporate meetings, consumer shows, and sporting events. These events will host over 255,000 people, with an estimated economic impact of $21 million. View the list of 41 of the largest events coming to Fort Wayne in 2020 and learn more about a few of these unique and noteworthy events below.
Conventions:
April 17-19, the Grand Wayne Convention Center and Embassy Theatre will host the North American Brass Band Association Contest bringing an expected 1,200 attendees.
July 14-18, the North Central Conference of the United Methodist Church is meeting at the Grand Wayne Convention Center to provide members with program and leadership training, bringing in around 1,000 attendees.
October 21-24, the National Association for Campus Activities Regional Conference brings its annual three day event to the Grand Wayne Convention Center. This event provides its 1,000 attendees with training and tools for hosting great campus events.
Sports:
2020 will be an exciting year for Fort Wayne sports tourism!
The Gym Rats Basketball Association will host two Run 'N Slam events at SportONE/Parkview Fieldhouse in May featuring the Bill Hensley Memorial Run 'N Slam, May 1-3 with an expected 10,000 attendees and the Memorial Day Run 'N Slam, May 22-24 with an expected 8,000 attendees.
In addition to the NCAA Division III Men's Basketball returning from 2019, NCAA Division I Women's Basketball will be coming to Fort Wayne for the first time.
March 20-21, NCAA Division III Men's Basketball Tournament returns for its second year at the Memorial Coliseum, pulling in 3,600 attendees.
March 28-30, for the first time in Fort Wayne history, the NCAA Division I Women's Basketball Regional is coming to the Memorial Coliseum, bringing in 7,200 attendees.
Special Events:
Our year is also filling up with special events the public can enjoy. April 15-19, an expected 42,000 people will shop the Vera Bradley Outlet Sale at the Memorial Coliseum. During the five-day event, Visit Fort Wayne will welcome group tours from around the country, and host a group of travel writers who will attend the sale and write about the experience in their travel publications.
June 26-27, Sweetwater Sound will host GearFest, a free event offering a weekend of gear, deals, workshops, performances, and giveaways, bringing in an impressive 20,000 attendees.
The Visit Fort Wayne staff looks forward to collaborating with our partners as we welcome visitors to our city for conventions, meetings, and tournaments this year.
---