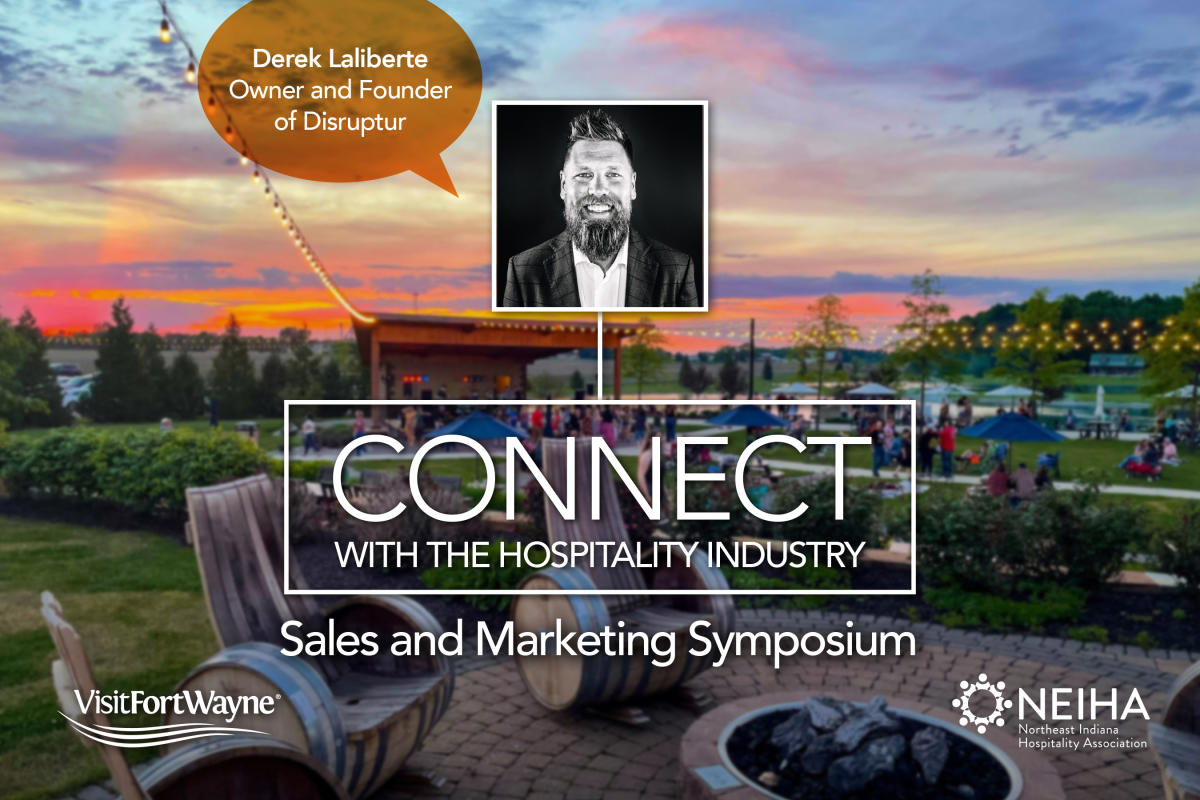 Connect with the Hospitality Industry
Visit Fort Wayne, in partnership with the Northeast Indiana Hospitality Association, is excited to announce the next Connect Session: Sales and Marketing Symposium, featuring Derek Laliberte.
Join Derek Laliberte - Owner and Founder of Disruptur - for a half day workshop discovering new ways our industry can look at marketing and sales processes.
At this session, you will learn:
Trends
Best Practices
New ways to prospect differently
Wednesday, September 14
Country Heritage Winery in Laotto, IN
11:30 check in, program will begin at Noon (lunch and snacks provided)
---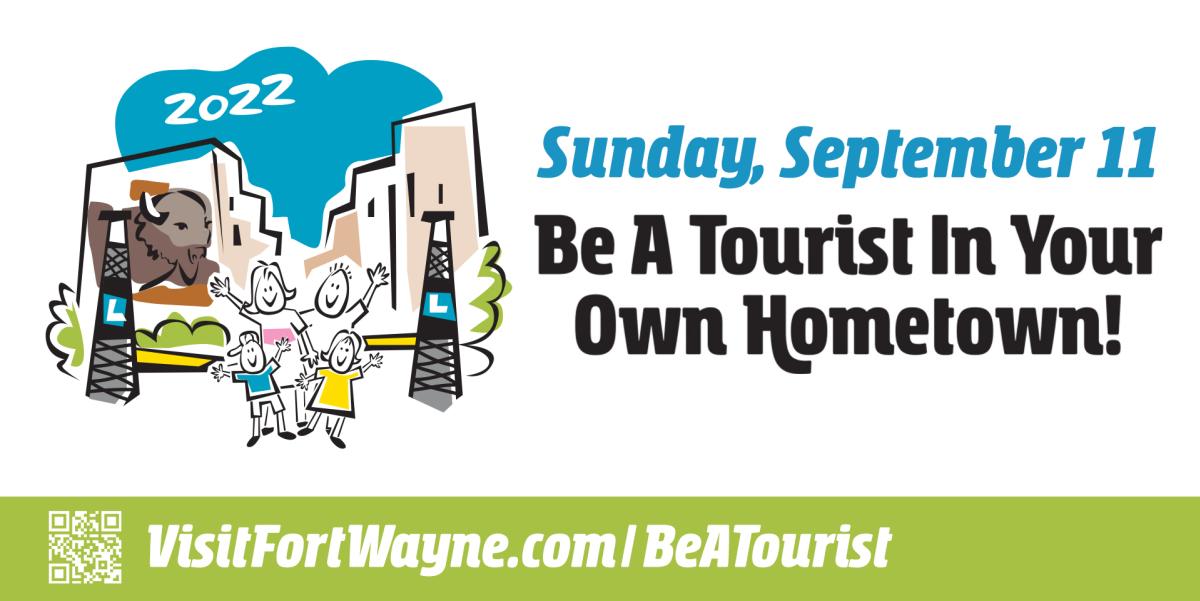 Be A Tourist In Your Own Hometown 2022
Be sure to mark your calendar for Be a Tourist In Your Own Hometown 2022: Sunday, September 11.
Twenty-three locations are making this year the biggest yet, giving Fort Wayne residents the opportunity to tour some of our city's top attractions for free!
Download and print your own Be A Tourist In Your Own Hometown passport here, and on September 11, 2022, use the passport to gain FREE admission to the participating attractions.
Learn more at VisitFortWayne.com/BeATourist!
---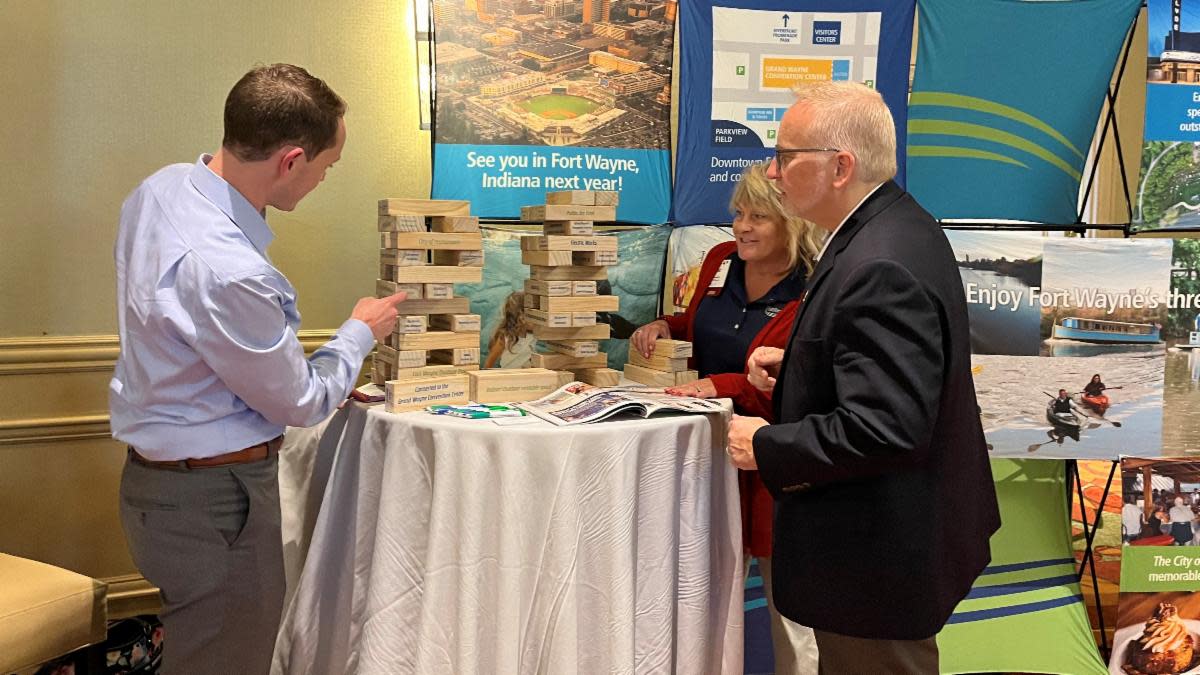 Exhibiting Fort Wayne
Earlier in July, Josie O'Donnell, Visit Fort Wayne Senior Sales Manager, attended the Indiana Society of Association Executives (ISAE) Annual Convention in Florence, Indiana. The two-day convention included specialized education sessions, and valuable networking opportunities with decision makers within state associations and association management companies.
As always, our sales team enjoys the opportunity to share Fort Wayne with meeting planners at these shows and conventions!
---

ARPA Grant Opportunity
The City of Fort Wayne has allocated approximately $5.35 million in COVID relief monies to four grant programs:
Small Business Support
Non-Profit Support
Public Health Organization Support
Tourism-related Industry Support
The city states, "The purpose of the grant programs is to provide relief to organizations around the community that were negatively impacted or experienced an increased need for services provided by the organization as a result of the COVID-19 pandemic."
To find out if your business qualifies to apply for this funding, go to cityoffortwayne.org.
---

Advertise to Visitors in the 2023 Visitors Guide
Visit Fort Wayne has started production of the 2023 Fort Wayne Visitors Guide! Advertising in the Fort Wayne Visitors Guide and on VisitFortWayne.com is the best way to bring some of Fort Wayne's 6.5 million annual visitors to your business. Over 70,000 copies of the Visitors Guide are mailed to people planning their trip to Fort Wayne, and copies are also available in area hotels, attractions, and venues to greet visitors when they arrive.
Current Partners - Look for your email from Emily Stuck, Director of Visitor and Partner Services, about renewing your previous ad placement in the coming month.
Learn more and see ad rates at VisitFortWayne.com/Partners or contact Emily Stuck for more information at (260) 424-3700 or at emily@visitfortwayne.com.
Deadline for reservations in the Visitors Guide is October 1st!
Publish date is January 1, 2023
---