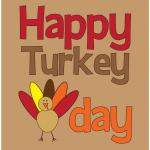 Thanksgiving usually means gathering at your home or a family member's, sitting around the table and enjoying the traditional turkey, stuffing and all of the other goodies.  But what if you don't have anywhere to go this year? Or you just want to do something different? If you find yourself in the Fort Wayne area this Thanksgiving without specific Turkey Day plans, don't worry. The Summit City has several alternative options for you!
Don Hall's Guesthouse
will host its annual Thanksgiving buffet from 10:30 a.m. to 3:00 p.m. in the Grand Ballroom. Traditional Thanksgiving fare will be served. Adults- $22.99, Children- $7.95 and little ones under seven eat
FREE! 
Reservations can be made by calling 260-
489-2524, ext. 413.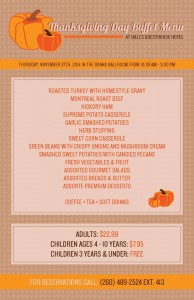 On the same property as the Guesthouse,
Don Hall's Guesthouse Grill
will also be serving up some Turkey Day goodness.  Also open from 10:30 a.m. to 3:00 p.m., the Grill's entrees include hickory ham and roasted turkey. Adults- $17.99, Children- $7.95 and little ones under seven eat
FREE! 
Reservations can be made by calling 260-
489-2524, ext. 413.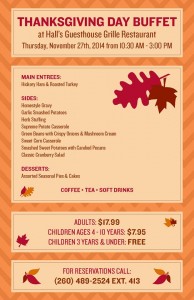 Don Hall's Triangle Park
will be open from 11:00 a.m. to 3:00 p.m. with a special Thanksgiving menu. Prices top out at $29.99 for steak and lobster, but you can get dinner specials of turkey and dressing. Adults- $13.99, Seniors- $11.99, Children under 12- $5.99. Click on the photo below to see the whole menu.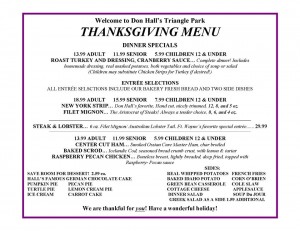 Tucanos Brazilian Grill
Not only can you get your Thanksgiving feast on here,
you can also have dinner delivered
! As for dining in, you'll get the traditional Tucanos Churrasco, plus all-you-can-eat filet mignon, turkey (baked, fried or grilled), mashed potatoes with gravy and more! Hours are 11:00 a.m. to 8:00 p.m. Prices are $29.95 / adult, $11.95 / child, with kids under seven eating for
FREE!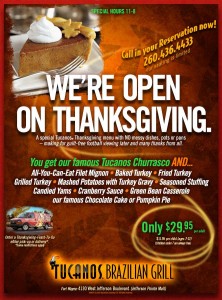 Hotel Fort Wayne will be hosting a Thanksgiving Gala from 10:30 a.m. to 3:00 p.m. "With live entertainment, creative culinary displays, and more, there's no better place in Fort Wayne to give thanks!" Adults- $29.95, Seniors- $24.95, Children- $10.95, kids under three eat FREE!
Reservations are required. Call 260-484-0411, ext. 310.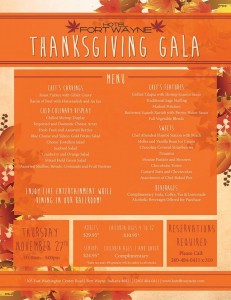 The Holiday Inn at IPFW and the Memorial Coliseum will be offering a delicious menu as well, offering breakfast items alongside Thanksgiving classics. You can make your reservation with them at 260-482-3800 and see the full menu below.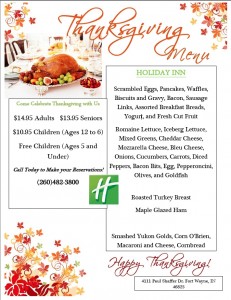 Granite City
will be serving up a three-course, family-style Thanksgiving dinner. Hours are from 11:00 a.m. until 8:00 p.m. Check prices and make reservations by calling 260-471-3030.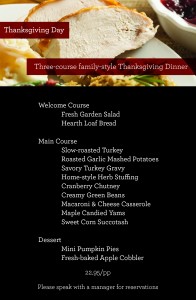 And the old tried and true...
Cracker Barrel
restaurants will be open all day from 6:00 a.m. to 10:00 p.m with the full Thanksgiving menu available at 11:00 a.m.  If you're dining in, Adults- $10.99, Children- $5.99. There are two Cracker Barrels around the Fort; one is located at 1609 W. Washington Ctr Rd and the other at 10427 E. Maysville Rd.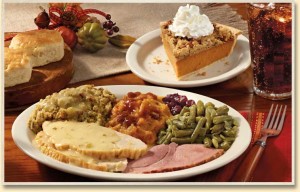 We'd love to hear about your Thanksgiving plans! Are there any restaurants we've missed? Please comment below.