Yoga is said to have a number of healing benefits for both the mind and the body. Its popularity has been rising steadily over the last few years. From anxiety and arthritis to asthma and back pain, yoga has helped a lot of people move onto the path of healing. Now one studio in Fort Wayne aims to make that healing power available to everyone. Fort Wayne's
Pranayoga Institue
  will be hosting a series of no-cost, outside classes, 
All Levels Yoga at the Barr St. Market
. Whether you are an experienced yogi or just want to see if yoga is for you, this event promises to be a great time. From 9:30 - 11:30 a.m. Pranayoga will offer a Vinyasa class. The event is free, but donations are welcome and will benefit the
Pranayoga Foundation
.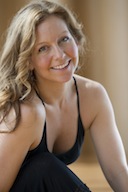 Fort Wayne native, Dani McGuire founded the Pranayoga Foundation in 2009 in order to bring yoga therapy to those with cancer and chronic pain. "We began with just one free class per week and private yoga therapy sessions, donated by myself, to people who couldn't afford yoga because of expensive medical bills and treatments that come along with cancer and chronic illness," said McGuire. The Foundation now offers free classes three times a week as well as a Monday evening class at Cancer Services of Northeast Indiana and three classes on Tuesdays at the Little Red Door Cancer Agency in Indianapolis. The Pranayoga Institute, which has two locations here in town -downtown and Illinois road Southwest- was founded in 2010 to help fund the Foundation and provide a space to train others in their holistic approach to yoga, wellness, and yoga therapy. The Institute offers a variety of different classes for all interests and skill levels. "There are so many differences between yoga classes, teachers, and styles, which is why now that doctors are recommending yoga, we have to be careful to educate individuals on what is going to be best for them," McGuire shared. " There is adaptive yoga which takes place in a chair, and heated power yoga which is a  serious workout, and everything in between. It is best to call first and talk with one of our support managers or join the Yoga 101 classes we developed to find out what is best for you." The free Saturday class at the Barr Street Market will be a Vinyasa class. McGuire elaborates, "Vinyasa means to 'place with purpose' but in our culture those are usually the faster paced classes that link breath with movement and give people the 'runners high.'" She assures that since Pranayoga focuses on the holistic approach, teachers are great at suggesting modifications and meeting students where they are.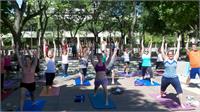 "The outdoor classes help spread awareness of yoga, health, and our wonderfully supportive community," said McGuire. Pranayoga is excited to be partnering with YLNI for the outdoor Barr St. Market classes this year. The All Levels Yoga at Barr St. Market promises to be a great expereince. All you need is a mat and smile, says McGuire. As far as what to expect at the class, McGuire says, "Some laughs, maybe more of a challenge then [you] thought from yoga, and community fun!" All Levels Yoga at the Barr Street Market will be offered from 9:30 a.m. - 11:30 a.m. July 12, August 9, and September 13. The classes will take place rain or shine and will move into the History Center if weather requires. So come out and enjoy the healing benefits of yoga with the community for an experience to remember!