This Valentine's Day, pop into Abby Brown's Candy Shoppe for a creative treat for that special someone in your life!

Abby Brown's, a legendary candy store in Fort Wayne since 1976, is still as popular with the locals as it was when it first opened.  Many customers I encountered in the store were returning customers who bantered with the friendly workers and recommended some of their favorite chocolates to me. I soon discovered that this was no ordinary candy shop with only traditional candies.  The counters were stocked with fresh, handmade chocolate molds, yes, but the shelves contained some nontraditional packaging and sugary goodies.  (View flavors and prices
here
.) Need an original idea for an artistic friend?  Check out the artists' corner, where classic works of art are engraved into chocolate.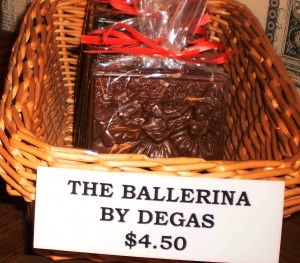 Show a friend you're thinking of him or her with a cheerful, decorative gift can that you can fill with your choice of chocolates.
Not into chocolate?  That's ok.  Abby Brown's features a wide selection of black licorice and gummy snacks!  You can
check them out here
. Pet lovers can also find something fun to get for their pets!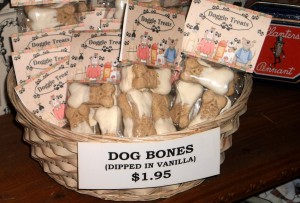 I entered the store on a whim, intending solely to browse.  As luck would have it, I somehow left the store with a small bag of candy and a smile on my face.  The creamy texture of the White Raspberry Cheesecake, Black Forest and Coffee-Caramel chocolates in the store had been delectable, and I was excited to try my Peanut Butter Meltaways once I arrived home. What makes the Candy Shoppe notorious?  It could be the loyal customers who spread the word about the tasty delights.  It could be the consistent quality of the fine candies that have satisfied the city for the past 38 years – and counting.  Or it could be the handmade innovation behind each piece of candy that makes it fun to eat.  You decide!
Abby Brown's Candy Shoppe is at 1415 E. State Blvd.   Visit the website or Facebook page.
For special deliveries or large orders, you can email at katiepoore37@comcast.net
260-482-1160
Hours:
Monday, 1:00 p.m. – 6:00 p.m. Tuesday – Friday, 9:00 a.m. – 6:00 p.m. Saturday, 9:00 a.m. – 5:00 p.m. Closed on Sunday