Downtown Fort Wayne is a hub of activity during lunchtime. Luckily for hungry visitors, there are plenty of options to suit all tastes and budgets. Here are ten of my favorite downtown dining options (in no particular order):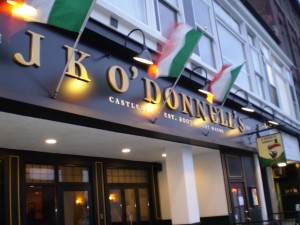 JK O'Donnell's: This Irish pub offers classic Irish fare. Think shepherd's pie, bangers and mash, Irish stew, corned beef and slaw and fish and chips. Sit at the bar and sample of one their several craft brews on tap.
 
Toscani Pizzeria: Across the street from the pub, this cozy café is the perfect place to grab a casual lunch for under $10. They are best known for their sausage rolls. This is a foot-long football concoction of sausage, tomato sauce and blended cheeses wrapped in dough of perfection. You can't beat their lunch specials, a soup and salad deal. Sit outside and take in the scenery.
 
Pint & Slice: As its name suggests, this is THE location for pizza and brews. In addition to standard cheese and pepperoni pies, they feature a daily specialty pizza. I recommend the Greek pizza, which comes with a healthy dose of vegetable toppings. Their sandwiches and calzones are sure to please. Ask about their assortment of bottled and draft beers.
 
Deli 620: The Deli's salad bar is a dream come true. Fresh vegetables and toppings make for a great lunch and the aroma of freshly baked bread is enough to lure you in for a sandwich. The breads are baked daily at the deli and typically available by 11 a.m. Choices will vary each day but could include everything from country white and sourdough to ciabatta and rosemary focaccia. They offer a daily soup and sandwich special, along with classics like tuna melts and BLTs.
 
Dash In: The Dash In has been a downtown lunch staple for some time. Under new management, the menu has been revamped. Deli sandwiches, soup, salads, burgers and paninis are among the lunch choices. Their gourmet style grilled cheeses are a foodie's dream come true. The Dash also has several beers on tap, as well as a selection of hot and cold gourmet coffee drinks.
 
Coney Island: You can't get more American than Coney Island. A standard meal for a coney acolyte is not complete without a bag of Seyfert's chips (once a locally-owned company) and an 8 oz. bottle of Coca-Cola. The best part about this Weiner stand is the simplistic, cafeteria-style setup reminiscent of the 50's.
 


 
Don Hall's Gas House: A true Fort Wayne institution, the Gas House features lunch and dinner including prime rib, seafood, steaks and cajun specialties. Sit on "The Deck" for an outdoor dining experience and embrace Fort Wayne's river heritage.
 
Bagel Station: Customers are tempted with homemade soups, salads, sandwiches, daily specials, pastries and espresso beverages. Adding to the diverse array of downtown eateries, the café also caters boxed lunches for local businesses and is capable of easily outfitting large groups with a full meal or treats for the road. *This cafe is no longer located downtown*
 
Double Dragon: Have a craving for Chinese food? Double Dragon is the answer. This unassuming restaurant serves up tasty, traditional Chinese take-out fare. (Limited dining is available.) Tip: This place is cash only, so be prepared.
 
King Gyros's: Conveniently located across from Parkview Field, this eatery is the perfect stop after an afternoon TinCaps game. King Gyros promises a variety of Gyros (lamb sandwiches) and is the only place to get a Chicago-dog in town.
These are just a few of my favorite downtown hangouts - what are yours?