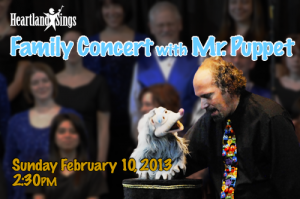 You're in for a treat with the
Heartland Chamber Chorale'
s Family Concert. Mr. Puppet and his crew of zany puppets is back. Yes, puppets! In a unique collaboration, this interactive program matches singers on stage with puppets, and master puppeteer, as they take a humorous twist on choral competitions. And, you'll have the chance to take part, too. So, come ready to sing along to your favorite children's songs, including: Zip-a-dee Doo-dah; a choral suite from Mr. Rogers' Neighborhood including "Won't you be my neighbor?"; Three Appalachian children's songs like "All the Pretty Little Horses"; "Children of the World", and more.
Heartland Sings Family Concert
February 10, 2013 2:30 pm
University of Saint Francis North Campus Auditorium
2701 Spring Street, Fort Wayne, IN, 46808 Tickets are $10 and children under 18 are free with a paying adult Visit
heartlandchorale.org
for tickets.