Often when I find myself in a new area I like to get a bit of "ground time". Going on a walk, run, or bike ride is a wonderful, sensual experience for getting in touch with what a city, town, or countryside has to offer. A little quality time in nature or a quick pit stop in a new restaurant and a bar certainly tends to help along this crusade. Remind me to tell you about that time in Tucson…Luckily "Ride Green Ft. Wayne" has just the thing to take you on such a journey. The Northeast Branch of the
U.S. Green Building Chapter (USBC-IN Northeast)
will be hosting its first annual "Ride Green" bicycle pub tour of 7 of the Fort's favorite bars and restaurants. The event will take place on Saturday, September 6, at 2:00pm and will take attendees on a 6-mile loop beginning at the Wells Street Bridge. The route will pass by local favorites such as
O'Sullivan's Italian Pub
,
The Green Frog Inn
, and
Calhoun St. Soups, Salads, & Spirits
.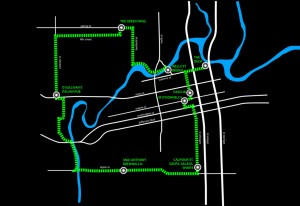 Billed as the official public launch of the
Sustain Fort Wayne
Campaign, "Ride Green" is designed to show residents and visitors alike how to enjoy many of Ft. Wayne's various businesses in fun, practical, and environmentally conscious ways. According to branch chair Andrew Hesterman, the event is meant to connect and build a spirited community looking to be active participants in the city. "We wanted to emphasize that anyone can be involved in a sustainable mindset and culture", said Hesterman. After a period of introspection the USBC-IN Northeast decided it was looking to expand it's involvement in Ft. Wayne, making its voice heard throughout the community in interesting and inviting ways. While much of its energy was focused on promoting sustainability in the areas of design, architecture, and engineering, there seemed to be something missing in the organization's overall mission. When asked for comment, Hesterman said, "We want to get people in gear with what (the USBC-IN) is all about." Cultivating and participating in a burgeoning cycling scene in the Fort seemed the best course of action. In turn, the USBC-IN Northeast hopes "Ride Green" will encourage citizens to become members. The organization offers LEED Environment certifications and education programs for building, engineering, design, and architectural professionals. Not involved in those fields? Then the organization offers "Green Associate" certifications for those who are looking to be involved with sustainable technologies and lifestyles. When I asked Hesterman if he would consider himself a "cyclist" he responded with good humor stating, "If I am it's at a leisurely pace!" Be sure to check out the event's
website for more details
! Did I mention you get a shirt with this? And, in case you want to know, I'm SO going to be there.
Photo Courtesy: Ride Green Ft. Wayne