Every city should have a BBQ establishment, not only for the savory meals and BBQ, but also for the lively environment that accompanies each restaurant.  Thankfully, Fort Wayne is endowed with
Red Rok BBQ & Bourbon Saloon
, which lives up to the BBQ establishment stereotype – and more! I dined here recently as a pick-me-up on a cold, gray day, and I made the right choice!  The funky décor brightened my spirits, and the service was extremely prompt and efficient.  (I did arrive at 1:30, after the lunch crowd.)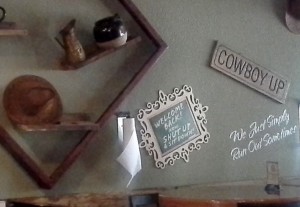 My waitress even brought me a cup of hot cocoa, which isn't a typical saloon drink, but it warmed me up and was a fun touch to my experience there. My Cowboy Tenderloin and Drunk'in Apples (baked apples baked in bourbon) were absolutely delicious!  Since the tenderloin was almost the size of Texas, I had to take some leftovers home with me.  Country music played softly in the background, and the friendly staff chatted with other customers who came in for a quick beer.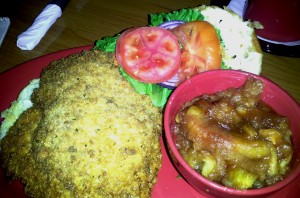 The only slightly minor issue I have is in regards to the formatting of the menu.  It explained each item well, but it was a bit hard to identify the prices and locate the nonalcoholic drinks section.  (You can read the menu yourself right
here
 to browse from more than 50 different drink specials!) Now that the weather is finally warming up in the Fort, come check out Red Rok and dine outside!  The restaurant is located on a quiet street in the downtown sector (close to
Columbia Street West
and
Bourbon Street Hideaway
), so noisy traffic won't hinder your outdoor dining experience.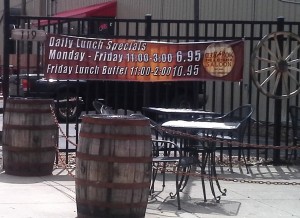 Red Rok also features live Latin music on Wednesday nights from 6-9:00 p.m.
Red Rok BBQ & Bourbon Saloon is located on Fort Wayne's Historic Landing at 123 Columbia Street West.  Visit the restaurant's website
here
and on Facebook
here
. 
Red Rok's hours are as follows:
Monday – Thursday, 11:00 a.m. – 10:00 p.m.
Friday & Saturday, 11:00 a.m. – 2:00 a.m.
Closed Sunday
260-755-6745