Who doesn't love a picnic? Grab the family, get a sandwich or pizza to go and head over to the park for some quality time. No matter what side of town you are on (or want to go to) I've got you covered - below are my picks for great parks (and great places to grab a bite!).
[[endteaser]]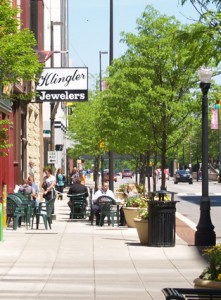 Downtown
Dash-In (I recommend any of the grilled cheese sandwiches or the Tuna Po-Boy) 
816 Pint and Slice (the Margherita is my favorite, and make sure you try the breadsticks too) 
Toscani Pizzeria (the sausage pizza is the best) 
Jimmy John's (The Big John is always a hit) 
Head over to Lawton Park (take some sand box toys) 
Headwaters Park (bring the swimsuits and run through the fountains) 
Freimann Square (bring some bread or crackers to feed the ducks) 
One Summit Square (head over on Thursdays at 11:30am for live entertainment). 
North

Do you have any other favorites I should add to the list?