It's a weekend night in the Fort. What to do? There are plenty of ways to occupy your time in the Summit City. From live music, to dancing, it's easy to create fun memories during your visit, no matter how long. Here are  a few ways to get the fun going: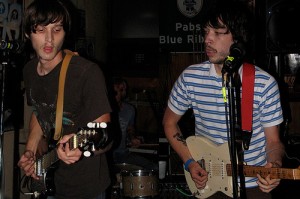 For the music lover:
The Brass Rail: 
This 21+ place is a hot spot for music entertainment, especially national acts. There aren't too many places in town where you can catch a quality out-of-town band on a Tuesday night. The best part: you can catch bands of all musical genres-from metal, to punk, to bluegrass–all under one roof! Be sure to order their signature drink–a PBR!
CS3
:  Calhoun Soups, Salads & Spirits, affectionately known as "CS3" is part restaurant, part bar. Whether it is a date night, a guys or girls night out, family gathering or just having dinner and a drink to start off your evening, CS3 is a great place with a great atmosphere to match and is one of the hip-hop hotspots just outside of downtown Fort Wayne. Be sure to check out their impressive list of craft brews.
C2G:
 Come2Go(C2G), located at 323 W. Baker St. in downtown Fort Wayne, is a bit of a diamond in the rough. Here, you can hear a wide variety of acts, ranging from indie rock to blues.  C2G Music Hall also produces a regular Open Mic Night, hosted by Sunny Taylor, on the first Monday of every month (except on holidays) at 7:30 pm. Solo performers, bands, poets, dancers, etc. are all welcome. Performers are asked to arrive at least a half hour before show time in order to get registered and sound checked (if needed).
For the party guy/girl:
Flashbacks:
As the name implies, Flashbacks on the Landing is Fort Wayne's only retro night club featuring your favorites from the 70's, 80's, 90's and today.
Columbia Street West
: Also on the Landing, 
this venue offers a wide variety of live bands every Wednesday, Friday, and Saturday!  Be sure to get the weekend started with their happy hour every Friday evening from 5-7 pm.
Piere's:
Piere's is several clubs in one. Karaoke lovers will love the dedicated lounge. There are multiple dance floors to get your groove on. You can also enjoy concerts by a national artists here!
Early Bird's
: Located not far from Piere's, this venue is ideal for a girls' night on the town. Their house DJ mixes the best of house music. Weekend drink specials make it easy on your wallet. So, grab a few friends, and unwind in one of Fort Wayne's best venues!