A wonderful gift comes with the mature years… grandchildren!  And not only do the young ones bring joy to the elders, the feeling is mutual. That
grand
connection provides the kids with something special. Call it spoiling if you wish; we call it making memories. Here are a few seasonal  suggestions for Grammy, Gramps and the Kiddos to build the bond and find the fun together in and near Fort Wayne.
Discover A-maze-ment! 
 Go on an adventure without leaving Allen County. Create a story and spark imaginations as you and the kiddos make your way through the corn maze at
Kuehnert Dairy Farm
. Are you in a jungle? On another planet?  Have a blast traveling the real-life puzzle.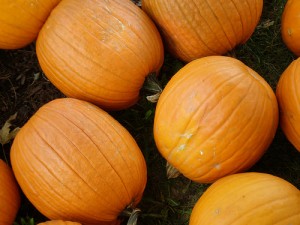 From the tiniest toddlers to the moxiest middle schoolers and beyond, everyone gets a kick out of a visit to
local orchards and pumpkin patches
to select their own pumpkins. Then, adapt activity to age as together you carve Jack-o'-lanterns, draw a face, or just marvel at nature's colors and shapes. Stop by
Courtney's
or another of the city's bakeries for some pumpkin muffins, and savor the flavor as you talk about garden-to-table bounty.
Spice Up a Tea Party
Granddaughters from elementary school through adulthood will feel sophisticated and pampered as you share a pot of tea and delicious pastries at
Sweet Violets
on Wayne Street. Begin with a tasty sandwich, quiche, salad or cup of soup. (Reservations are recommended.)  Point out the antiques and lovely decor. What a fabulous reason to dress up a bit and polish those mannerly social skills!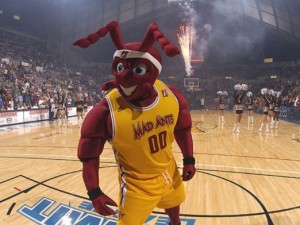 Be a Sport
It's always exciting to go to a game for Fort Wayne's pro sports teams. Give the kiddos the freedom to yell!  Start a tradition with your own family cheer for
Komets
hockey and
Mad Ants
basketball. Add a souvenir as a lasting reminder of the great time together.
Leave the Hustle and Bustle for a While
Listen to the soothing sounds of nature on a relaxing stroll through
Fox Island
, identifying trees and enjoying the glory of the changing autumn colors. Later in the season, the crunch of the fallen leaves on the park's trails is a sensory delight for little ones.
Watch for Fall-ing Stars
Enjoy a free event for nature lovers and science buffs of all ages. The Fort Wayne Astronomical Society will guide your autumn skywatching at their
Star Parties
every clear-weathered Saturday evening in October and November at
Jefferson Township Park
.
Sweeten the Scene
Make your time together the sweetest with caramel apples à la
Abby Brown's Candy Shoppe
and chocolates chosen at
DeBrand Fine Chocolates
. Take a
tour
to see how the confections are made. Then, to warm up a cool fall evening, sandwich a marshmallow and chocolate between graham crackers, and pop in the microwave for a few seconds to make ooey, gooey gourmet s'mores.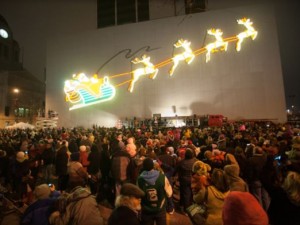 Shine at the Night of Lights
Launch a great family tradition by setting the stage to transition from the autumn mindset to the Christmas spirit at
Downtown's Annual Holiday Lighting Ceremony
on Wednesday, November 27. You can start the evening with dogs and chili at the renowned
Island
on Main Street. Then mingle with the other revelers as you watch the lighting of Santa and the reindeer on the side of the PNC Bank building, the huge Christmas tree, and other displays and surprises. Hot cocoa, anyone?  Extend the mood with some carols in the car on the way home. Whichever fun times you create, keep the camera handy, so together you can review your brag book photos and relive each
grand
moment.