Give me a head with hair, long beautiful hair...
Although those lyrics are from a song in the 1960s, our obsession with hair has not faded with the ages. One hairstyle in particular--the afro--has gained much attention for its social and cultural association.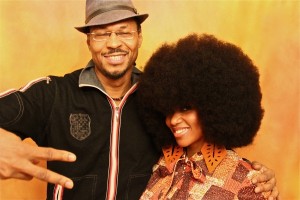 Locally,
Fort Wayne Museum of Art's
exhibit
Afros: A Celebration of Natural Hair 
chronicles this trend in American culture.  The story behind the exhibit is perhaps as interesting as the art itself. Over five years, photographer Michael July approached a variety of individuals and asked them to participate as subject models for a volume he was creating to chronicle the evolution of the Afro in America. He was able to capture the "creme de la creme" of Afros as worn by people of virtually every shade, ethnicity, country and age group. This exhibition shows pictorially the power, beauty and glorious nature of the 'Fro and tells the deeper "hairstory" of each of its models. This exhibition, inspired by the original book, captures the spirit and essence of the Afro today and pays homage to the historic significance of natural hair iconic voyagers. Michael July's book AFROS: A Celebration of Natural Hair is  for sale in the FWMoA's Paradigm Gallery  for $44.95. You can catch this exhibit at the Fort Wayne Museum of Art until June 9th. Gallery hours are: Sunday, 12 - 5 pm; Tuesday - Saturday, 10 am - 6pm, and Thursday 10am - 8 pm. The galleries are closed Mondays and major holidays. Admission is $7 for adults, $5 for students, and $12 for families.
Insider's Tip: Enjoy free admission every Thursday from 5-8pm and Sunday from noon to 5pm.