If you're like me, about this time of year you start to crave fresh garden vegetables. As we begin the process of digging out from this long, cold winter, it's natural to start looking forward to the bounty that our local growers will be sharing with us all season long. Listed below are some of the farmer's markets that will be up and running for the summer before we know it! You can also print off a PDF version of this list here. Fort Wayne Farmers Market The Fort Wayne Farmers Market is the result of a  local grassroots movement. The market offers goods from a variety of producer-only vendors.  These include fresh produce, foods and crafts that are grown and/or made in our region.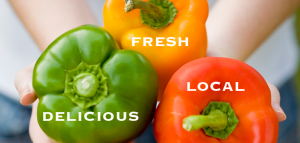 Most everyone local knows that this market is actually open in the winter as well. The Indoor Winter Market is open on the first and third Saturday of each month (mid-November to mid-May) from 9a.m. to 1p.m. at Parkview Field in the Lincoln Financial Event Center, off the ballpark's right field concourse. 
Remaining dates for the Winter Market are:
April - 19th
May - 3rd & 17th
The Fort Wayne Farmers Market summer season kicks off in June, with varying locations:
  South Side Farmers Market The South Side Farmers Market has been a Fort Wayne tradition since 1926. In fact, the market was declared a historic site back in 1986. Produce is delivered fresh every Saturday by local farmers and master gardeners.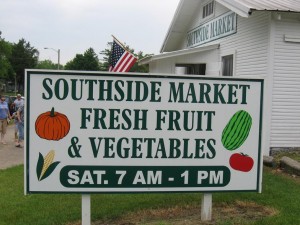 Click here to see a detailed chart of what fruits and vegetables are in season in Indiana and when.
The market is operated by the Allen County Ag. Producers, Inc., a non-profit corporation. The market's stated goal is to provide high-quality, locally-grown fruits and vegetables to the people of Fort Wayne and surrounding areas. The market's "H" shaped building holds 100 stands operated by local families, farmers, growers and master gardeners. "It is a place that allows you to form a personal relationship with the people who produce your food. They are happy to share selection methods, storage tips and favorite recipes for the items they sell."
Days: Every Saturday from Easter through mid-December Hours: 7a.m. to 1p.m. Location:  3030 Warsaw Street, Fort Wayne   Salomon Farmers Market Salomon Farmers Market is located at Salomon Farm in the Old Barn. The market has been run by the Fort Wayne Parks and Recreation Department since 1995, when the farm was given to the Department by the Salomon family. The 170-acre park remains a working farm, which was the Salomon family's wish.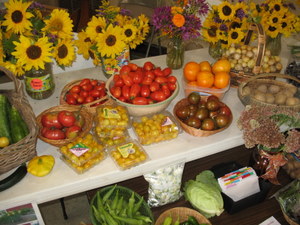 The market offers locally-grown fruits, vegetables, flowers, herbs and plants sold by the farmers who produced them. There is also maple syrup, honey, breads, natural soaps and lotions. Some of the vendors at Salomon are Certified Organic. You can also find heirloom variety fruits and vegetables that you cannot get anywhere else.
A note from Salomon: "Our goal is to connect you with your food and the people responsible for growing it.  Shopping for your food doesn't have to be a hectic headache at the grocery store with crowded aisles, slow check-out lanes and tasteless produce.  It can be a relaxing family outing where you learn something new about the food you're eating."
Days: Wednesdays, June 11th through September 24th
Hours: 4p.m. to 7p.m.
Location: Salomon Farm Park, 817 W. Dupont Rd., Fort Wayne
Historic West Main Street Farmers Market
The Historic West Main Street Farmers Market is billed as "Fort Wayne's Largest Farm Market."  The market features more than 50 growers and includes Certified Organic produce, locally-grown produce, beef, poultry, eggs, breads, flowers and other Indiana-produced farms products.
This market also showcases local art and antiques and has music and hot food vendors weekly.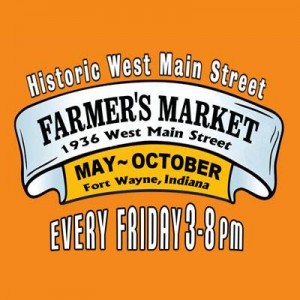 Days: Every Friday, May through October
Hours: 3p.m. to 8p.m.
Location: 1936 West Main Street, Fort Wayne
Additional Info: The market now accepts EBT/SNAP, FMNP and WIC vouchers.
YLNI Barr Street Farmers Market
Located right downtown, the Barr Street Farmers Market, operated by the Young Leaders of Northeast Indiana (YLNI), offers fresh, locally-grown produce, plants, meats, baked goods and homemade crafts.  The market is a producer-only market, meaning that all food and crafts are grown and made by the vendors themselves. All of the participating vendors are local from Allen county or surrounding counties.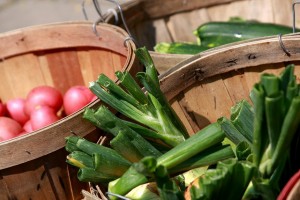 Some fun facts, from the market's website:
Was voted in 2010 Fort Wayne's Best Farmers Market (by the readers of the Fort Wayne Magazine)
Averages about 500 - 700 visitors per week
Hosts different local musicians each week
Barr Street Market is located in the oldest public space in Fort Wayne
The original Barr Street Market operated continuously from the 1840s-1950s
In its heyday, the Market stretched for 2 city blocks and had several permanent buildings
Days: Saturdays, May 17th through September 27th Hours: 9a.m. to 1p.m. Location: 302 East Berry Street, Fort Wayne (Directly behind the Fort Wayne History Center at the corner of Barr and Wayne Streets) Additional Info: Free parking is available in the History Center lot along Berry Street. Admission to the History Center is free during market hours.   East State Village Farm Market The East State Village Farm Market has a community feel with live music and locals selling handmade, homemade and homegrown goods. There is a large variety of vendors selling everything from produce to arts and crafts. Musicians often perform during the market as well. Days: Sunday's June 8th-October 5th. Hours: noon-3pm Location: Tecumseh Library - 1411 East State Blvd., Fort Wayne   Do you want to know which Farmer's Markets are open today? Click here for a printable version of all of the weekly farmers markets in Fort Wayne!