My favorite part of spring is the flowers that bloom. I never used to pay much attention to which flowers bloomed when—now I know that bulbs are planted in fall and bloom in spring. I love them all—tulips, daffodils, hyacinths, and all of their variations. I love tulips so much that I checked a book out of the Allen County Public Library that was solely about them! They have dozens of variations—jagged edges, dozens of colors, tall, short, multi-colored.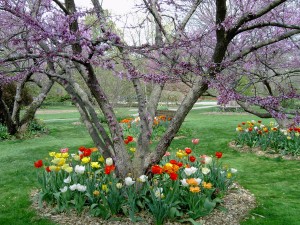 I won't go so far as to say which color is my favorite (I can't choose!). But I will say what is my favorite place to view them—
Foster Park
on Fort Wayne's south side. Located just off of Rudisill Blvd next to Bluffton Road and Broadway, it is a marvelous place to be in spring. The caretakers of this paradise work hard to create gardens and areas of mostly tulips of every color in the crayon box. When the sun shines on them, they seem to glow! I used to work down the street from the park. It was a delight to walk there each day at lunch and photograph all of the blooms. I didn't have a purpose—I just wanted to capture the lovely views that would only last a couple of weeks. There is a paved walking path approximately 2 miles long that allows bikers, walkers, runners, strollers, rollerbladers. The Bridal Glen and benches enhance your stroll. I'm planning to take my mother in her wheelchair to see the flowers.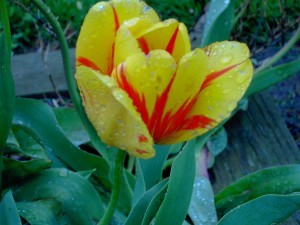 I love the stone wall and wooden cabin that looks great as backdrops to photos. You're allowed to walk on the grass but please do not pick the blooms. This will allow hundreds of other visitors to be blessed by them. If you're lucky, your visit may coincide with a wedding or pre-prom photo session. Every bride would look good surrounded by such beauty! The park offers a picnic area, playground, golf course and paved walking path that are popular with local residents. If you don't live in the area, go out of your way to visit Foster Park before the tulips and other blooms are gone. You'll be glad you did. Foster Park is located at 3900 Old Mill Rd. Check out
www.fostergolfcourse.com
for information on golf in Foster Park. For more information go to
http://www.fortwayneparks.org/
. Bonus: Stroll along Broadway up to Bluffton Road and you'll be able to smell the sweet scent of lilac bushes that bloom along the street! Lovely!