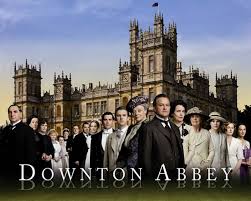 Are you a Downton Abbey fan yet? Downton Abbey is the name of the most-watched, PBS-produced show in the station's history. It is based on the lives of an aristocratic family in England in the early 20
th
century, as well as the large staff that serves their daily needs. Downton Abbey is filmed in England but it has taken America by storm. If you've not yet viewed this cultural phenomenon, I highly recommend watching it from the beginning of Season 1. The
Allen County Public Library
is geared up for the intense interest in the show with 50 items about Downton Abbey that can be checked out. In addition to the DVDs of each season, there are several books about the show, including
The unofficial Downton Abbey cookbook : from Lady Mary's crab canapés to Mrs. Patmore's Christmas pudding : more than 150 recipes from upstairs and downstairs
. How fun would that be to create some of these recipes and serve them! Another interesting title is
Upstairs & downstairs : the illustrated guide to the real world of Downton Abbey
. There are also books about the real life of the people who have resided in Highclere Castle where Downton Abbey is filmed as the family home. This castle has become one of the most well-known visitor spots in England and rightly so. It's absolutely majestic. I've read several of the library's titles about Downton and love learning more about the time period and what life was like behind the scenes. The show has run for three seasons and ACPL is celebrating the excitement of the beginning of Season 4 which begins in January 2014 with three special events. On Jan 11, Feb 1, March 1, fans of the show can gather at the Main Branch of the Allen County Public Library for a free afternoon tea catered by Fort Wayne's premier tea house,
Sweet Violets Tea & Antiques
. Fans like my daughter and I will have the chance to gather with other fans of the show and talk about the intricate plot lines and relationships while partaking (that's an English word, isn't it?) of complimentary tea and pastries. Registration is required and space is limited to 30 people. I plan to dress for the occasion in long gloves, even longer necklaces, lace hankies and maybe a hat reflecting the time period or something close to it. I want to mention that our local PBS station coordinated a free viewing of the first hour of Season 4 at The
Embassy Theatre
in early January. My husband, two grown daughters and I all attended and had a wonderful time! There was a huge turnout and it shows that people love to gather for good stories! OK, enough fawning about the show. Watch it and determine for yourself if it is worth the fuss. I'll be surprised if you do not agree that it is one of the best mini-series to hit TV in a long time. But first call ACPL to sign up for one of the teas. The tea is open to people of all ages so plan to bring your granny or young daughter and give them a taste of British life. The teas begin at 2:00 PM and will take place in the Main Library in Meeting Room C. Register by calling 421-1212. The registration period for the first tea and showing has passed, but you can still register for the February 1st viewing through January 29th and the March 1st event from February 2-26. Cheers!