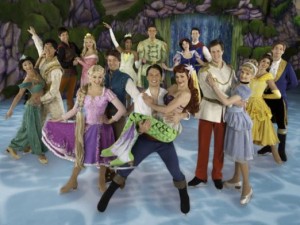 When I was a preteen, my family and I received Disney on Ice tickets from a family friend.  It was a once-in-a-lifetime experience that I still talk highly about, and I wholeheartedly recommend it to people of all ages! The show we saw was Beauty and the Beast on Ice.  We had floor seats and could still easily see all aspects of the performance. I remember being the most fascinated by the costumes.  Belle's dresses were lovely, and the Beast's costume closely resembled the character in the Disney film.  I remember being enchanted with the adorable dish characters that glided gracefully on the ice, even though they didn't have legs in the movie.  More importantly, I remember the feeling when the skaters looked me in the eye as they performed.  It made me realize this wasn't your typical performance; it was an opportunity for the skaters to engage with the audience as they performed. This year from March 6-9,
Disney on Ice: Princesses & Heroes
will entertain you at the
Allen County War Memorial Coliseum
.  Past princesses (Snow White and Cinderella), modern princesses (Tiana and Rapunzel), and some in between (Jasmine and Belle) are just a few of the highlights of this show.  Aladdin and Prince Eric will make some memorable appearances, and Prince Philip will fight the evil queen, Maleficent, as she transforms into a dragon! The skaters' flawless acrobatic abilities are incredible, and adults will appreciate the combination of professional skating with timeless children's stories. The awe-inspiring experience has been one that I'll always remember, and I guarantee you will, too!
Disney on Ice: Princesses & Heroes will be at the Allen County War Memorial Coliseum (4000 Parnell Ave.) on Thursday, March 6 and will have shows multiple times per day until Sunday, March 9. The show times are as follows: Thursday, March 06 2014 7:00 PM Friday, March 07 2014 7:00 PM Saturday, March 08 2014, 11:00 AM Saturday, March 08 2014 3:00 PM Saturday, March 08 2014 7:00 PM Sunday, March 09 2014 1:00 PM Sunday, March 09 2014 5:00 PM
Tickets range from $15.50 to $45.50 with Opening Night tickets starting at $12.50. Tickets can be purchased at the Coliseum Box Office, or through
ticketmaster
. For more information on Disney on Ice: Princesses and Heroes, check out
Visit Fort Wayne
, the Memorial Coliseum
website
, or
Disney on Ice
.
YOU CAN WIN TICKETS TOO! Simply visit the Disney on Ice: Princesses and Heroes contest page on Visit Fort Wayne, and enter for your chance to win 4 tickets to the show - plus much more!