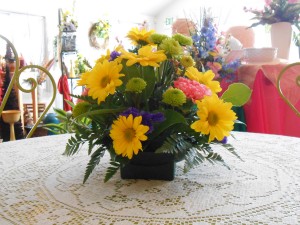 On a bitterly cold day, there's nothing like walking into a flower shop. You suddenly feel like you have stepped into a heavenly world of green plants, twinkling lights and gracious gifts. Crossroads Flowers is such a place. A cornerstone of the northeast Fort Wayne business community for many years, this shop originally began as a home business for wedding flower consultations. Over the years, the business bloomed and took over the house!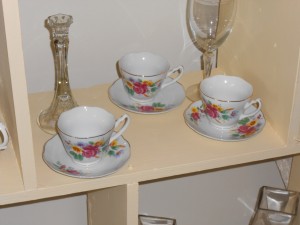 When you walk into Crossroads Flowers now, the first thing you'll notice is the variety of vases in the atrium. All the shapes and colors are like jewel tones in the sunshine that streams through big windows. A dainty lace tablecloth covers a round table with wire chairs on all sides – a spot perfect for discussing exactly what you want, or for displaying a bouquet to its best advantage.
The next room is full of gifts, from afghans to garden stones with verses and ceramic angels. Delicate tea cups and other pieces of China are also on display, should you wish to try something unique. Or, further in, there is the cooler of fresh flower arrangements, ready for you to pick up and purchase. With Valentine's Day so close, there is also a table near the cooler loaded with gift cards, envelopes and sparkling red hearts.
And then, there is the "Green Thumb Room." Through this doorway is a haven of living green. Mirrors on the walls add to the whole feeling of open, tropical luxury. According to Malinda Cearbaugh-Bennett, daughter of the original owner-operator of Crossroads Flowers, this shop does a good deal of business in houseplants. The variety is wonderful, and Cearbaugh-Bennet says that the plants come directly from Florida.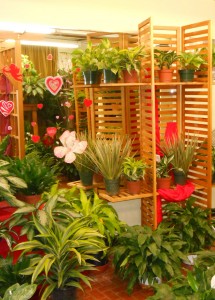 Customers are welcome to order flowers
online,
to phone in requests, or to walk in and make selections in person. If flowers in a specialty color are needed, customers can call ahead – flowers in almost any hue should arrive within several days. Flowers can be delivered or picked up in the shop. Rest assured: each request will be handled with care, grace and precision. As the Crossroads Flowers shop states with their motto, "Our Desire – to Please."