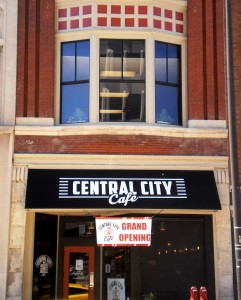 Looking for a fun place to have lunch in Fort Wayne?  Look no further than Central City Café, one of the city's newest restaurants! I've been looking for a new, chic restaurant to meet friends, and this is just the place!  Located on Calhoun St., just beside
Riegel's Pipe and Tobacco
shop, its downtown location makes it easy for me to access during the summer's festivals and other activities. The Café is located just a few blocks from some of Fort Wayne's other legendary eateries -
The Pint and Slice
and
The Dash-In
.  What sets Central City Café apart from these dining establishments – as well as others in Fort Wayne – are the 14-foot long, build your own sandwich and salad bars.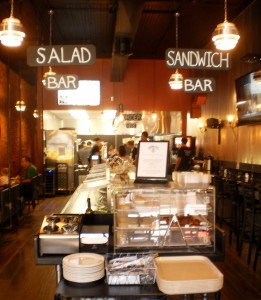 I appreciate this café for many reasons.  Besides its convenient location and healthy menu items, the interior is very clean, spacious, and has a big city feel. The interior also tastefully blends contemporary décor into the building's historic structure.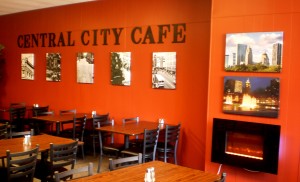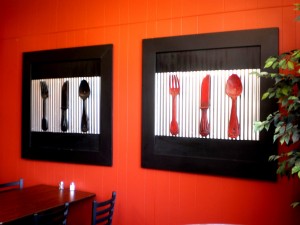 The building, which dates back to the 1860s, had been used as a warehouse during the city's industrialization.  You can still see the original brick walls and ceiling support beams throughout the Café, and there are paintings and photographs of past and present day Fort Wayne on both floors.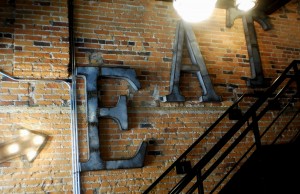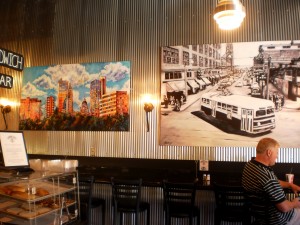 I thought these were unique ways for a restaurant to acknowledge Fort Wayne's past and present. Last but not least, customers can utilize the Café's Wi-Fi over a business meeting or for leisure.  There is ample seating along the wall downstairs and at small tables upstairs.  With a fun, upbeat atmosphere and healthy menu items, I highly recommend making Central City Café your next choice for lunch!
The Café is located on Facebook here and downtown at 620 S. Calhoun St. Open Monday – Friday, 10:30 a.m. – 3:00 p.m.  Closed Saturday and Sunday. 260-422-CAFE  (2233)
You can
click here
to hear a short commercial about some featured menu items at the Café.