As a downtown resident, I am often exposed to the best in Fort Wayne culture. I love living in the hub of Northeast Indiana's Arts and Culture district.  Plays, performances, farmers markets, concerts, and festivals take over Fort Wayne in the summer heightening the senses. But there's one event that heightens my sense of smell (as well as my taste buds) more than any other. That's the 16
th
Annual Ribfest in Headwaters Park.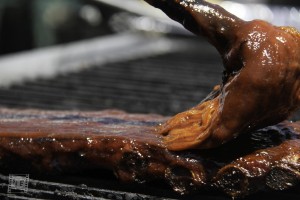 The mouthwatering aroma will fill the air from June 13
th
– June 16
th
causing me to put all healthy diet plans on hold for the weekend. While the smells are amazing, the tastes are even better. With dozens of food vendors and many of the award winning cooking teams from around the country, your taste buds are sure to be in pure bliss! Rib Masters like Timmy's BBQ, Jack on the Bone (my husband's favorite), Texas Pit BBQ, and many others there's something to please every pallet. While the food is the highlight, Ribfest is about much more than ribs. Your ears will be as delighted as your taste buds when you hear the music line up they have in store this year. Bands like Will Owen Gage, royal Southern Brotherhood, Eric Steckel Band, and Eliminator Tribute to ZZ Top you're sure to find something you love. For a complete list of rib masters and bands check out the Ribfest website at
www.bbqribfest.com.
  Ribfest is free daily until 5:30.  Tickets are $8 for adults, $6 for Seniors, and $4 for Students, Military, Fire, and Police with ID.