Now it's a little easier to experience some of Fort Wayne's arts organizations in one convenient location.
Artlink,
a local art gallery is proud to be a new tenant in the Auer Center for the Arts, conveniently located at 300 E. Main St. Artlink is a non-profit contemporary art gallery, whose mission is to feature emerging and mid-career artists and provide educational programs for the community. Artlink holds eight exhibitions each year in the main gallery. The gallery recently moved from its previous location on East Berry Street to its current home in the arts-centric building.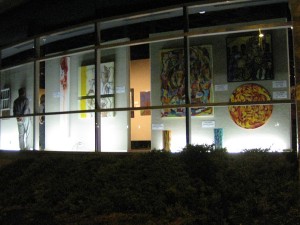 So what does this move mean for visitors? First of all, the new location offers Artlink more visibility on Main Street. This arts campus, which houses the Fort Wayne Ballet, Fort Wayne Youtheatre, Fort Wayne Civic Theatre and the Museum of Art in such close proximity, is an asset to the community.  While the gallery satisfies visitors' hunger for art,
Pembroke Bakery & Cafe
across the foyer serves up treats to fill empty bellies. Be sure to try their yummy cinnamon rolls! Patrons will also notice that the gallery has doubled in size and is laid out more efficiently. The new space has two studio/classrooms allowing Artlink to now offer consistent educational arts programming. The move also means more art. The gallery will be able to offer 2-4 exhibitions at one time,  as opposed to 1-2 exhibits before. Gallery admission is a suggested $2 donation.