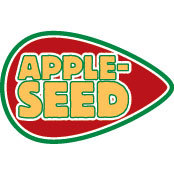 One of my favorite posts to write every year is the "State of Comics Address" (as I like to call it) in advance of
Appleseed Comic Con
, our very own annual comic convention. It's grown by leaps and bounds over the years (not quite over tall buildings, but still), and it's always great to see national and local talent come together under one roof. This year's con will be held on Saturday, May 17 and Sunday, May 18, 2014, at the
Grand Wayne Convention Center
in downtown Fort Wayne. So what's new in the world of comics this summer? Both Marvel and DC have major events just underway. Marvel's whodunit
Original Sin
starts with the murder of Uatu – better known as the Watcher – a silent observer of Earth's events who lives on the moon. But with his murder, the things he's seen and the secrets he's kept begin to come to light. It's an event that should touch all corners of the Marvel Universe.
Original Sin
0, a prologue to the event, was released on April 23, and the first issue comes out this week. DC has two major weekly series in early issues:
Batman Eternal
brings together a massive cast of Gotham's best (and worst) to tell a story set to have a huge impact on the Bat-Family, and
Futures End
, a story that takes place five years in the future, finds the DC Universe reeling from a battle between worlds and unprepared for a new threat looming on the horizon. This story sees the introduction of Batman Beyond, a character created for television (the animated series aired from 1999 to 2001), into comic continuity.
Futures End
0 was DC's Free Comic Book Day release;
Batman Eternal
5 and
Futures End
1 both come out this week. DC's current event series,
Forever Evil
, wraps up in the next couple months. So what should you be reading? Here's a list:
Daredevil
, the Avengers books (particularly
Uncanny Avengers
),
Iron Fist The Living Weapon
,
Green Arrow
,
The Wake
, and lots of books outside the Big 2, including
Black Science
,
Deadly Class
,
Saga
, and
East of West
. Tickets for this year's Appleseed Comic Con are $10 for a one-day pass or $15 for the weekend. Children under 12 are admitted free. For more information, including a list of this year's attendees and events, check out
http://www.appleseedcon.com
.