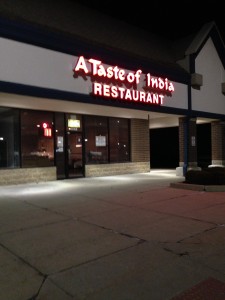 If you've never tried Indo-Chinese cuisine, then I highly recommend that you stop by A Taste of India. Located in the shopping center at Coldwater Crossing, this little place is set up in a store front next to an electronics resale store, near Hobby Lobby. The scent of the food greets you the second you step through the door. Not overwhelming but definitely comforting, the smell of curry, fresh vegetables, rice, and spices is wafting up from the kitchen. A word of warning: some of the dishes at A Taste of India are quite spicy. But other dishes are beautifully mild. Having the two extremes together allows you to put out the fire or simply have a nice, mild meal. After you are seated, the server brings out a basket of flat bread. It is delicious and you'll find yourself reaching for more. To choose your meal, you can either order something specific, like Adrangi Goat (chunk goat cooked in ginger flavor) or Chicken Korma (boneless chicken cooked with cashews and raisins with a touch of cream). A kids menu is also available, with items like cheese sticks and fries, or chicken nuggets and fries. Or, you can do what I like best –choose the buffet meal and sample a little of everything! Click
here
to see their Waiter on the Way page and access their menu pdf. A row of hot and cold tables is against one wall with piles of clean plates, cups and bowls for you to pick up. You can browse through the different food selections and take just as much – or as little – as you want. Labels are written on cards posted above the glass covers of the tables, so if you're familiar with some of the dishes, this is a good thing. If you're not familiar with any of the dishes, though, just start sampling things in small amounts. Here's a good way to begin: Basmati Rice – a good foundation layer. It's fluffy with a light, flowery taste and it complements any of the main courses on the tables.
Green salad – there's a small selection of very fresh, chopped vegetables here. Iceberg lettuce, green peas, chickpeas, tomatoes, cucumber slices, and a tangy yogurt dressing go together well and act as a good, not-too-heavy course.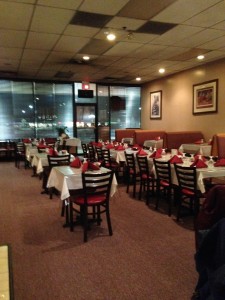 Vegetable Pulao – this is seasoned rice with peas. There is a moderate amount of heat added to the rice, but it is very manageable. Kids would be able to handle it with no problem. Vegetable Minister – meatless meatballs. These are a veggie dish that looks like a meatball and tastes rich. Covered in a red sauce, you can see some of the vegetables in the meatball. Just watch out for the parts that look like green beans – they're super spicy! Chicken Curry – Chunks of chicken in a thick curry sauce. The Lamb Curry is also good, tasting more like beef in a thick brown sauce. Paneer Makhani – my favorite. It's an orange sauce with a hint of honey flavor and thick, meaty chunks of mild cheese. Aloo Gobi Masala – although it looks spicy, it's actually just potatoes with yellow sauce. If you've had a touch of something too hot, head for some of this dish and put out the fire! The best part of the meal, after you've filled up on all the different offerings from the main courses, is the dessert. It's really simple but just right – nothing too heavy, just light. Try out either the mango pudding or the Rice Kheer. The mango pudding is perfectly smooth and cool. The mango flavor just melts through the pudding, never overpowering it but remaining refreshingly mild. The Rice Kheer is a rice pudding, buttery rich and light. A selection of warm pastries, Gulab Jamun, is also kept hot in a side pan. The warm, velvety pastry rounds just melt under the touch of your spoon when you dip into the bowl. A Taste of India is a wonderful way to have something a little special for a Sunday brunch, or a nice Saturday night meal. Prices are very reasonable, and the hours are convenient. Have a Taste of India right here in Indiana!