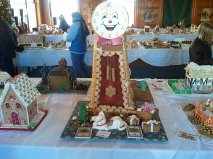 I spent a Saturday morning with the smell of gingerbread and holiday spirit in the air. This quest started with the
Gingerbread Pursuit
4 mile run. My husband, a friend, and  I arrived early for packet pick-up which gave us a prime parking spot.  This prevented us from having to freeze since we were able to wait in the car by the starting line until the start of the race. My husband and friend are not avid runners but this proved to be a blast for all three of us.  We ran with people dressed in Santa hats, reindeer antlers, and other inspired Christmas themed attire.  The race started at Wayne and Clay streets and took us through the
Old Fort
, the
Rivergreenway
, and through downtown Fort Wayne.  Along the route we enjoyed the holiday decorations aligning the houses and businesses around town.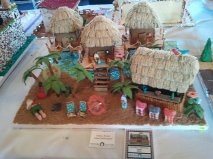 I have to admit though, my favorite part of the race was the end.  Not because  I was done running, but I was able to enjoy a delicious gingerbread cupcake with a wonderful  ample amount of cinnamon frosting done by the
Vanilla Bean
.  This cupcake was truly amazing, soft and flavorful.  There were other gingerbread goodies provide by
Pembroke Bakery
as well, which included of course the gingerbread man. An extra special treat, my friend left her cupcake in our car and yes we ate it without hesitation. Our race bib allowed us to continue in the gingerbread spirit with free admission to the
Festival of Gingerbread
at the
History Center
.  My husband and I weren't sure what to expect while touring the gingerbread architecture.  It was organized very nicely.  The gingerbread structures were aligned along tables labeled with who or what group created it.  We followed the line around the tables, not ever feeling the need to rush or that it was too crowded.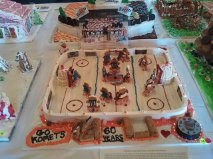 The churches, schools, ice rinks, even a zoo were all part of the amazing designs.  We even saw Shrek and a giant clock.  Such intricate details went into the creations, from the people, to the landscaping.  Even the windows were decorated to show the illusion of light glowing from within.  My favorite had to be the ice rink with gingerbread hockey players in
Komets
uniforms. It had every detail, from the netting around the goal to the red and blue lines.  If your wondering, yes they had Icy along the end boards.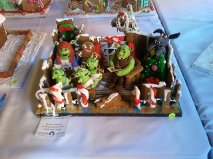 I can't imagine all the time that was spent on each sculpture, which was created by all age groups.  It brought me back to the good old days of childhood and the joy and excitement of Christmas.  We have made it a Christmas tradition to make a gingerbread village.  Granted it doesn't even compare to those at the Gingerbread Festival. Two great ways to get the whole family involved in the Holiday spirit. If you can't make it to the run, you will still have plenty of opportunities to enjoy the 28
th
Gingerbread Festival which opens to the public November 29
th
thru December 15
th
. Chase the Gingerbread man through downtown December 14
th
in the Gingerbread Pursuit 4 Mile Run starting at 8:30 a.m.  You can register
online
, or print off the registration form and mail it in. You race bib will get you free entry into the Festival of Gingerbread at the History Center, it will be open from noon to 5:00 p.m. that Saturday. For more information on the Festival of Gingerbread, or any of the other great Night of Lights and HolidayFest activities going on around Fort Wayne, check out
Visit Fort Wayne
!